Supreme Court rules businesses can refuse service to LGBTQ+ customers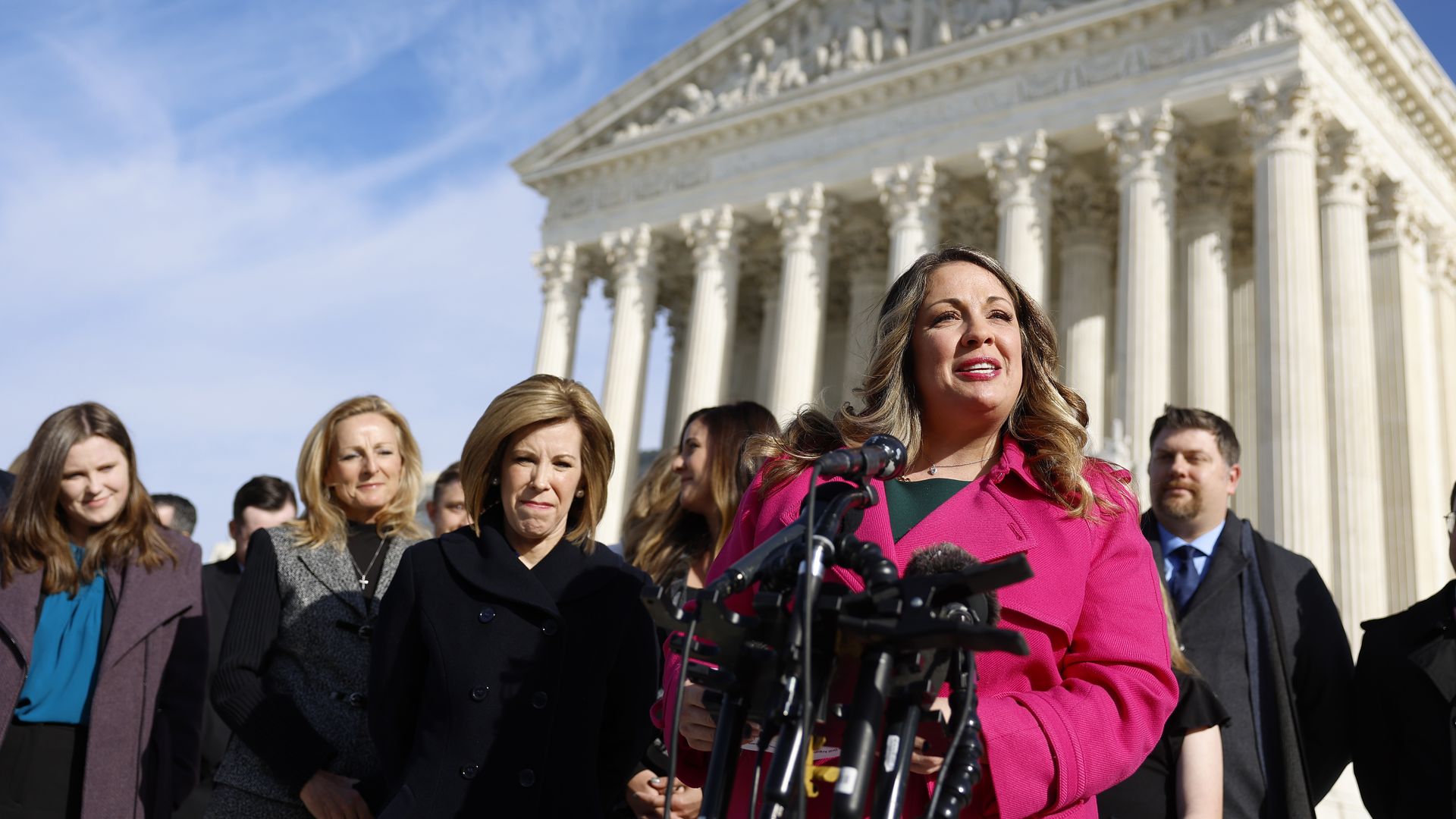 Businesses can refuse to serve same-sex couples if doing so would violate the owners' religious beliefs, the Supreme Court ruled on Friday.
Why it matters: The court has significantly expanded LGBTQ rights over the past several years, but is now carving out some exceptions.
Driving the news: The case concerns Lorie Smith, a Colorado web designer who wanted to create and sell wedding websites, but not to same-sex couples.
Colorado's civil rights law prohibited her, or any business that serves the general public, from turning away customers because of their sexual orientation. She said complying with that law would force her to espouse views she does not agree with.
"The artwork that I create is speech," Smith told Colorado Public Radio in December, adding that, "those messages must be consistent with my convictions."
The big picture: The conservative-majority Supreme Court ruled 6-3 in favor of Smith, saying she has a First Amendment right to refuse to design custom wedding websites for same-sex couples.
"The First Amendment envisions the United States as a rich and complex place where all persons are free to think and speak as they wish, not as the government demands. Colorado cannot deny that promise consistent with the First Amendment," Justice Neil Gorsuch wrote in the majority opinion.
"The opportunity to think for ourselves and to express those thoughts freely is among our most cherished liberties and part of what keeps our Republic strong," Gorsuch wrote in the majority opinion.
"All of us will encounter ideas we consider "unattractive," Gorsuch wrote, but added that "tolerance, not coercion, is our Nation's answer."
State of play: President Biden said in a statement Friday that he was "deeply concerned that the decision could invite more discrimination against LGBTQI+ Americans."
Biden urged Congress to pass the Equality Act in response to the ruling.
The court's decision has the potential to reinforce "limits to what government can do to protect against discrimination," Linda McClain, a law professor at Boston University, told Axios ahead of the ruling.
In her dissent, Justice Sonia Sotomayor wrote that "there has been a backlash to the movement for liberty and equality for gender and sexual minorities. New forms of inclusion have been met with reactionary exclusion. This is heartbreaking."
"The immediate, symbolic effect of the decision is to mark gays and lesbians for second-class status," Sotomayor added in the dissent, which was joined by Justices Elena Kagan and Ketanji Brown Jackson.
Sotomayor added that the ruling conveyed a message that "we live in a society with social castes," and warned that the underpinning logic of the decision could extend beyond sexual orientation or gender identity.
"The decision threatens to ... allow the exclusion of other groups from many services. A website designer could equally refuse to create a wedding website for an interracial couple, for example," she added.
Between the lines: This case was effectively a rerun of the 2018 case in which a baker refused to bake a cake for a same-sex wedding.
The court punted at the time, but had signaled that business owners with religious objections to same-sex marriage were likely to prevail in the end.
Editor's note: This story was updated with a statement from President Biden.
Go deeper