Biden says Russia's war in Ukraine must end before Kyiv can join NATO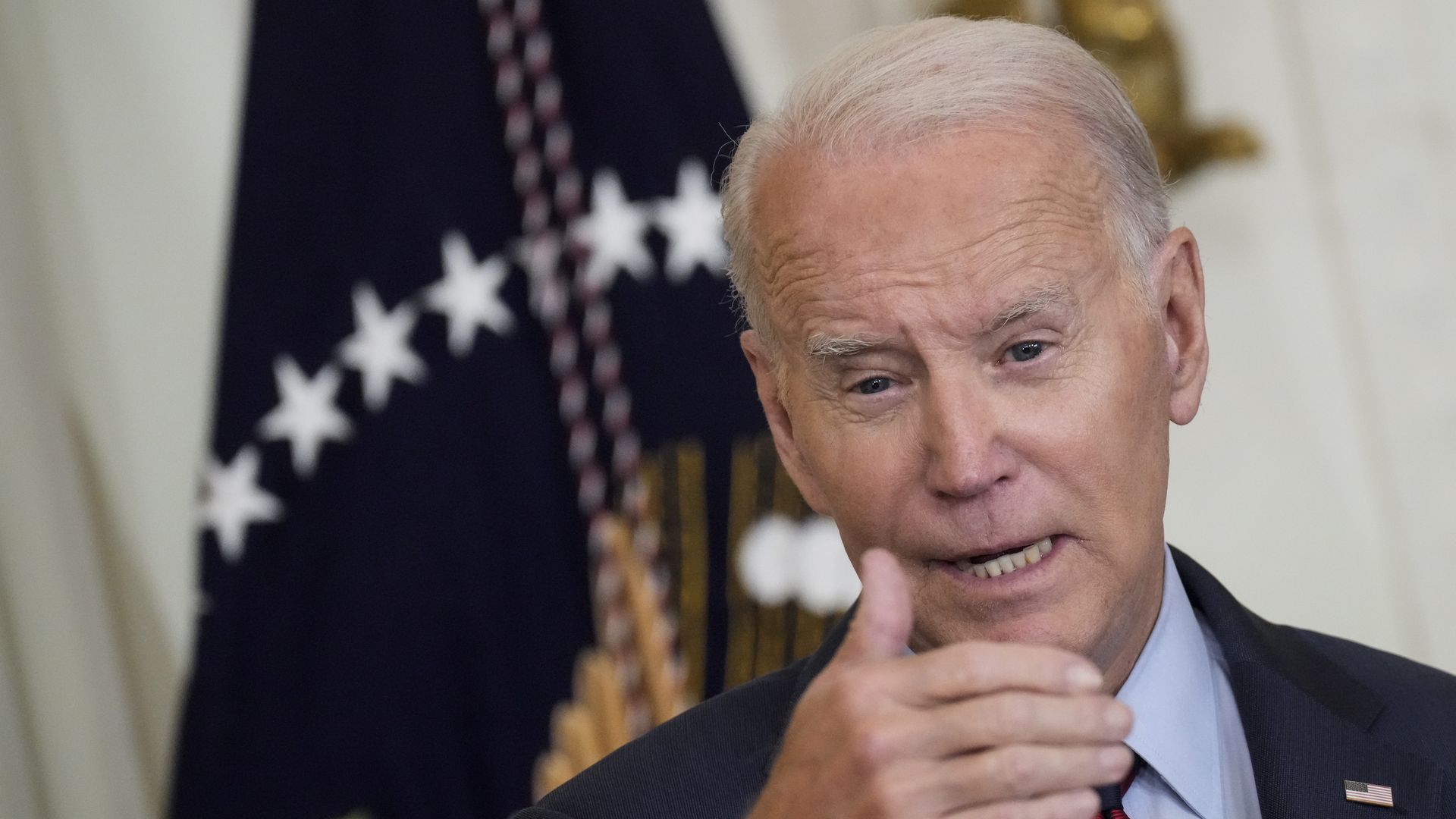 President Biden said it'd be "premature" for Ukraine to begin the NATO membership process during a war, but he told Turkey's president Sunday he wants Sweden to join the alliance as soon as possible.
Driving the news: Biden told CNN in an interview broadcast Sunday ahead of attending this week's NATO summit in Lithuania that Russia's war on Ukraine must end before Kyiv can join the alliance.
What he's saying: "I don't think there is unanimity in NATO about whether or not to bring Ukraine into the NATO family now, at this moment, in the middle of a war," Biden told CNN's Fareed Zakaria in the interview, recorded before he flew to the United Kingdom Sunday ahead of his trip to Vilnius.
"We're determined to commit every inch of territory that is NATO territory," he said. "If the war is going on, then we're all in war. We're at war with Russia, if that were the case."
Biden said he'd spoken with Ukrainian President Volodymyr Zelensky about laying out a "rational path for Ukraine to be able to qualify" for NATO and providing Ukraine with security and weaponry needed in efforts to defeat Putin's forces.
Meanwhile, Zelensky said in an interview with ABC News that aired Sunday if there's currently no unity in inviting Ukraine to join NATO, the country "should get clear security guarantees" while it's not in the alliance.
Joining NATO is "a matter of political will" and it "would be an important message to say that NATO is not afraid of Russia," he added.
Of note: During his CNN interview, Biden defended his decision to send to Ukraine for the first time cluster munitions, as several congressional Democrats spoke out Sunday over the decision to send the weapons, which are banned by over 120 countries under the Convention on Cluster Munitions.
"It was a very difficult decision on my part and by the way, I discussed this with our allies, I discussed this with our friends up on the Hill," Biden said. "The Ukrainians are running out of ammunition."
What we're watching: National Security Council spokesperson John Kirby told ABC News Sunday he expects allies to stay "unified on supporting Ukraine in this fight against Russia on their soil" at the NATO summit that's due to begin in Vilnius on Tuesday.
"You're also going to see from all the allies a concerted, unified approach to making it clear that NATO is eventually going to be in Ukraine's future, and that in between the time of the war ending and that happening, that the allies will continue to help Ukraine defend itself," he added.
The intrigue: Another key item on NATO's agenda this week will be the matter of Sweden joining the alliance, which stalled after Turkish officials accused the Scandinavian nation of harboring Kurdish terrorists.
Biden conveyed in a phone call with Turkish President Recep Tayyip Erdoğan Sunday "his desire to welcome Sweden into NATO as soon as possible," per a White House readout.
The Turkish government issued a statement after the call noting that Stockholm had addressed some of it's concerns by implementing anti-terrorism legislation, but added pro-Kurdish groups that are banned in Turkey continued to hold demonstrations in Sweden — which it said "nullifies the steps taken."
Go deeper: 3 keys to peace as the war in Ukraine hits 500 days
Go deeper