3 keys to peace as the war in Ukraine hits 500 days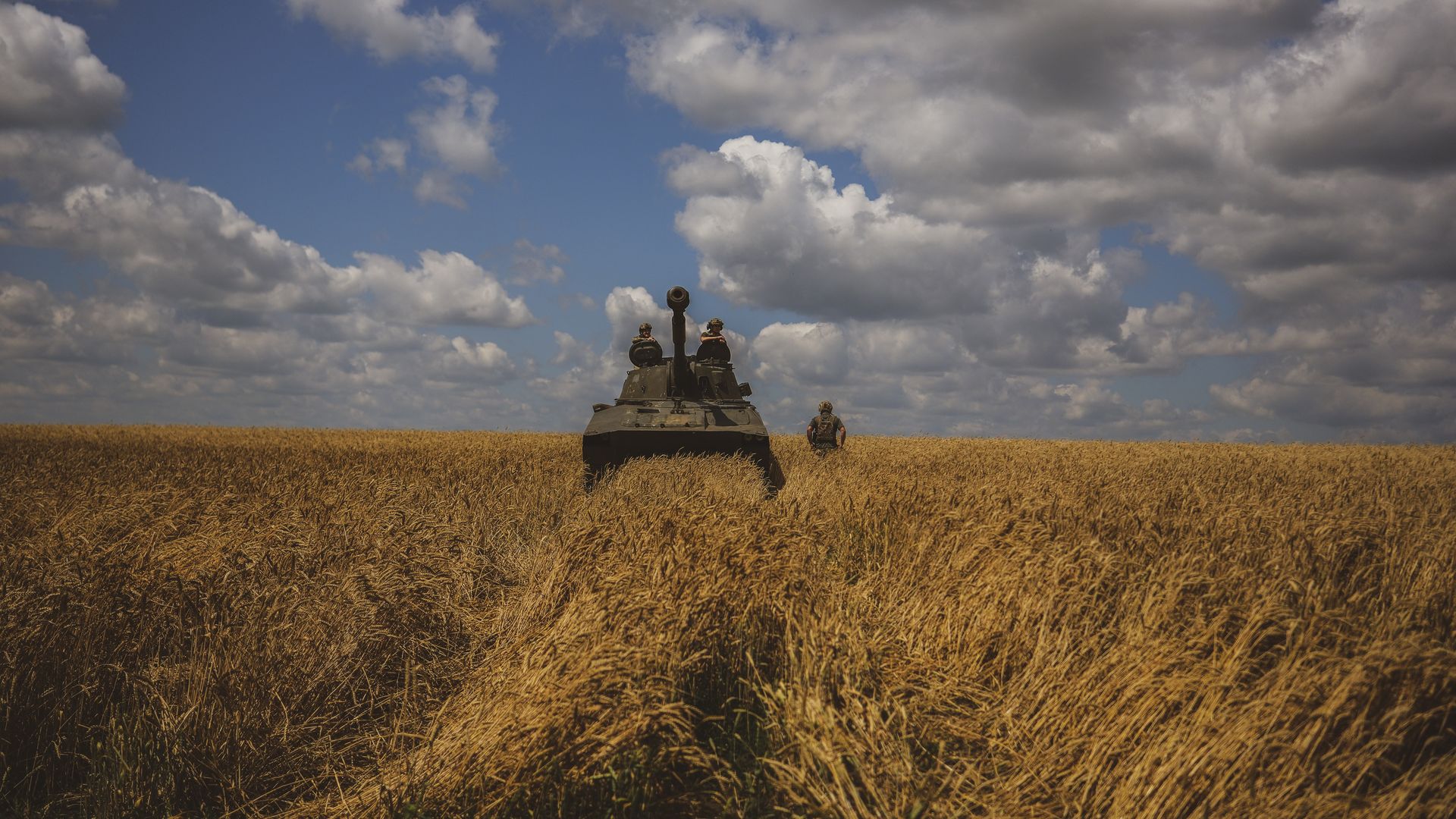 As the war in Ukraine reaches the 500-day mark, three big things have to go right in order to achieve peace.
The big picture: Whatever happens next will depend in part on how much occupied territory Ukraine can retake. A successful counter-offensive could make it easier to reach a negotiated settlement, but it might also bring another x-factor into play: avoiding nuclear escalation.
The diplomacy
Former senior U.S. officials have met with well-connected Russians — including Foreign Minister Sergey Lavrov — to try and set the stage for potential peace talks, NBC News reports.
The Lavrov meeting took place in New York in April, but there are no indications the Kremlin is currently prepared to make concessions for peace.
Likewise, Ukrainian President Volodymyr Zelensky continues to insist Ukraine will retake all of its territory, including Crimea — and polls suggest his population agrees.
But Ukrainian officials told CIA Director Bill Burns on a secret visit last month to Kyiv that they believe if Ukrainian forces advance in the east and move within striking distance of Crimea in the south, Russia will negotiate in order to avoid defeat and keep control of the occupied peninsula, WaPo reports.
Between the lines: Even under such circumstances, it's unclear what a deal might look like that both Putin and Zelensky could sign, given Putin has claimed large swaths of Ukraine as Russian territory.
However, Putin's handling of the Wagner rebellion — in which he struck a deal with Yevgeny Prigozhin to halt the march on Moscow — suggests he may be willing to negotiate with his back against the wall.
The counteroffensive
For now, though, Ukraine's counteroffensive has made only gradual progress.
While Ukraine has yet to bring many of its Western-armed-and-trained troops into the fight, its forces have also yet to reach Russia's most heavily fortified defensive lines, Joint Chiefs Chair Gen. Mark Milley said last week.
The British Ministry of Defense estimates that Russia's force is now so depleted that Moscow would be unable to mount an offensive of its own, but officials in Kyiv concede that Russia's defenses — which include multiple layers of minefields and trenches — have been stronger than anticipated.
What to watch: The White House is expected to provide cluster munitions to help Ukraine attack Russian entrenchments, despite concerns that dud bombs will endanger civilians.
Milley, meanwhile, cautioned that these are only the early stages of Ukraine's offensive, which will be "very long" and "very, very bloody."
Russian military officials are cautiously optimistic about how the counteroffensive is playing out, but acknowledge things could still change dramatically before winter, Alexander Gabuev, director of Carnegie's Russia Eurasia Center, tells Axios.
The nuclear threat
While officials in Kyiv hope military breakthroughs would push Putin to seek a cease-fire, Gabuev notes that they could also cause him to reach for his nuclear stockpile if his hold on power appears threatened.
"The scenarios in which we think Putin might use nukes are these really high-impact, low-probability events — some rapid development on the battlefield that make Putin think he is losing this war in a catastrophic way," Gabuev says.
A nuclear strike may be improbable, but officials in Washington and Beijing are taking the prospect seriously.
Chinese President Xi Jinping warned Putin in person in March against using nuclear weapons, according to a report this week in the FT.
Meanwhile, the U.S., U.K. and France informed Putin they'd attack Russia with non-nuclear means if he followed through on threats to use a tactical nuclear weapon.
Putin has stopped making such threats, possibly because he's been convinced that using a tactical nuke on the battlefield wouldn't help Russia win the war, according to the FT.
Two prominent Russian military analysts have proposed another strategy: a preemptive nuclear strike in Poland or elsewhere on NATO territory to convince the West to back off.
Meanwhile, former President Dmitry Medvedev, who has reinvented himself as an ultra-hawk, said in the past few days that the war could end with a devastating nuclear strike, and also that a "nuclear apocalypse" is likely.
Such statements may reflect the mood in Moscow, but don't necessarily reflect internal discussions in the Kremlin, Gabuev says.
For his part, Putin said last month that Russia has "no need" to use its nukes.
The latest: Zelensky has been warning of a different kind of nuclear threat. He claimed Tuesday that Russia had placed "objects resembling explosives" on the roof of the Zaporizhzhia nuclear plant.
The Kremlin has denied that and claimed Kyiv may be planning its own "sabotage" attack.
Because the reactors are in a "cold shutdown" mode, an explosion at Zaporizhzhia would not cause a Chernobyl-like disaster, and the radiation danger would be contained to the local area, experts tell CNN.
Worth noting: Prigozhin is back in Russia, according to Belarus President Aleksandr Lukashenko, and it remains unclear whether or how his mercenaries will be absorbed into Russia's army.
Wagner's rebellion briefly raised the prospect of a new Russian leader taking control of the Kremlin, Russia's war effort, and its nuclear arsenal.
It also offered a reminder, after nearly 500 days of fighting, that this war can still turn in unforeseen directions.
Go deeper