What to watch as Ukraine's counter-offensive heats up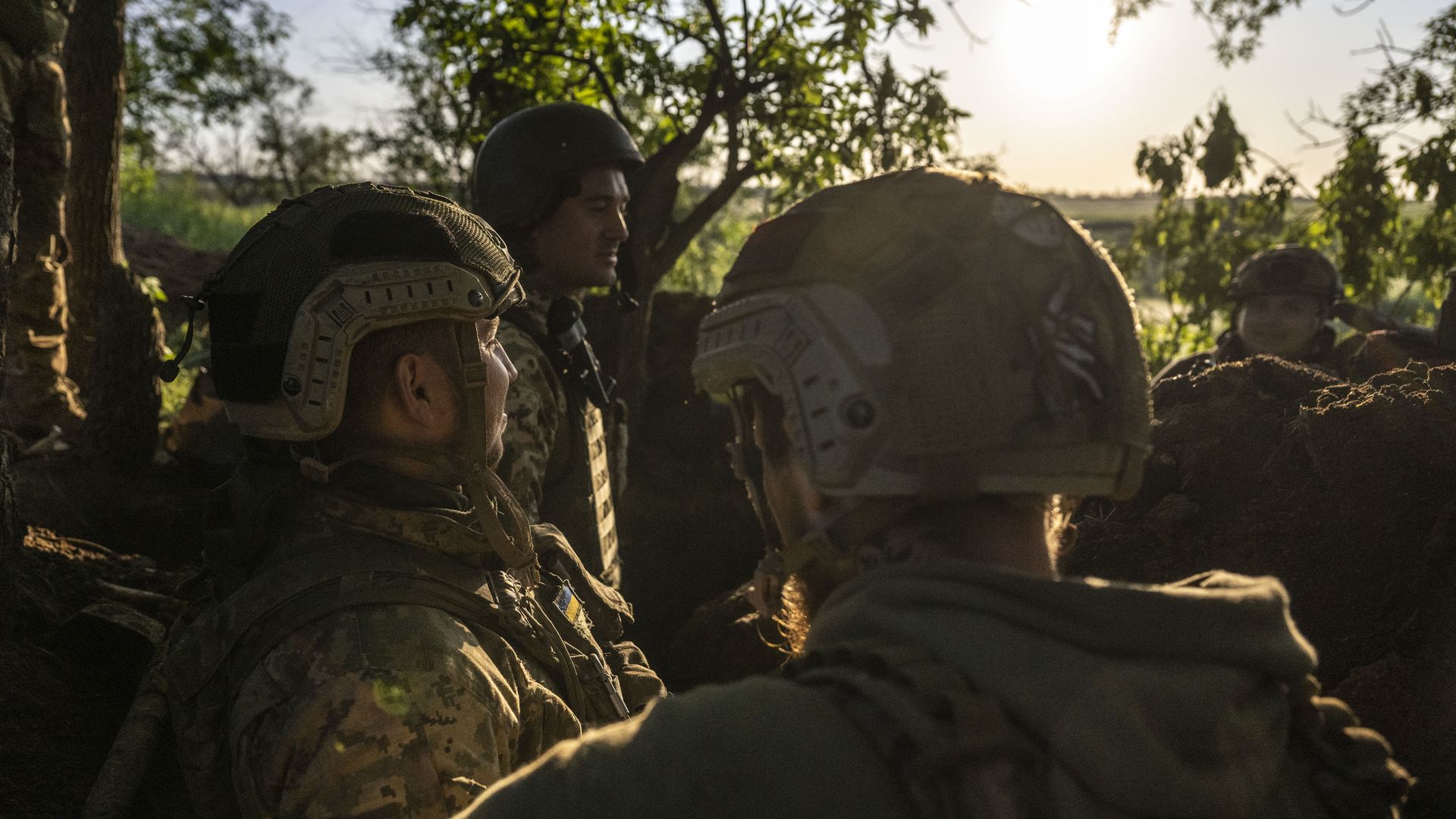 Ukrainian forces attacked Russian positions in the southeast of the country on Thursday as the country's long-awaited counteroffensive gets underway.
Why it matters: Ukraine has spent six months preparing for this moment. Its forces are armed with Western artillery, tanks and training. But Russia's military has also had ample time to entrench its positions and bring in additional forces.
Forcing major Russian retreats across the 20% of Ukrainian territory Moscow currently holds would indicate to Ukraine's people and its Western backers that the war can be won.
Failure to make significant gains would raise the specter of a frozen conflict — or even Russian victory.
Driving the news: Ukraine appears to be attempting to break through Russian lines in the southeast, suggesting one primary objective may be to sever Russia's "land bridge" to occupied Crimea, thus cutting off key supply lines.
Russian Defense Minister Sergei Shoigu claimed on Thursday that Russian forces had repelled a major attack in the Zaporizhzhia region and inflicted heavy casualties.
Meanwhile, Ukraine's deputy defense minister claimed Ukraine had Russian forces "on the defensive" near the city of Orikhiv in Zaporizhzhia and Ukraine is fighting for control of the city of Velyka Novosilka in neighboring Donetsk Oblast, per WaPo.
Meanwhile, reports emerged on Thursday that Ukraine used German-made Leopard tanks on the battlefield for the first time. Those reports are unconfirmed, as are the Russian and Ukrainian claims.
Reality check: "The initial counteroffensive operations may be the most difficult and slowest, as they involve penetrating prepared defensive positions," the Institute for the Study of War noted in its latest assessment. "Initial setbacks are to be expected. This phase may also see the highest Ukrainian losses."
Michael Kofman of CNA contends that while Ukraine's counteroffensive is now underway, we've yet to see the main thrust of the operation. The brigades that received the most Western training and equipment do not yet seem to be engaged in the fighting, Kofman said on his "Russia Contingency" podcast.
"You have to keep in mind that this is going to run over the course of probably several months and it's likely to be multiple offensive operations," he added.
Zoom out: The heaviest fighting is taking place well to the east of the Kakhovka dam, which was destroyed on Tuesday, flooding towns in the surrounding Kherson region with a torrent of water.
Ukraine and Russia have traded blame over the dam collapse and accused each other on Thursday of shelling civilians attempting to evacuate. The reported shelling on Ukraine-controlled parts of Kherson came just hours after Ukrainian President Volodymyr Zelensky visited the area.
Several civilians have died due to the flooding caused by the dam's destruction. Thousands have been displaced, and tens of thousands are without drinking water, AP reported.
Go deeper