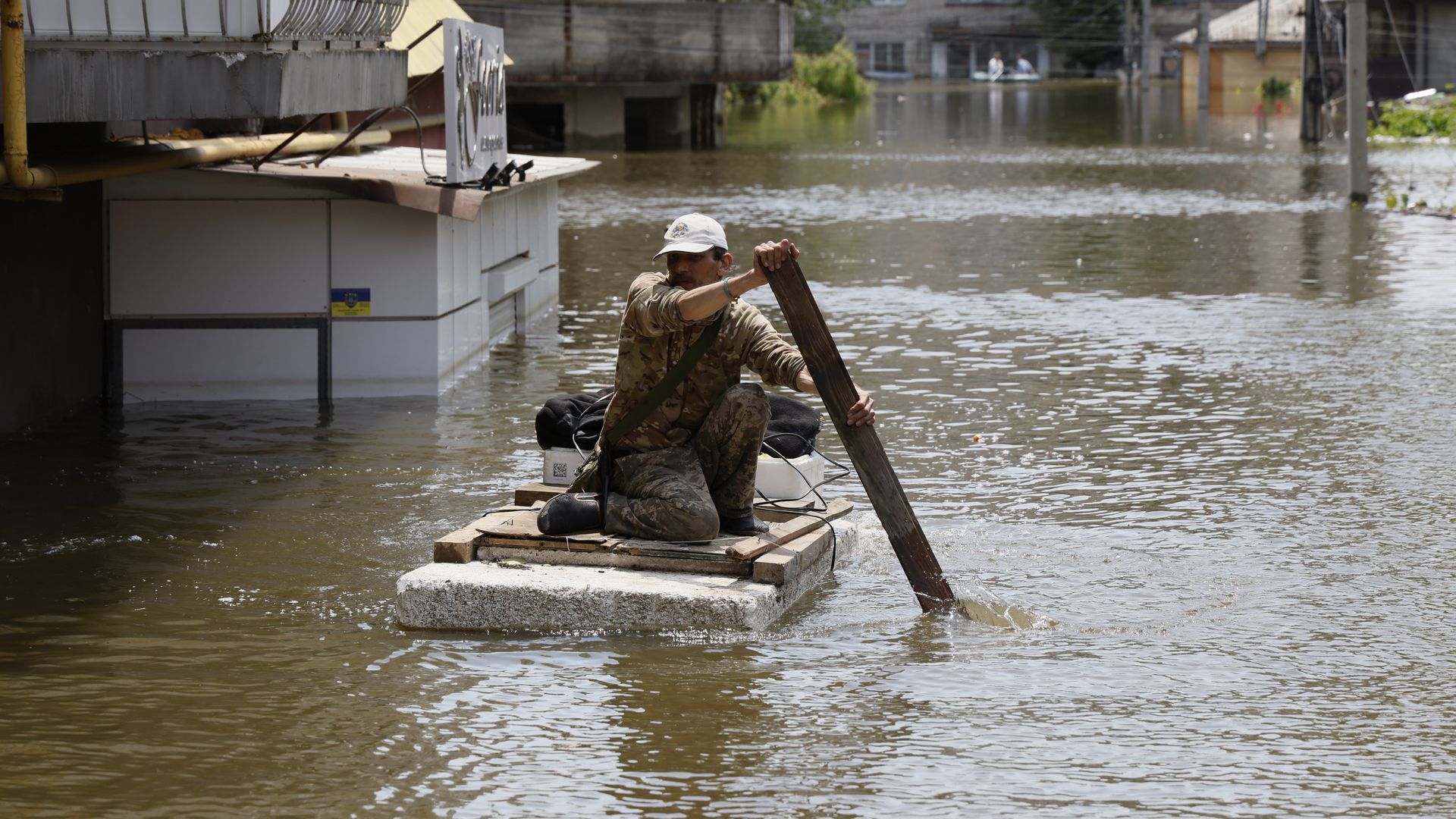 Ukraine and Russia accused each other on Thursday of shelling evacuation efforts in the Kherson region after this week's massive dam collapse unleashed a torrent of water, flooding towns and destroying homes.
The big picture: The reported shelling on Ukraine-controlled parts of Kherson came just hours after Ukrainian President Volodymyr Zelensky visited the area to assess the damage from the destruction of the Kakhovka dam. Both Kyiv and Moscow continued to trade blame over Tuesday's dam collapse.
At least five people have died due to the flooding caused by the dam's destruction. Thousands have been displaced and tens of thousands are without drinking water, AP reported.
What they're saying: "From the Government and the State Emergency Service to the regional authorities and local communities, everyone is involved to the maximum extent possible to save and protect as many people as possible," Zelensky tweeted on Thursday, along with photos of his visit to Kherson.
On Wednesday, he called for a "clear and quick response from the world" to join rescue efforts in the flood-hit areas.
The World Health Organization said on Thursday that its teams have "rushed in to support the authorities and health care workers in preventive measures against waterborne diseases and to improve disease surveillance" in the flood-hit areas.
"The impact on the region's water supply, sanitation systems and public health services cannot be underestimated," WHO director-general Tedros Adhanom Ghebreyesus added.
State of play: Overnight Wednesday into Thursday, heavy fighting was reported in the southern region of Zaporizhzhia.
Citing Ukrainian military sources, multiple Western media outlets reported the fighting was the beginning of Kyiv's long-awaited counteroffensive.
Russian Defense Minister Sergei Shoigu said on Thursday that Ukrainian forces had "attempted to break through our defenses in the Zaporizhzhia direction," Russian state media reported. He claimed Ukraine suffered "heavy losses" as Russia repelled its push in the region.
It was not possible to verify either side's claims.
Go deeper: Ukrainian dam collapse is a "monumental" catastrophe, UN chief says
Go deeper