Updated Jul 7, 2023 -

World
U.S. to send widely banned cluster munitions to Ukraine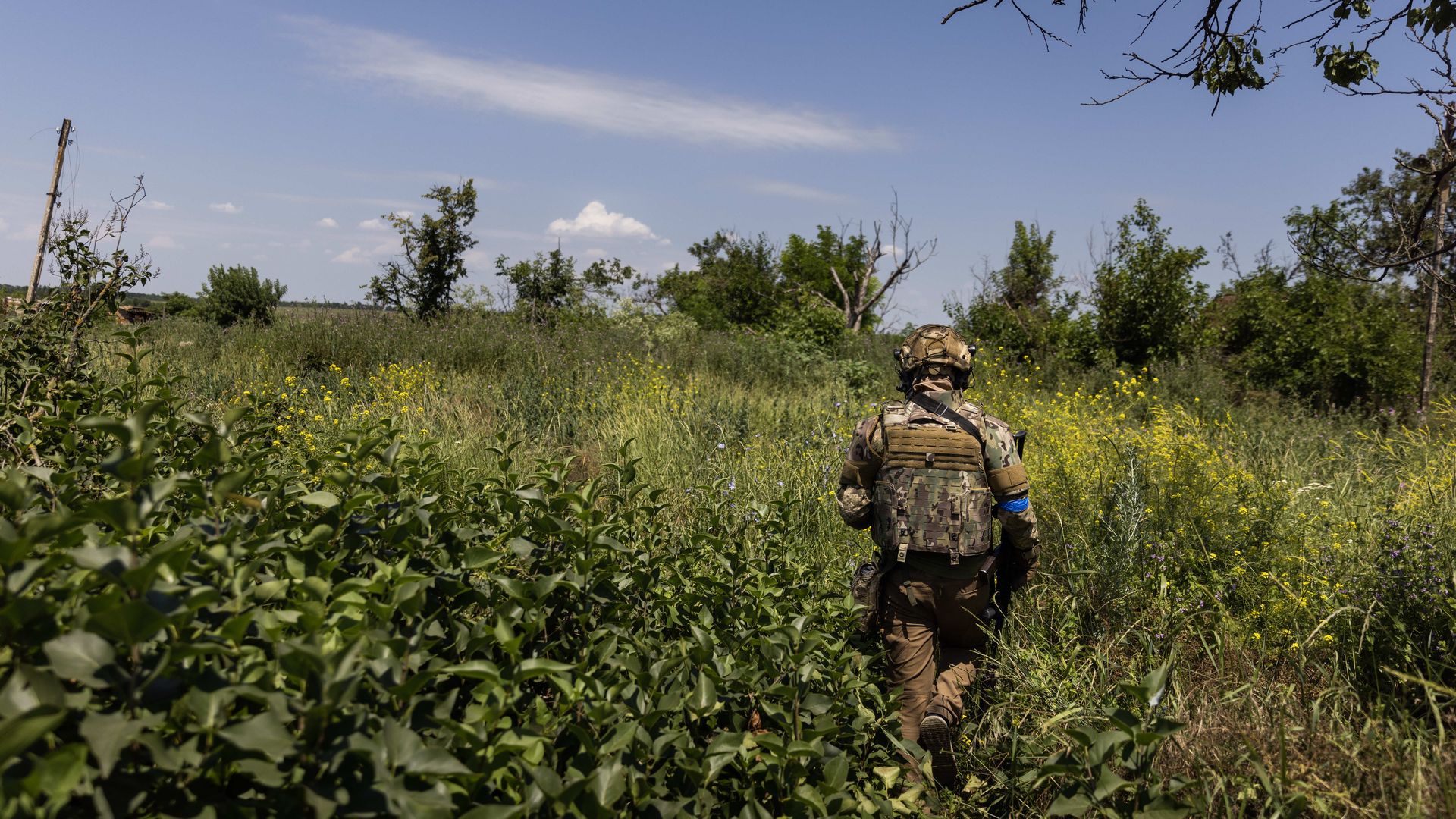 The U.S. will send cluster munitions to aid Ukraine's war effort for the first time, the Department of Defense announced Friday.
Why it matters: The announcement, which is likely to draw criticism from human rights groups, comes as Ukraine has struggled to make sweeping gains in its counteroffensive against Russia.
By providing the weapons to Ukraine, the U.S. is bypassing a law that prohibits the use or transfer of cluster munitions that have a failure rate higher than 1%, the Washington Post reported.
The cluster munitions will be a part of a new $800 million military assistance package for Ukraine, per DOD.
The latest: President Biden told CNN it was a "very difficult decision" for him but stressed that he discussed it with Congress and U.S. allies.
"This is a war relating to munitions. And they're running out of that ammunition, and we're low on it," Biden said in an interview set to air Sunday.
"They're trying to get through those trenches and stop those tanks from rolling," Biden said, adding that he was acting on DOD's recommendation — and that the move is not permanent.
The big picture: A cluster munition is a type of bomb that breaks apart in the air above a target into dozens, and sometimes up to hundreds, of "bomblets" that can scatter over a wide area.
Due to weather and other environmental factors, cluster munitions can fall often outside of the intended target range, per the International Committee of the Red Cross.
Although cluster munitions are designed to explode upon impact, as many as 40% fail to do so, meaning they can pose a threat to civilians long after they are dropped, per the ICRC.
Details: The cluster munitions the U.S. is sending to Ukraine will have a "dud rate" — meaning they fail to explode on impact as intended — of less than 2.35%, said Colin Kahl, undersecretary of defense for policy, at a press briefing Friday.
By comparison, the cluster munitions used by Russian forces have dud rates between 30%-40%, Kahl said.
Kahl did not specify when the weapons would reach Ukraine, but said they would be delivered "in a timeframe that is relevant for the counteroffensive."
The Ukrainian government has given the U.S. assurances as to the "responsible use" of the cluster munitions, including not using them in civilian-populated urban areas and recording where they're used to simplify de-mining efforts later, Kahl added.
State of play: Both Russia and Ukraine have allegedly already used cluster munitions during the ongoing war, according to a report by Human Rights Watch released Thursday.
For Ukrainian troops, which have been burning trough stockpiles of munitions, cluster munitions are appealing because they can hit more targets with fewer rounds while also covering a wide area, per AP.
Flashback: National Security Council spokesperson John Kirby told reporters in December that the U.S. had "concerns" about fulfilling Ukraine's request for the weapons.
But Laura Cooper, a senior Defense Department official, told Congress in June that cluster munitions could be "useful, especially against dug-in Russian positions on the battlefield."
Zoom out: More than 120 countries have joined the Convention on Cluster Munitions, which bans the use, production, transfer and stockpiling of the weapons.
However, the U.S., Russia and Ukraine are not parties to the treaty.
Editor's note: This story has been updated with additional details throughout.
Go deeper