FDA weighs first full approval for experimental Alzheimer's drug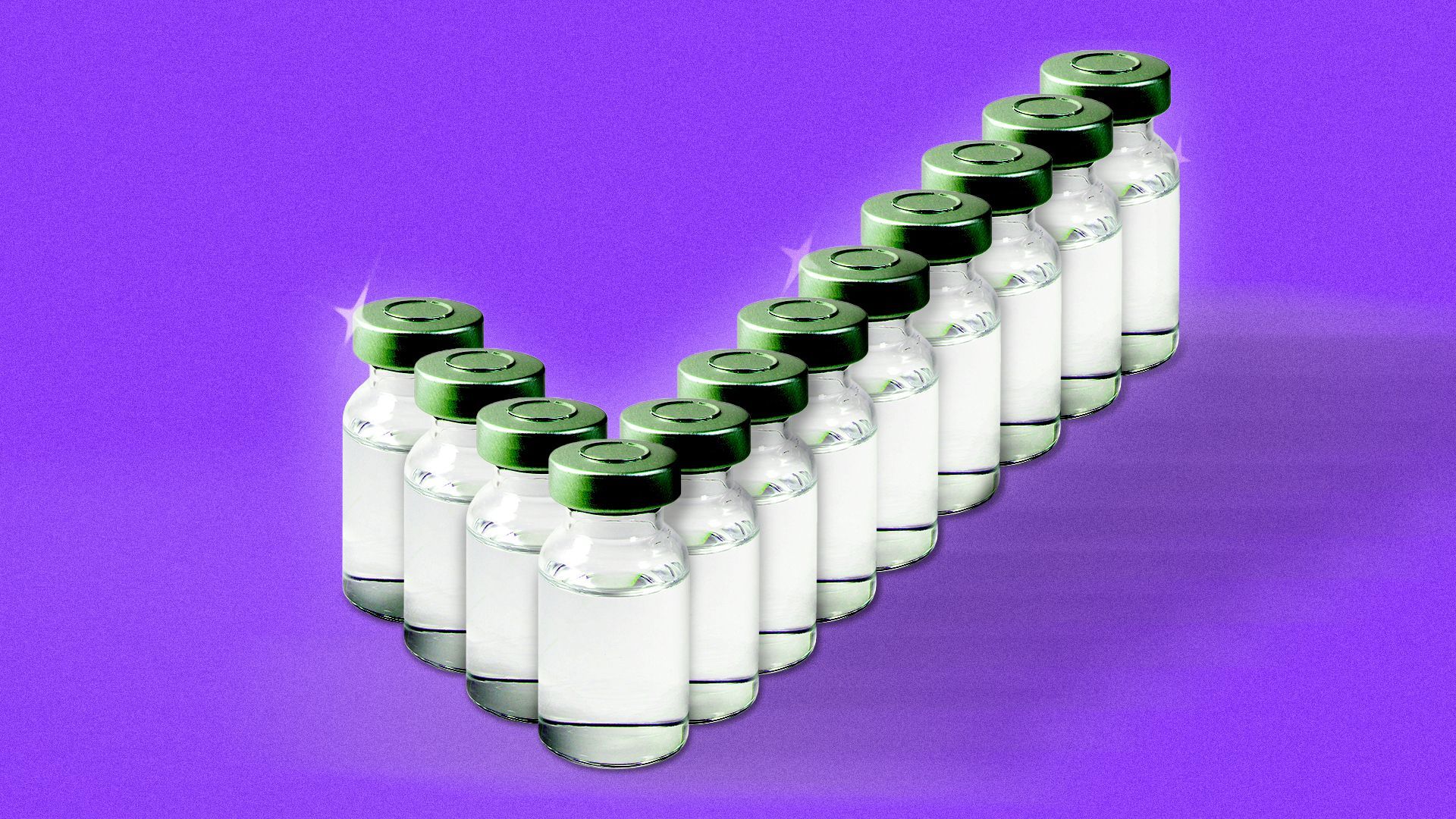 The Food and Drug Administration is set to decide today whether to make a drug shown to have modest success delaying Alzheimer's disease widely available to the public — or whether cost and safety concerns justify limiting its availability.
Why it matters: Leqembi, developed by Eisai and Biogen, is expected to cost around $26,500 a year. Full FDA approval would trigger expanded government coverage for it and a class of next-generation drugs that have raised hoped for millions with the condition.
But Leqembi has been plagued by safety concerns following three patient deaths during clinical trials.
During an advisory committee meeting last month, FDA staff appeared confident about the drug, saying that the risks do not "appear to preclude traditional approval," but that they should be factored ahead of any treatment.
Leqembi is one of a group of drugs target proteins called brain amyloid plaques that are believed to contribute to the development of the disease in early Alzheimer's patients.
The big picture: The FDA granted accelerated approval for Leqembi in January, allowing the manufacturers to launch the treatment based on preliminary evidence.
The agency took a similar path in 2021 with Aduhelm — a Biogen drug that received accelerated approval over strong objections from the FDA's independent advisers and staff, who warned that there was a lack of evidence to suggest that it worked.
In contrast, large clinical trials showed Leqembi delayed cognitive decline by 27% over 18 months.
What we know: The FDA is widely expected to grant Leqembi traditional approval, although the agency could potentially limit who can take the drug and under what circumstances.
However, the agency isn't expected to significantly restrict its availability.
Last month, Teresa Buracchio, acting director of the FDA's Office of Neuroscience, said that while the agency is aware of risks, "we also want to encourage good clinical judgment on an individual assessment level of a patient" — suggesting that regulators are leaving it to patients, their families and doctors to ultimately decide.
State of play: The Centers for Medicare and Medicaid Services now limits coverage for treatments that slow Alzheimer's progression if they are still in clinical trials.
But CMS has said a traditional FDA approval would prompt it to expand coverage to those Medicare beneficiaries whose physicians agree to collect and share data about the drug's real-world performance.
House Energy and Commerce Chair Cathy McMorris Rodgers (R-Wash.) said CMS should already be covering key Alzheimer's treatments that have been cleared under the FDA's fast-track process and that if the agency grants traditional approval, "there will be no excuses for CMS to effectively deny coverage to Americans in need."
By the numbers: Delaying coverage of Alzheimer's treatments by only a year could increase costs to patients and the health care system as much as $545.6 billion, according to a recent University of Chicago report by Tomas Philipson, a former senior economist at the FDA and CMS.
"We find that part of these losses stems from increased private and public health care spending ranging from $6.8 billion to $285.5 billion," the report states.
What they're saying: "It's much cheaper to deal with mild Alzheimer's patients than it is with moderate ones," Philipson told Axios, adding that patients who have moderate cases tend to need full-time nursing care, while those with mild cases usually live at home.
While patients would still eventually see increased costs as the disease progresses, the costs associated with late-stage treatment also decrease, Philipson suggested.
Our thought bubble: The failure to fully approve Leqembi would be a blow to other Alzheimer's drugs, particularly ones based on the "amyloid hypothesis" who could face added hurdles for approval.
It would also mean that coverage for these drugs by CMS would remain limited to patients enrolled in clinical trials.
Yes, but: Some health experts worry that the U.S. health system is not equipped for these Alzheimer's treatments to hit the market.
In 2017, a report from the Rand Corporation concluded that the U.S. health care system is "ill-prepared to handle the potentially high volume of [Alzheimer's] patients who would be eligible for treatment."
The researchers said that there is a limited number of dementia specialists to evaluate and diagnose patients, as well as a lack of access to "imaging to confirm Alzheimer's disease and to infusion centers to deliver the treatment."
"If we're going to have the better drugs, we need a better system, too," Jason Karlawish, a medical professor at the University of Pennsylvania, wrote in an op-ed for STAT.
What we're watching: Eli Lilly is expected to submit an application to the FDA for traditional approval soon for Donanemab, which was found to slow cognitive decline from Alzheimer's by 36% over 18 months.
But just like Leqembi, the Lilly drug carries an increased risk of brain bleeding, and three patients also died from the drug's side effects.
If both drugs get full approval, patients would have a choice, though they'd still have to weigh if the treatments are right for them and the benefits outweigh the risks.
Go deeper