Pennsylvania's playbook for Democrats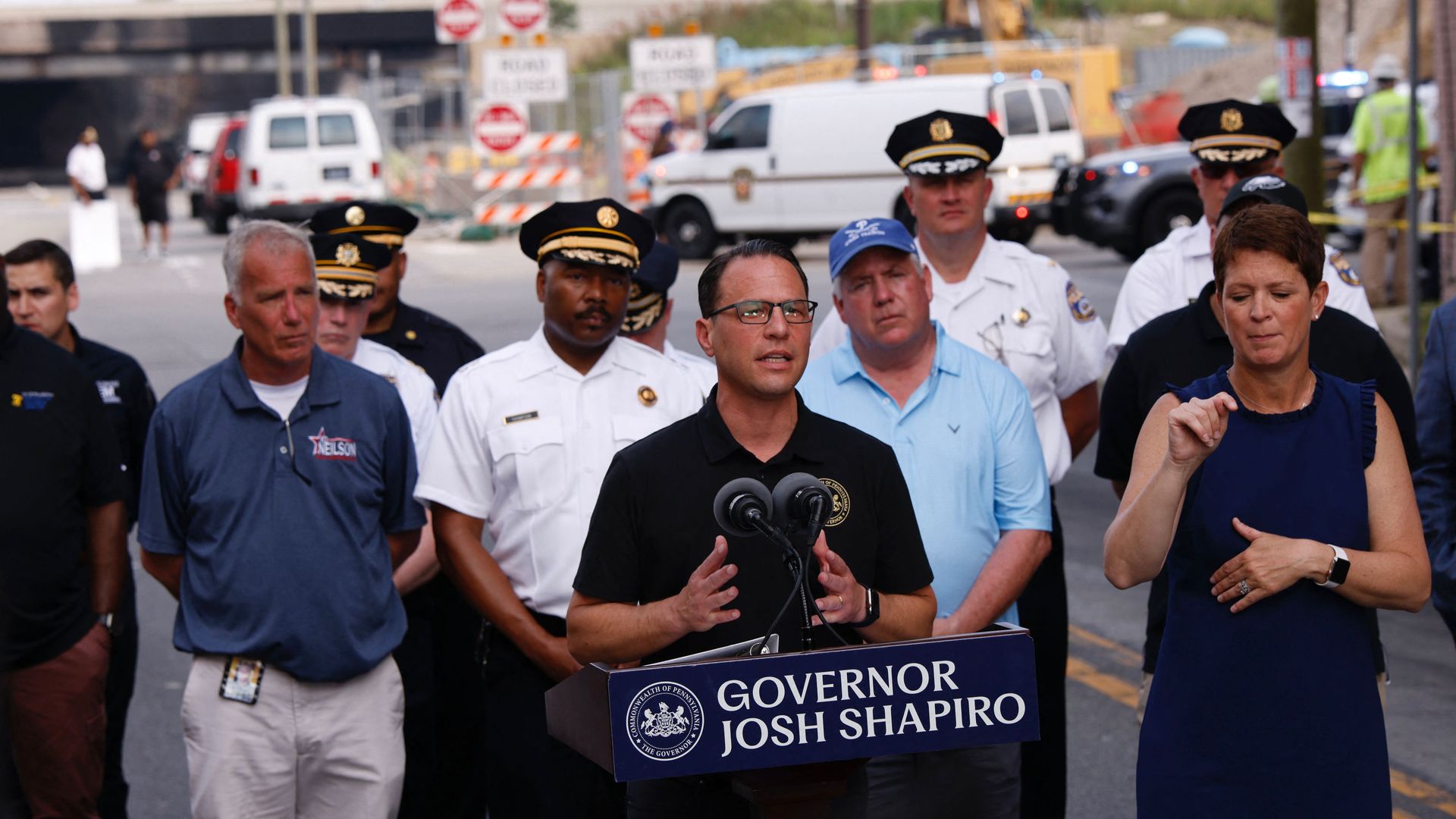 The pivotal political battleground of Pennsylvania is demonstrating that there's still a critical mass of Trump-supporting swing voters that will back the right type of Democrat under certain circumstances.
Why it matters: The party that wins over the Pennsylvania voter that backed President Obama in 2012, President Trump in 2016 and Sen. John Fetterman (D-Pa.) in 2022 will have the inside track toward winning the presidency in 2024.
It's a larger persuadable voting bloc than you'd expect, given the intense partisanship and polarization across the country. Fetterman, in particular, exceeded expectations in rural Trump-friendly counties with large recent increases in GOP registration.
Gov. Josh Shapiro, a moderate Democrat elected by 16 points in 2022, is showcasing a pragmatic playbook designed to win over these swing voters in his first months in office.
Zoom in: New polling and conversations with top Pennsylvania political operatives underscore the emergence of this critical voting bloc.
The big picture: Shapiro, whose name increasingly comes up as a future presidential prospect, is emerging as a case study on how Democrats can win over deep-seated skeptics of his party.
His governorship has been defined by three key attributes:
Competence: After early projections hinted that rebuilding the broken highway would take months, Shapiro bragged that the highway was rebuilt in just two weeks. "Let this serve as an example of how Pennsylvania can do big things," Shapiro said at the I-95 reopening.
Working-class empathy: Shapiro's first executive order as governor was ending the requirement that workers needed college degrees to serve in most state government jobs. The move earned him the praise of both traditional Democratic allies and the Wall Street Journal editorial board. (His popularity with white working-class voters in the Quinnipiac poll: a robust 52%/29% rating.)
Bipartisanship: Dealing with a divided legislature, Shapiro has been seeking compromise on a top GOP educational priority. He's been a rare Democrat supportive of private school vouchers for students in poorly performing public schools — as he negotiates a budget deal with a GOP-controlled state Senate and Democratic-controlled state House. His efforts are being furiously opposed by teachers' unions.
Reality check: One of the only red flags from recent Pennsylvania results is declining non-white support and turnout for Democratic candidates. The party's effective playbook has been centered on maximizing their advantage in the Philadelphia and Pittsburgh suburbs, while peeling off a slice of rural working-class whites.
But in doing so, the party has lost some momentum among Black and Hispanic voters. Biden's dominant 89-point advantage with Black voters in 2020 wasn't matched by Fetterman, who only won by a 77-point advantage, according to the AEI analysis.
Biden's 30-point advantage with Hispanics turned into a narrower 14-point edge for Fetterman two years later — with sharply declining turnout levels.
The bottom line: If Democrats can hold even a fraction of their blue-collar Trump-Fetterman-Shapiro voters into 2024, it would bode well for Biden's chances of winning a second term.
And if Democrats can re-create that coalition in Pennsylvania, it would also bode well for winning Wisconsin and Michigan — the blue wall of states where a sweep would all but guarantee a presidential victory.
Go deeper