Airport of the future: a seamless, high-tech urban oasis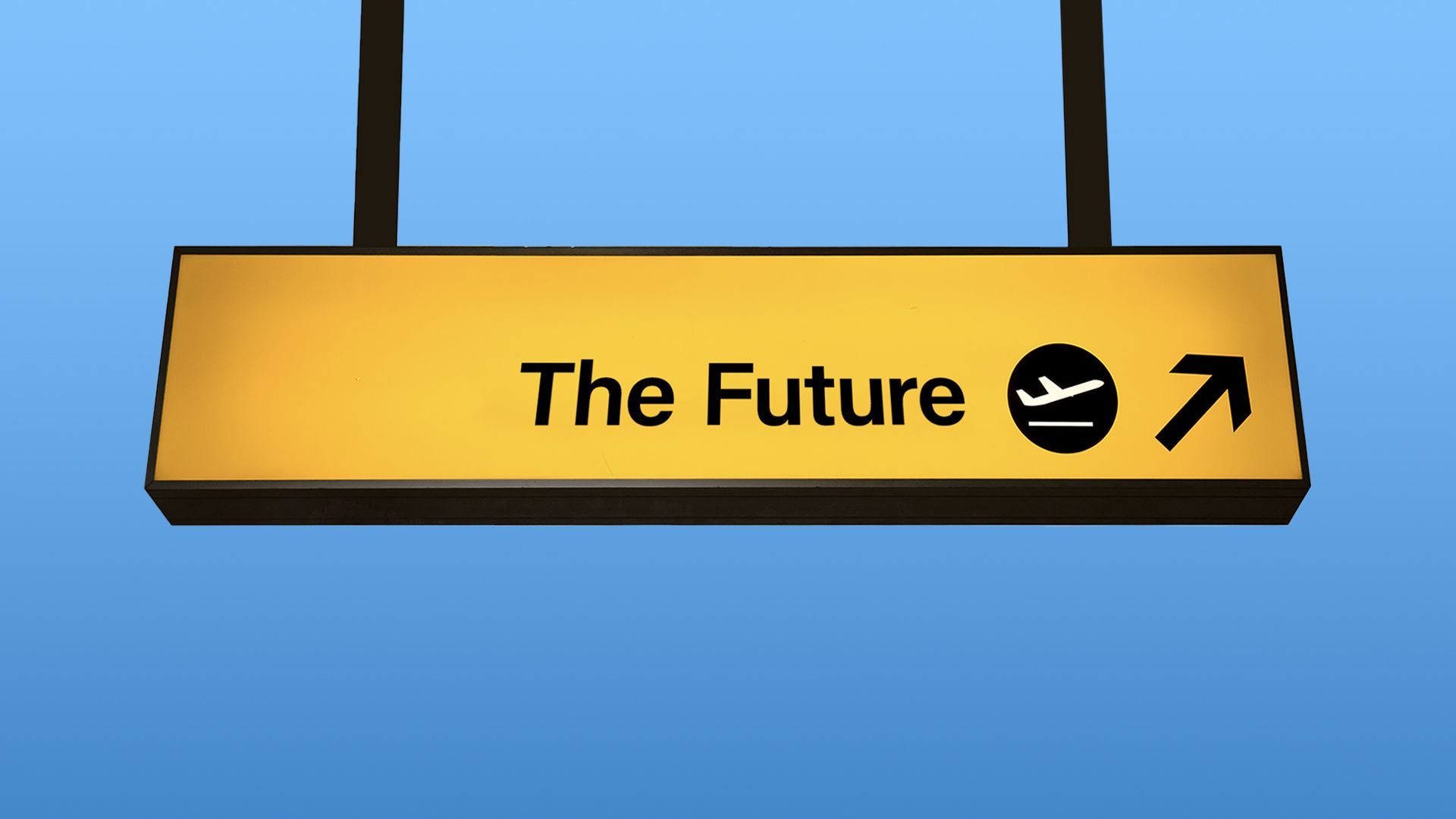 Airports are slated to become more seamless and efficient, a new report finds, even as they get busier and larger to meet growing demand.
Why it matters: As the place where many trips begin and end, airports are a critical cog in the economy. Yet they're also the source of many of our travel frustrations — flight delays, security bottlenecks and poor customer service.
But airports could wind up being a place where we actually enjoy hanging out — even if we're not traveling.
What's happening: A passenger experience "revolution" is coming over the next decade, according to a new report by the Oliver Wyman Forum, the research arm of the global consulting company by the same name.
"Our travel experience is about to get seamless, contactless, pleasant, fast and personalized," the study's lead author, Rana Nawas, tells Axios.
"And we're on our way to making it less polluting," she adds, as airlines begin shifting to sustainable aviation fuels and airports electrify ground equipment.
Details: Oliver Wyman researchers identified the biggest trends affecting the future of airports — from sustainability goals to transformational technologies — to forecast what to expect in 2030, 2040 and 2050.
What they found: Even by the end of the current decade, airports could be profoundly different, with more customized passenger services.
Think virtual queues or food delivered to your gate, plus more places to relax and shop.
State of play: Seattle-Tacoma International Airport and Los Angeles International Airport are among the first airports in North America to test virtual queues, which let travelers skip the security line by making a digital reservation for TSA screening.
Detroit Metropolitan Airport has added a massive futuristic departure board that uses facial recognition tech to show travelers customized info about their flight.
Uruguay's Carrasco International Airport is the first fully digital airport in Latin America, with curb-to-gate biometric journeys, per Oliver Wyman.
What's next: Many airports are quickly moving toward "touchless" technology using facial recognition, AI, automation and biometric scanners to smooth check-in and security or immigration clearances.
By 2040, touchless digital ID cards could replace paper passports, confirming a passenger's identity, travel information and immigration status.
Combined with biometric technology, passengers could pass through security and immigration "tunnels" at a walking pace in a completely uninterrupted journey, forecasts Oliver Wyman.
If the security process is integrated with other modes of transportation, such as air taxis or fast trains, a passenger's information could be verified even before they get to the airport.
And with personalized baggage pickup and drop-off services, passengers' luggage could be sent ahead to the airport, so they're unencumbered upon arrival.
Yes, but: Such a seamless experience would require secure data-sharing across a global travel industry, which could be a big hurdle.
"If my digital identity is shared, I need to know it is safe," says Nawas. "Governments across the world need to accept each others' security clearances."
Passengers will most likely have to opt in to such services, she adds.
"Not everybody will want this seamless, contactless experience if it means sharing their digital identity."
What to watch: With less airport space dedicated to check-in counters or security lines, terminals will have more places to relax or shop.
Expect airports to look more like Singapore's Changi Airport, which already has "Jewel," a dome-shaped attraction that houses a mix of retail, leisure, garden and hotel amenities, as well as airport operations.
By connecting airports with other forms of transportation, areas around airports could be transformed as well, creating vibrant airport cities or "aerotropolises" with shopping centers, entertainment venues, recreation facilities and even schools, airport CEOs told Oliver Wyman.
The bottom line: Airports may become more than just a place to catch a plane — they could become destinations in and of themselves.
Go deeper