Costco cracking down on membership sharing at self-checkout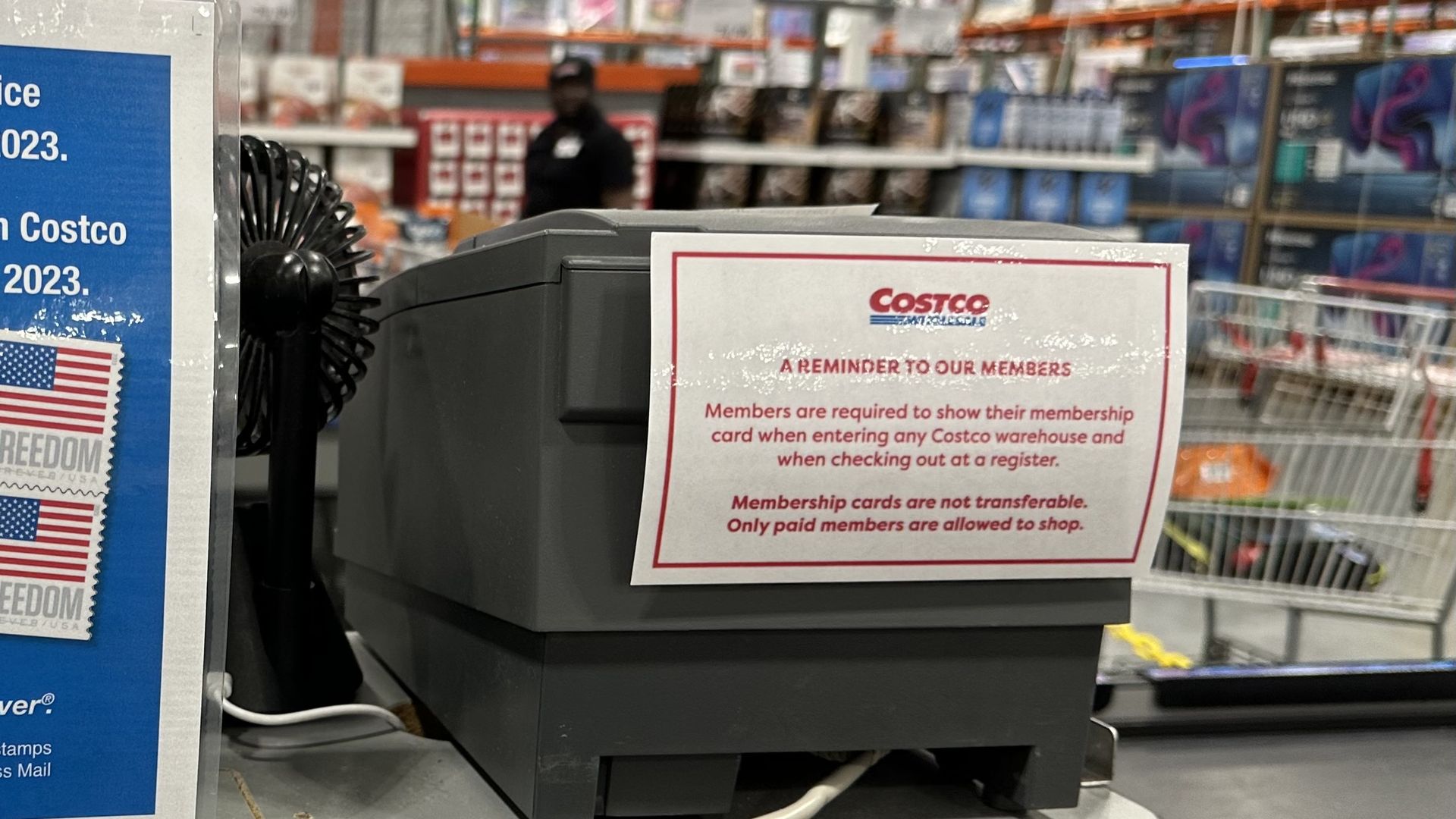 Costco Wholesale Club has started to crack down on members sharing their cards at the self-checkout lines.
Driving the news: Costco confirmed to Axios on Tuesday that it has noticed "non-member shoppers have been using membership cards that do not belong to them" since expanding its self-service checkout.
"We don't feel it's right that non-members receive the same benefits and pricing as our members," a Costco official told Axios.
At a Costco club in South Florida Tuesday, an Axios reporter heard a store employee asking shoppers to show their photos on membership cards.
What they're saying: "Costco is able to keep our prices as low as possible because our membership fees help offset our operational expenses, making our membership fee and structure important to us," a Costco said in a statement to Axios.
"As we already ask for the membership card at checkout, we are now asking to see their membership card with their photo at our self-service checkout registers. If their membership card does not have a photo, then we ask for a photo ID."
Yes, but: This isn't a change in Costco's policy. Clubs ask members to see their cards when they enter a club and at checkout.
New signs posted at clubs remind members that their memberships are not transferable, a long-standing practice.
Costco membership cost
Costco is expected to eventually raise membership fees after holding them steady since the last increase in June 2017.
Costco has two types of memberships: Gold Star costs $60 and Executive $120.
Chief financial officer Richard Galanti said during Costco's May 25 earnings call that at "some point we will" raise rates and cited inflation as a reason for waiting.
"Our view right now is that we've got enough levers out there to drive business and we feel that it's incumbent upon us to be that beacon of light to our members in terms of holding them for right now," Galanti said.
Meanwhile, competitor Sam's Club raised its membership rates last October for the first time in nine years.
Axios reporter Nathan Bomey contributed to this story.
Editor's note: This story has been updated with additional information on Costco's membership fees.
More from Axios:
Go deeper