What to know about Titanic tourist vessel that vanished in North Atlantic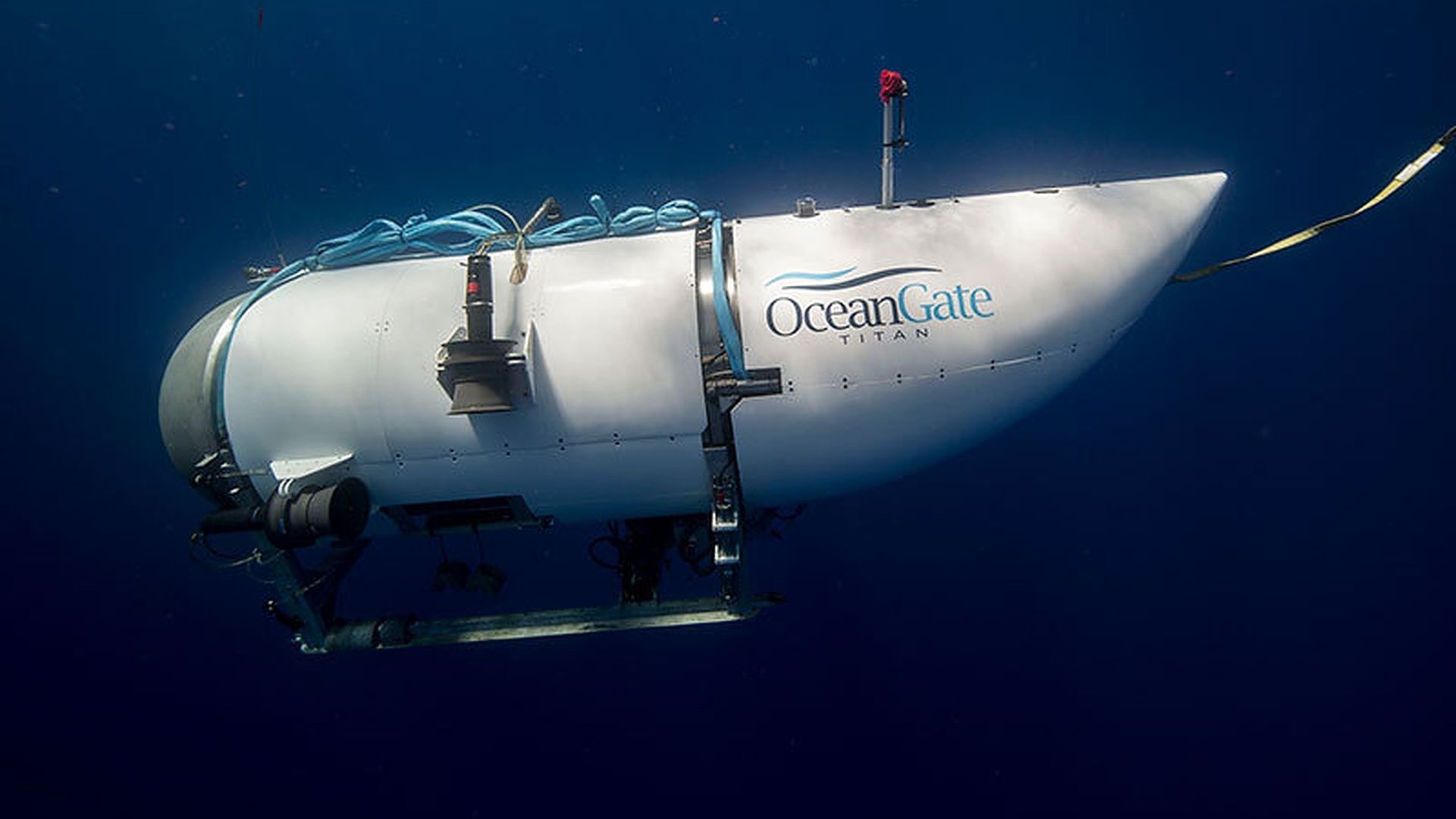 Editor's note: The Titan sub's passengers are believed to be dead. See Axios' latest coverage.
The massive search for a tourist submersible carrying five people that went missing in the North Atlantic during a diving trip to the wreck of the Titanic entered its fifth day Thursday, as oxygen supply concerns grow.
Driving the news: Capt. Jamie Frederick, the response coordinator from the First Coast Guard District, said during a news conference remotely operated vehicles (ROV) were searching an area where underwater noises were detected Tuesday and Wednesday.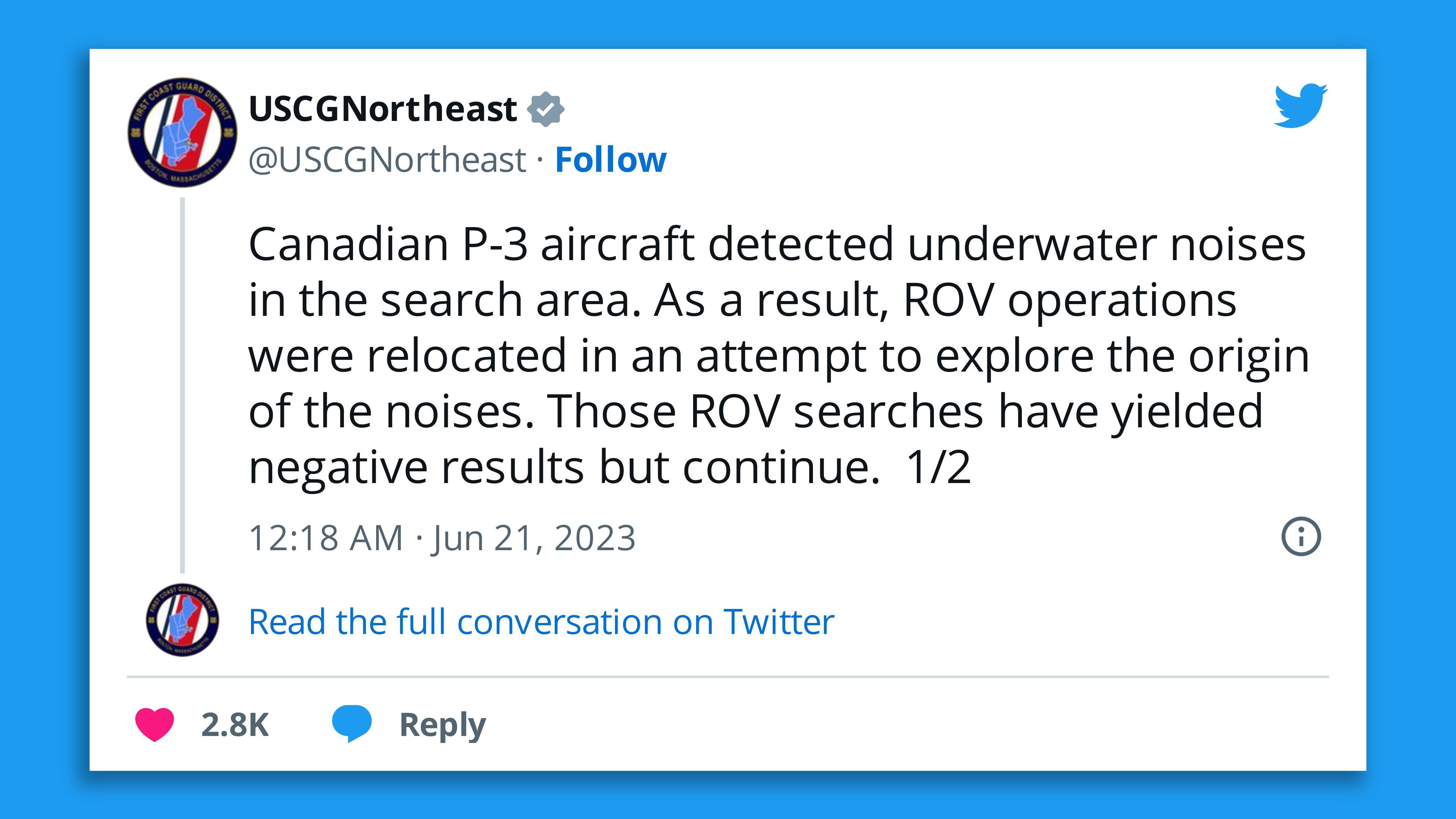 The data on the underwater noises was shared with U.S. Navy experts for further analysis that'll be used to assist in the search for the sub that's known as "the Titan," but Frederick noted this was, so far, inconclusive. "We don't know what they are, to be frank with you," he said.
The surface search area was vastly expanded to two times the size of Connecticut and the subsurface search was up to 2.5 miles deep, Frederick said.
What we're watching: Rear Admiral John Mauger, commander of the First Coast Guard District, told the BBC Wednesday it's estimated that the sub departed with 96 hours of oxygen supply on Sunday. That means the crew could run out of oxygen by Thursday morning.
Yes, but: "One of the factors that makes it hard to predict how much oxygen is left is that we do not know the rate of the consumption of oxygen per occupant on the sub," he added.
Zoom in: The crew onboard the 21-foot submersible have been identified as:
Stockton Rush, the CEO of OceanGate Expeditions. He went on as a member of the crew, a company spokesperson told Axios.
Hamish Harding, a British businessman. The Guinness World Records holder wrote in an Instagram post Saturday: "Due to the worst winter in Newfoundland in 40 years, this mission is likely to be the first and only manned mission to the Titanic in 2023."
Paul-Henri Nargeolet, a maritime explorer, per Harding's post.
Shahzada Dawood and his son Suleman, from Pakistan, AP reports.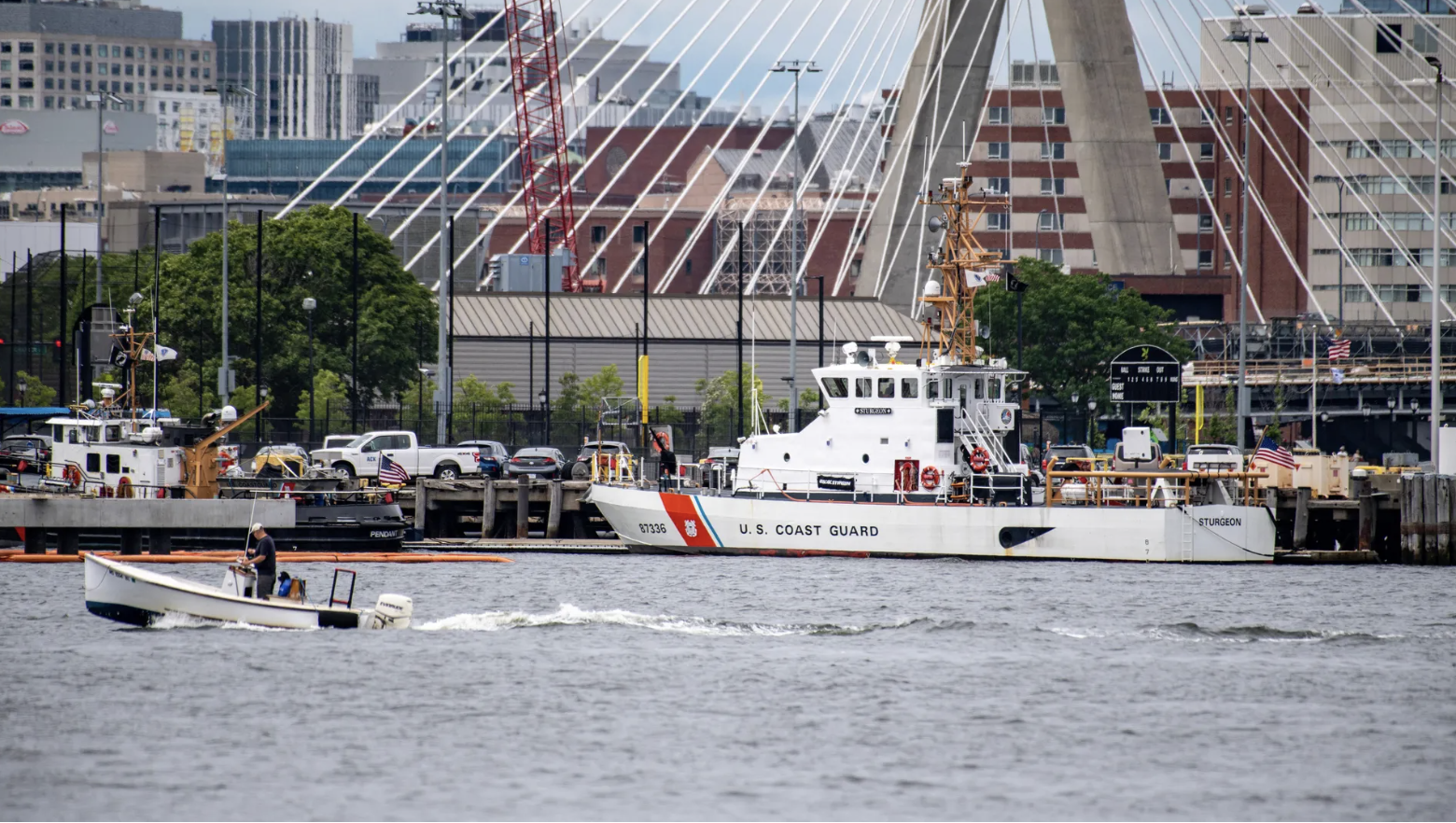 State of play: U.S. Coast Guard officials said Monday the Canadian support boat Polar Prince lost contact with the vessel one hour and 45 minutes into the dive on Sunday afternoon and it was reported overdue some 900 miles off Massachusetts' Cape Cod.
OceanGate Expeditions, which runs tours to the Titanic wreck that's laid on the ocean floor beneath 12,500 feet of water some 370 miles off the coast of Newfoundland, Canada, since it sank in 1912, said in a statement Monday it's "mobilizing all options to bring the crew back safely."
The U.S. Coast Guard, U.S. Navy, Canadian Coast Guard and OceanGate Expeditions have established a unified command to search for the vessel, per a U.S. Coast Guard statement Tuesday.
French research ship L'Atalante, which is carrying an ROV that's capable of reaching a depth of 20,000 feet, was expected to arrive at the search site Wednesday evening.
The big picture: OceanGate was founded in 2009 and is headquartered in Everett, Washington, according to the privately owned company's website.
Rush told CBS News in November that OceanGate charges $250,000 per person for the eight-day expedition — which he said attracts Titanic enthusiasts, known as "Titaniacs," some of whom had mortgaged their homes to go on the trip.
Between the lines: "The difference between a submarine and a submersible is a submarine has enough power to leave port and come back to port under its own power," said Edith Widder, a former senior scientist at Harbor Branch Oceanographic Institution, in NOAA video.
"A submersible has very limited power reserves, so it needs a mother ship that can launch it and recover it."
Go deeper: Why rescuing the Titanic sub isn't as simple as locating it
Go deeper