Walmart nears tipping point in e-commerce battle with Amazon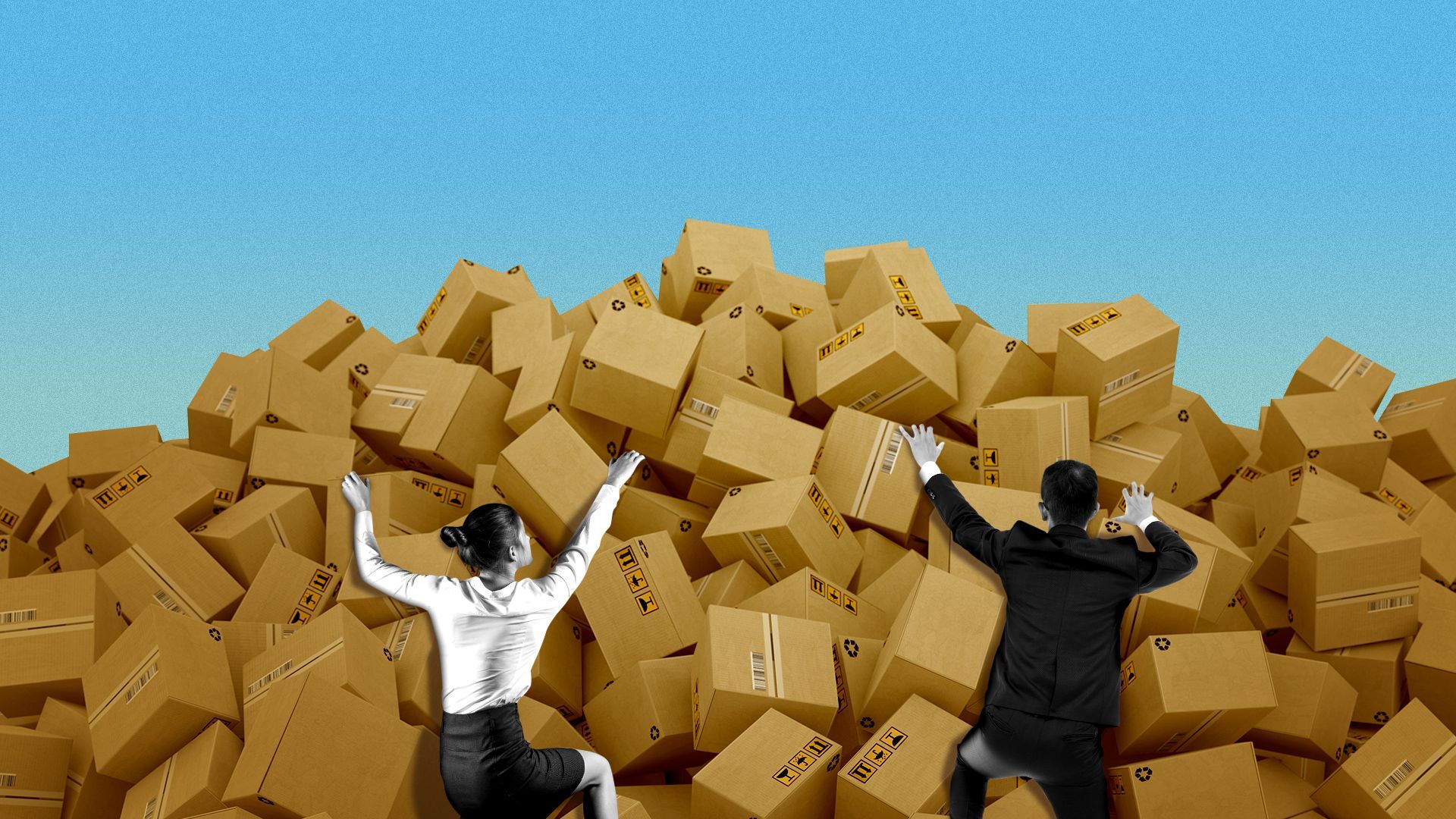 Walmart's on the cusp of weakening Amazon's edge in online shopping and shipping.
Why it matters: Amazon may lose its dominance in e-commerce, as Walmart transforms its stores into a powerful logistics network.
Driving the news: Walmart showed off its first-ever "market fulfillment center" in Bentonville, Arkansas, to reporters, including Axios, at the end of May.
Similar in some ways to sorting systems that Axios observed at a key Amazon fulfillment center in New Jersey, Walmart's compact in-store warehousing platform involves an "Alphabot" that moves along stacked shelves of inventory to store or retrieve products.
From what Axios could observe, an Alphabot station requires one to two people to operate.
Zoom out: More customers are choosing Walmart delivery and in-store pickup, and that demand fuels its e-commerce growth.
To keep scaling efficiently, Walmart wants to increase the number of online orders it can fill and the speed at which it can do it.
What they're saying: Walmart is "very confident" and committed to building out its automated storage and retrieval systems, CEO Doug McMillon told investors separately.
"The benefits that flow through from the complete system are greater than the individual parts."
The big picture: On the delivery side, Walmart over the past five years has been building a fleet of independent drivers through its Spark Driver program. That resembles Amazon's 5-year-old Delivery Service Partner program, and offers gig-work opportunities similar to Uber Eats or Instacart.
Walmart hasn't disclosed how many drivers it currently has. Amazon, meanwhile, boasts about 275,000.
For fast delivery on some of its smallest orders, Walmart has also been working to expand its drone delivery program, which recently crossed 10,000 completed orders over the past year. In comparison, Amazon has made 100 deliveries by drone since launching a few months ago.
Our thought bubble: Walmart's advantages over Amazon at the moment — physical stores and grocery — are clear, and hitting all the sweet spots in consumer behavior.
Buy-online, pickup-in-store is on the rise. Meanwhile, grocery shopping, which drives 60% of Walmart's U.S. annual sales, remains strong against pressures of inflation.
Executives at Walmart also like to talk often about how 90% of the American population lives within 10 miles of a store.
As of the end of January, the company also already had more than 3,900 same-day delivery locations.
The bottom line: Walmart looks to have enough ingredients to make Amazon a little nervous — especially as the e-commerce giant struggles with its own physical retail strategy.
Go deeper