Trump's strategy to defuse court's "rocket docket"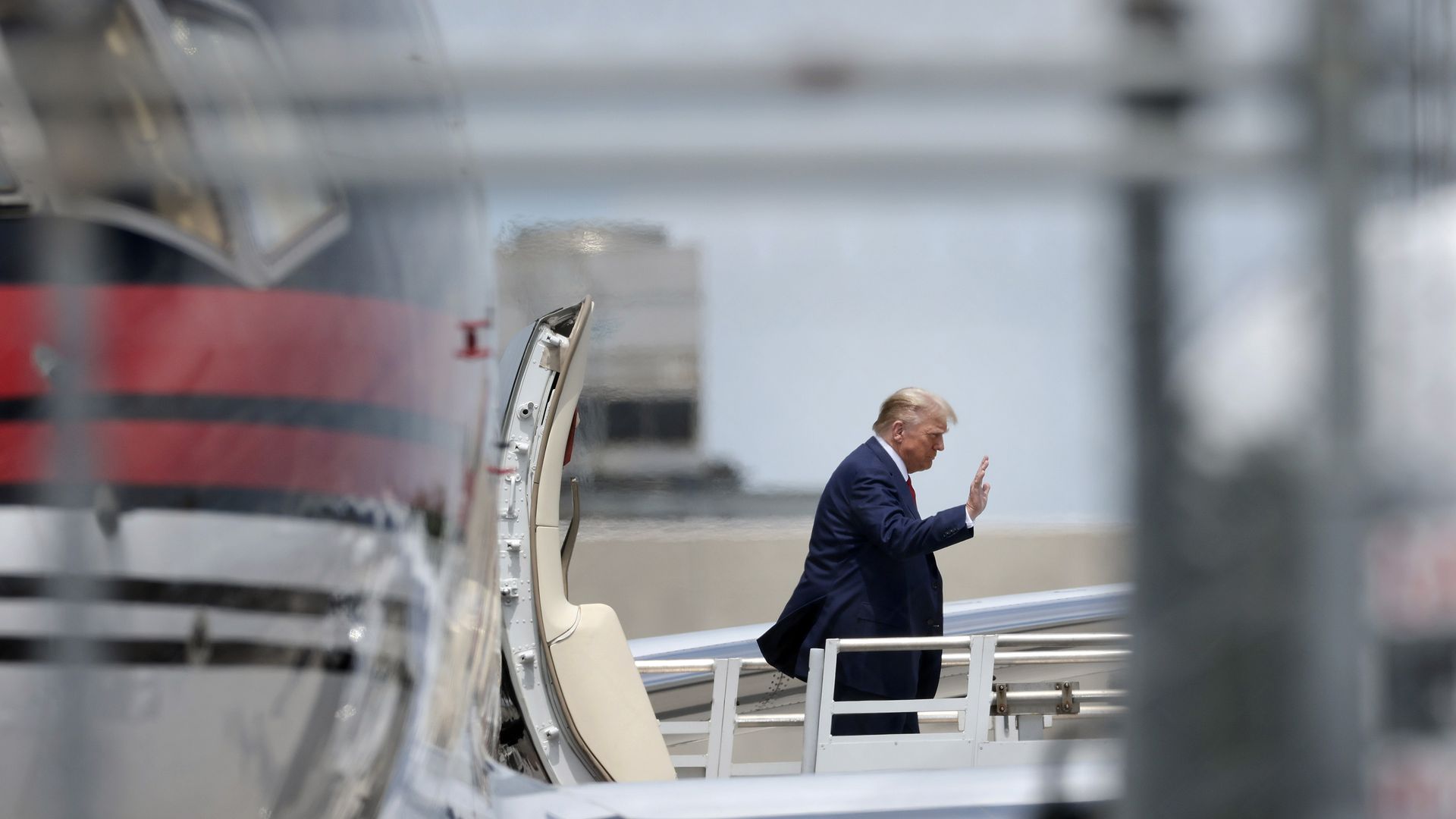 Southern Florida's federal courts are known as a "rocket docket" for their speedy trials, but former President Trump's legal team is likely to unleash a flurry of motions and challenges to delay his criminal trial there, former Trump lawyers say.
Why it matters: The moves could push the trial back, a few months at a time, as Trump's team challenges how prosecutors gathered evidence in the classified documents case, former Trump lawyer Tim Parlatore tells Axios.
"I wouldn't foresee this thing getting tried within a year," said Parlatore, who left Trump's legal team last month.
And after a trial, the appeals will go all the way to the top, he predicts. "If there's ever a case that you know from the inception that it's going to go all the way to the Supreme Court this is it."
"I can foresee some fairly substantive motions to dismiss" the case, Parlatore added. "I could also see them going through several discovery motions, and there will be fights over disclosure. I think each round of motions is going to take three months."
Discovery allows lawyers to go through evidence from both sides, and sometimes there are disputes about which documents each side must disclose. The process can significantly lengthen a trial if there are voluminous records.
State of play: Trump's team has many incentives to try to slow-walk the trial, in which he faces 37 felony counts — including 31 charges of unauthorized retention of classified information about the nation's defense, a violation under the Espionage Act. He's due to be arraigned today in a Miami court.
Zoom in: Trump and lawyers who recently departed his team have suggested some of the issues the defense is likely to challenge.
Search warrant:
Parlatore tells Axios he believes Trump's team may challenge the process in which prosecutors obtained a search warrant for Mar-a-Lago last year. "The unredacted version of the search warrant application, I think that will cause some issues," he said.
Attorney-client privilege:
Many of the damaging details in the indictment were from notes that Trump lawyer Evan Corcoran took at the time. Those notes were obtained through the crime-fraud exception that allows prosecutors to pierce attorney-client privilege. A federal judge ruled in March that the government had met that standard, but Trump's team could contest that decision.
Trump has fixated on the issue for months, telling Newsmax in March: "They bring attorneys in as though they're, you know, witnesses to a case. It wasn't supposed to be that way."
Prosecutorial misconduct:
Trump's team is likely to argue that one of the top prosecutors in the case acted unethically.
Zoom out: Trump's campaign declined to comment on his legal strategy but pointed Axios to Trump's past allegations of misconduct by prosecutors and his complaints about the attorney-client privilege issue.
On Friday, special counsel Jack Smith appeared to address some of those arguments, saying his prosecutors "have investigated this case hewing to the highest ethical standards."
Smith also signaled that prosecutors will try to blunt any attempt by Trump's team to delay the proceedings: "My office will seek a speedy trial."
What we're watching: Trump is bringing in new lawyers who could shift his strategy.
Flashback: Trump has been able to manipulate the legal system for decades to delay and defer.
Go deeper