GOP Rep. Gallagher passes on Wisconsin Senate bid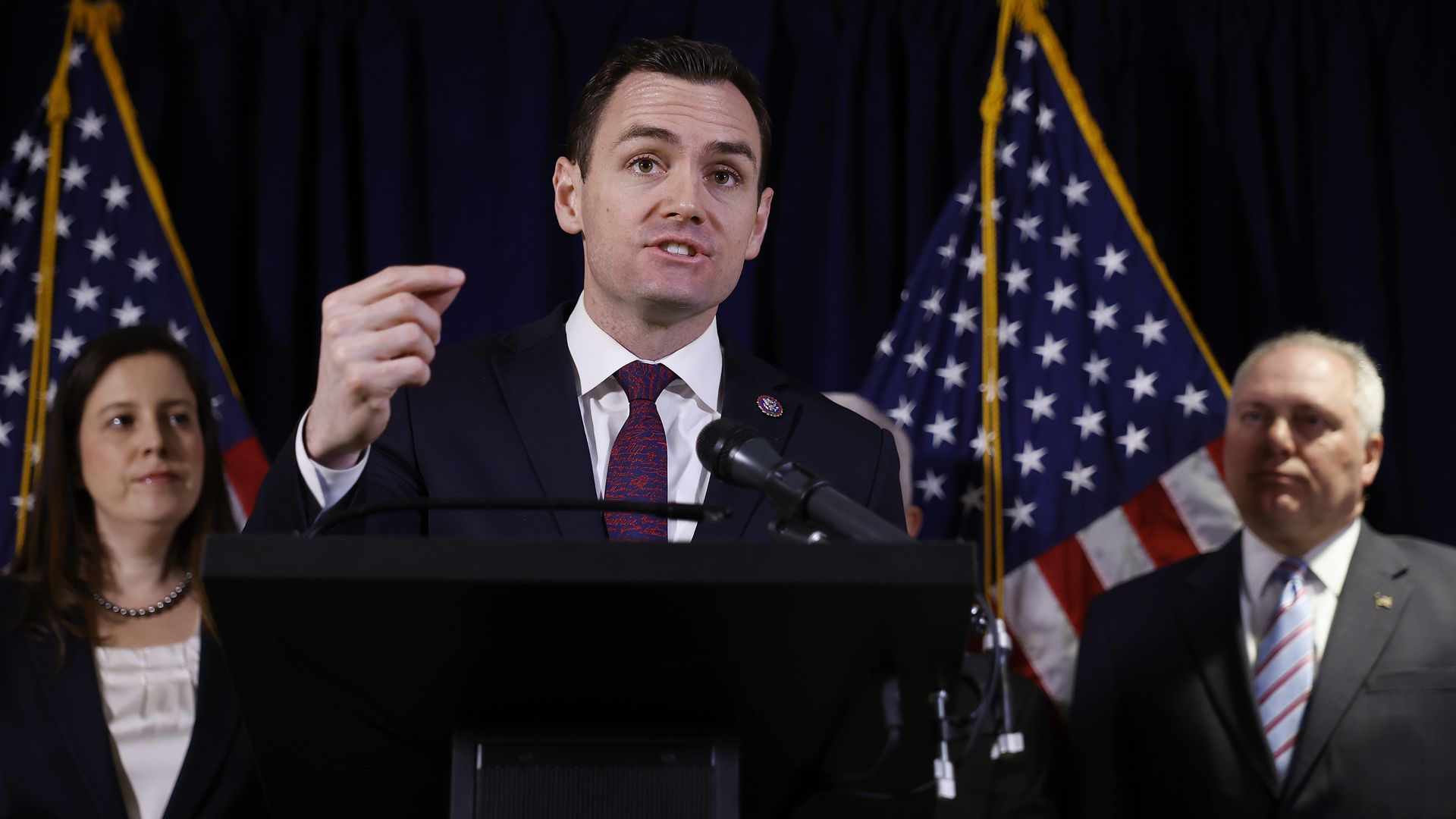 Rep. Mike Gallagher (R-Wisc.) said Friday he will run for reelection to the House rather than challenge Sen. Tammy Baldwin (D-Wisc.) in 2024.
Why it matters: The decision denies Senate Republicans a top recruit in what they see as one of their best opportunities of the cycle to pick up a seat in the closely divided chamber.
"It's obviously disappointing, but it would have been political malpractice not to try to recruit Mike Gallagher," National Republican Senatorial Committee (NRSC) spokesperson Tate Mitchell told Axios in a statement.
What he's saying: Gallagher said in a statement he has a "rare, bipartisan opportunity" as chair of the House's China Select Committee to "help restore American strength, prevent war in the Pacific, and defend our basic freedoms from communist aggression."
"Accomplishing this mission and serving Wisconsin's 8th District deserve my undivided attention," he said. "Therefore, I will not run for the Senate in 2024 and will pursue re-election to the House."
His decision was first reported by the Milwaukee Journal Sentinel.
Between the lines: Under GOP conference rules, committee chairs and other members of leadership who run for higher office are required to step down from their positions.
The backdrop: Gallagher, a 39-year-old former Marine Corps intelligence officer with a doctorate in government and international relations, was seen as an "A-list recruit" against Baldwin, Axios' Josh Kraushaar reported in May.
Republicans see an opportunity in the state, where President Biden won by less than one percentage point in 2020 and Sen. Ron Johnson (R-Wisc.) won reelection last year despite low favorability ratings.
But Baldwin is also seen as an electoral powerhouse, having won reelection in 2018 by 11 percentage points.
The other side: The Wisconsin Democratic Party said in a statement that Gallagher turned down a run "because he knew he couldn't beat Tammy Baldwin."
"The Wisconsin GOP is staring down another chaotic, messy, intra-party primary with Sheriff David Clarke leading the pack."
What we're watching: Clarke, a Trump ally and former Milwaukee County sheriff, reacted to the news by tweeting out a poll that shows him leading a potential GOP field, including Gallagher, by 20 points.
Rep. Tom Tiffany (R-Wisc.) "plans to make a decision in August" on whether he'll run for the seat, his spokesperson Caroline Briscoe told Axios.
Eric Hovde, a former hedge fund manager who previously ran for Senate in 2012, said he will decide by December.
"We will have a strong candidate in Wisconsin," Mitchell, the NRSC spokesperson, said.
Axios' Juliegrace Brufke contributed reporting to this story.
Go deeper