Business behemoths ramp up China diplomacy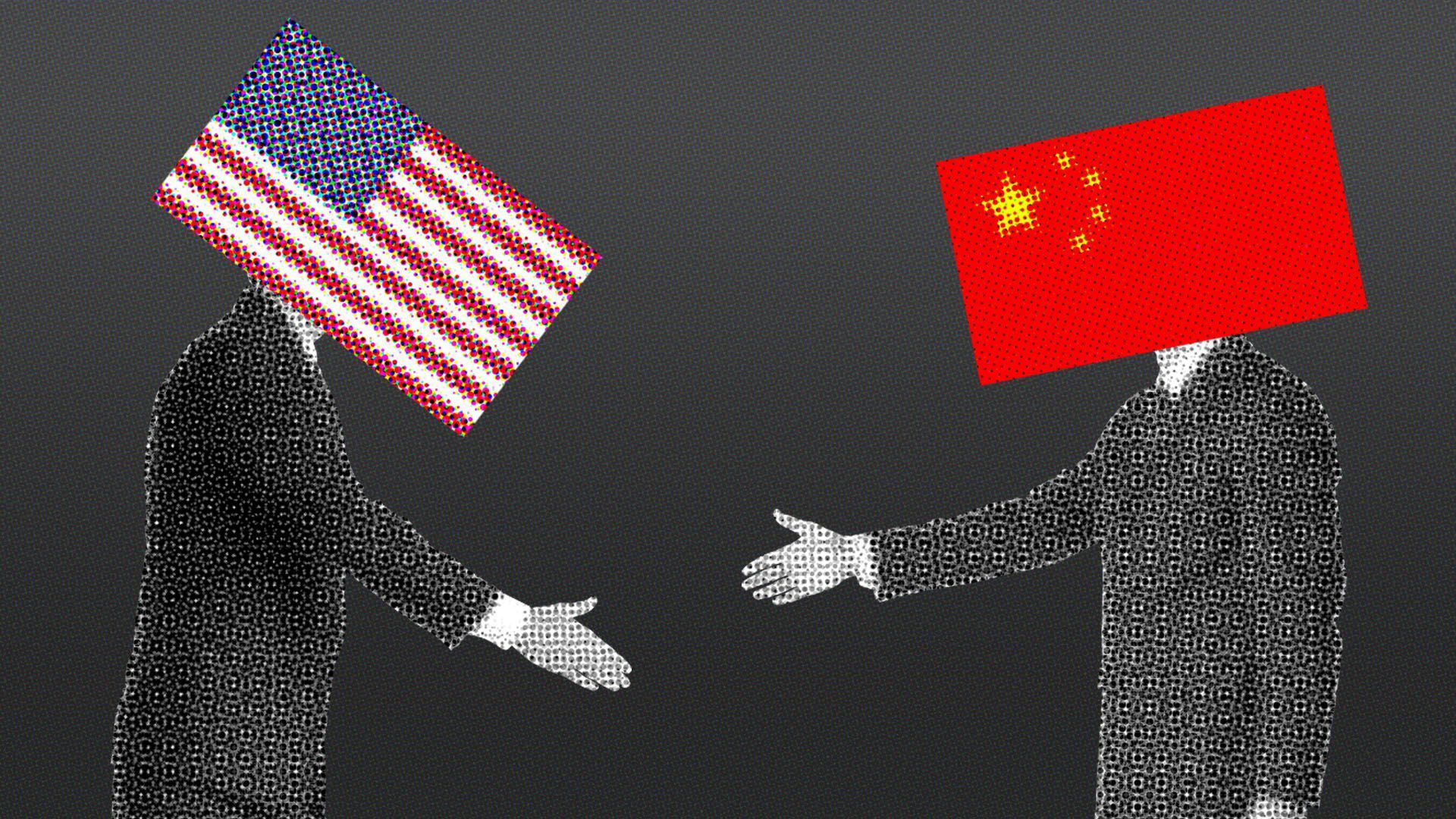 America's biggest corporate titans are resuming trips to China and going out of their way to defuse — or at least downplay — tensions between the world's two largest economies.
Why it matters: D.C. and Beijing's growing antagonism contrasts sharply with business leaders who hope to showcase China's importance to economic growth.
What's happening: Tesla CEO Elon Musk raised eyebrows Monday with his first visit to Beijing in three years and a high-stakes meeting with China's foreign minister.
JPMorgan CEO Jamie Dimon is speaking at a confab in Shanghai today for his first trip to China since the pandemic began.
The big picture: Sino-American pain points are large and multiplying, and took a turn for the worse after the infamous spy balloon incident earlier this year.
Zoom out: "Decoupling" has become one of the hottest buzzwords in geopolitical circles, with some observers pondering whether the U.S. and China could learn to live without the other.
The intertwined nature of their economies, and the sheer size of China's population, would be difficult to overcome.
During the pandemic, supply chain disruptions led to speculation that countries like Vietnam, Thailand and Singapore could be viable alternatives. Yet as one banking executive cheekily reminded Axios in a recent conversation, "There's not a billion of them."
What they're saying: "Unfortunately, the relationship has deteriorated to its worst state since Henry Kissinger and Zhou Enlai began their conversations to reestablish relations between the two countries over fifty years ago," Graham Allison, founding dean of Harvard's Kennedy School of Government, told Goldman Sachs in an interview published this month.
Dimon and Musk's individual pilgrimages east reflect the realpolitik that's always driven Western financial considerations. Even as critiques mount over Beijing's global ambitions and human rights record, executives are becoming more vocal about salvaging the relationship.
At Berkshire Hathaway's annual meeting in early May, investing legends Warren Buffett and Charlie Munger denounced rising U.S.-China tensions as "stupid," insisting they need each other.
Reality check: Much like a chatty executive worried about losing business, money talks. Chinese foreign minister Qin Gang told Musk that his country was committed to improving the business climate, and even employed a car metaphor to make his point.
"We must step on the brake in time, avoid dangerous driving and be skillful at using the accelerator to promote mutually beneficial cooperation," Reuters reported Qin as saying.
The bottom line: As Goldman Sachs analysts point out, decoupling can happen in small ways without a disruptive — and potentially catastrophic — big bang.
The two economies have little choice (at least in the foreseeable future) but to keep relying on each other, whether or not political leaders recognize that fact.
Go deeper