Meetings highlight unstable U.S.-China relationship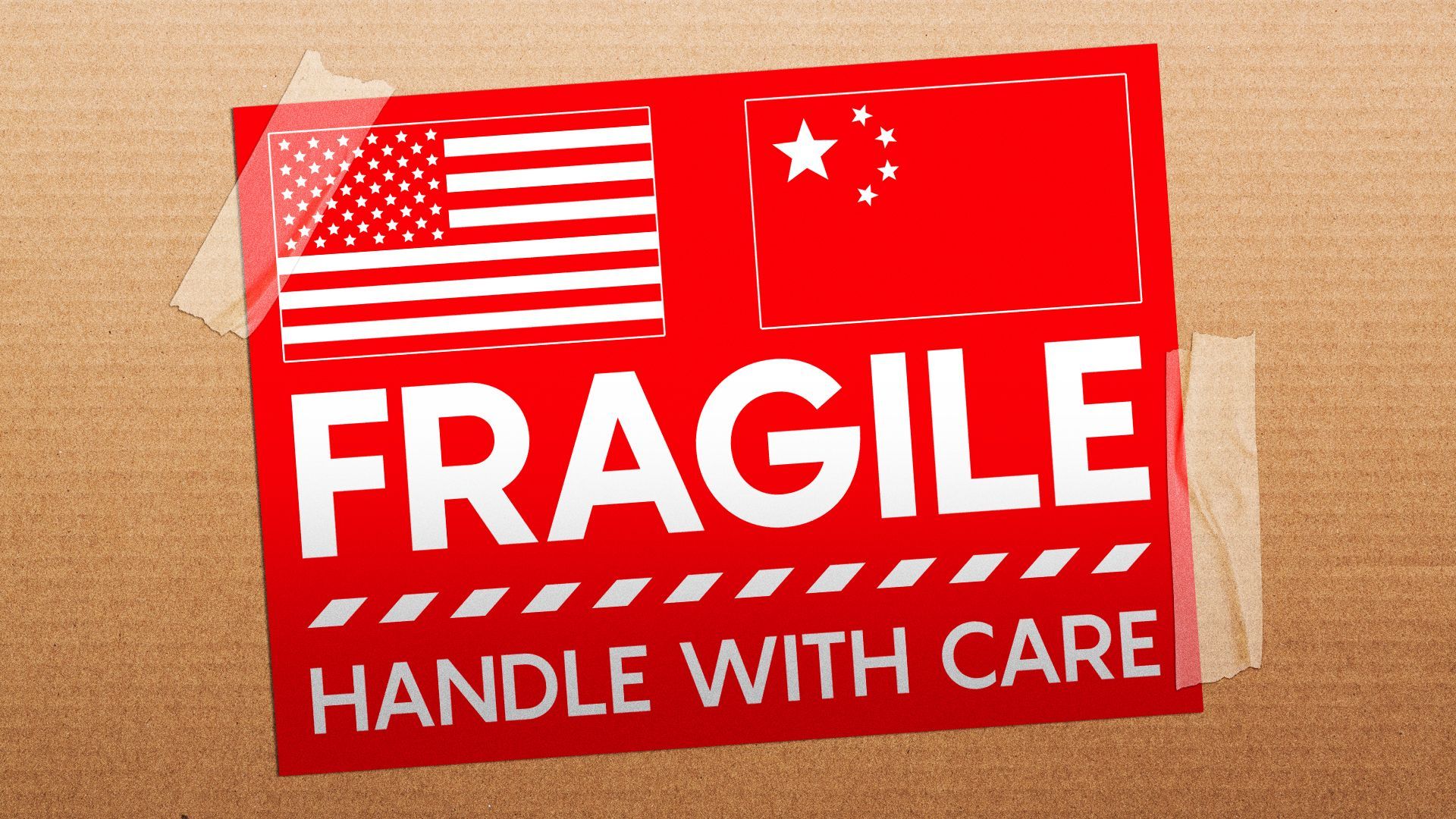 A rare meeting between the U.S. and China's top commerce officials last week was followed by a failed attempt to get the countries' defense chiefs together, underscoring the difficulty of getting the two superpowers back on speaking terms.
Why it matters: The U.S.-China relationship has fallen to a new low point, and U.S. attempts this year to bring China back to the table have largely been rebuffed.
What's happening: Secretary of Commerce Gina Raimondo and her counterpart Wang Wentao met last week, marking the first visit by a top Chinese official to Washington since 2020.
The tone of the meeting appeared productive, though there were areas of concern for both sides, including the targeting of businesses in both countries.
Raimondo told Wang she hoped to continue to build engagement with China, according to the U.S. readout of the meeting.
"The two sides agreed to establish channels of communication and maintain and strengthen exchanges on economic and trade concerns and other co-operation matters," China's Commerce Ministry said after the meeting.
But days later, China rejected the U.S. offer for the two country's defense chiefs to meet this weekend in Singapore.
The Chinese government formally notified the U.S. of its decision to reject the meeting, which U.S. defense officials saw as an especially blunt message, per the Wall Street Journal.
Beijing cut off several channels of military and diplomatic communication after the U.S. shot down a Chinese spy balloon floating over the continental U.S. in February.
Secretary of State Tony Blinken delayed a planned visit to Beijing due to the spy balloon incident, but the Chinese government has not permitted him to reschedule it.
Between the lines: It's notable for the two top commerce officials to meet, particularly because of the Commerce Department's growing role in the U.S.'s tough-on-China policy.
The department has undergone a major transformation from a business promotion office to a key player in U.S. national and economic security.
Under the Trump and Biden administrations, the department has increasingly been "tasked with overseeing one of the most important challenges today: the holistic reconsideration of America's economic relationship with China," Katrina Northrop of The Wire China wrote.
Commerce implements the CHIPS and Science Act, which includes measures to shore up U.S. semiconductor chip manufacturing and stunt growth of the industry in China. It also maintains the Entity List used to blacklist numerous Chinese companies and other entities for national security and human rights reasons.
Commerce is also currently examining how to screen outgoing U.S. investments to China for national security concerns — an unprecedented measure that has growing support in Congress but would likely further alienate Beijing.
What to watch: Chinese Minister of Defense Li Shangfu is slated to give a speech at the Shangri-La Dialogue in Singapore this weekend.
Go deeper