Scoop: Dems told to say debt ceiling bill rejects GOP's "extreme demands"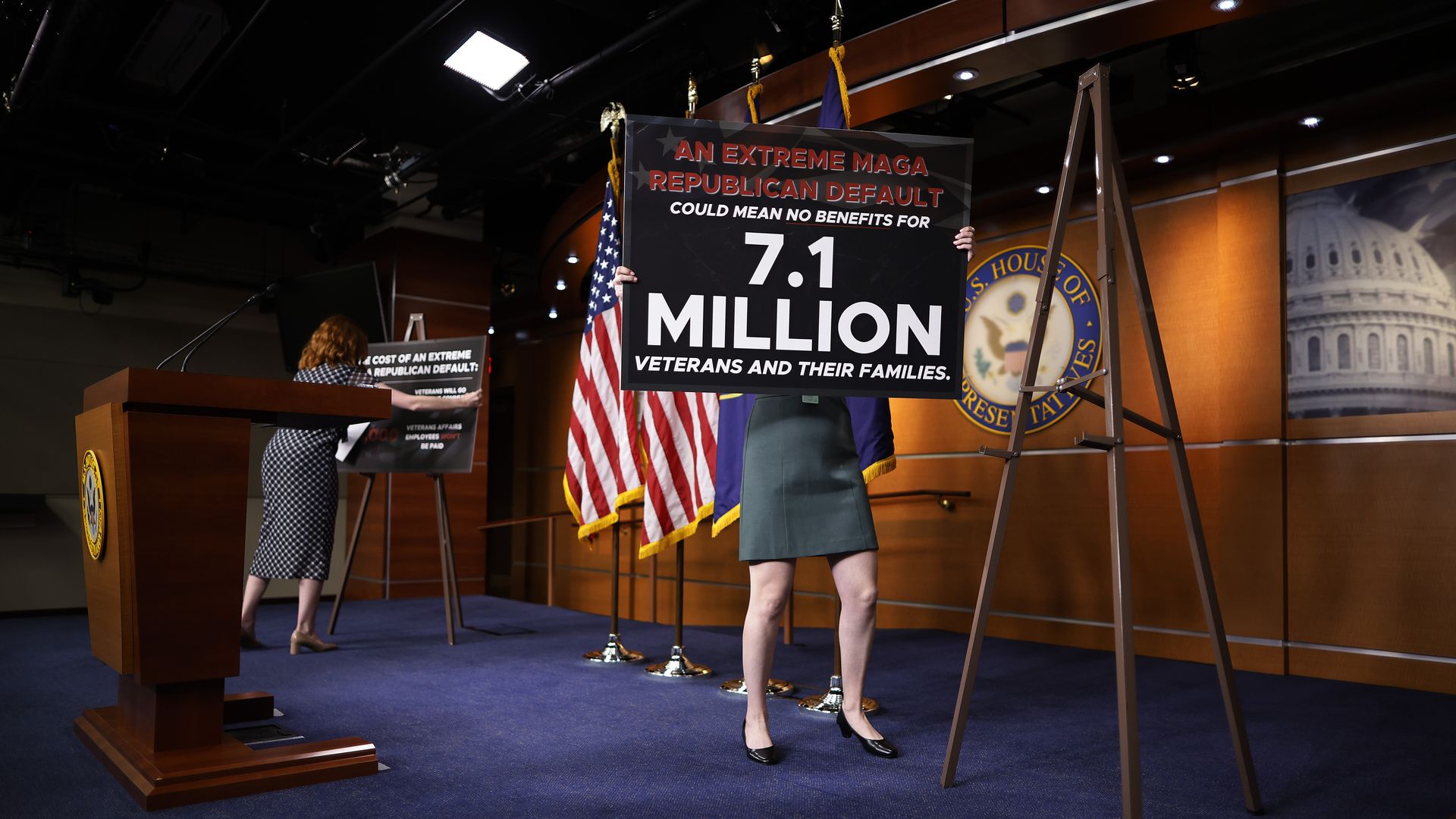 House Democrats' messaging guidance on the newly released debt ceiling bill instructs them to say the legislation rejects "extreme demands" from Republicans, Axios has learned.
Why it matters: It is a look at how Democrats plan to counter claims by House Speaker Kevin McCarthy (R-Calif.) that the bill is a total GOP win that contains no concessions for the other side.
Driving the news: Axios obtained a copy of the messaging guidance sent to House Democrats' offices on Monday morning by the Democratic Policy & Communications Committee.
The guidance offers a single-phrase pitch for the bill: "House Democrats are working responsibly to avoid a devastating default on our debt[.] Extreme MAGA Republicans are recklessly threatening a job-killing recession[.]"
It also says the bill rejects "Republicans' extreme demands to cut critical lifelines for everyday Americans" and "extreme MAGA Republican proposals to cut domestic funding by 22 percent."
Among the other examples of wins the guidance points to: Not touching Medicare and Medicaid, Social Security, veterans' health care and student debt relief.
The backdrop: The guidance largely codifies the case House Minority Leader Hakeem Jeffries (D-N.Y.) has been making about the deal.
"It protects the American people from the types of devastating spending cuts that were proposed by Republicans in their Default on America Act," he said in a CBS "Face the Nation" interview on Sunday.
What we're watching: How conservative House Republicans, who have been agitating against the bill, react to these arguments.
After a senior House Democrat told Axios they believe the "vast majority" of the party will support the bill because it contains "modest" concessions, Rep. Ralph Norman (R-S.C.) responded: "Notice how oddly calm Democrats are for a change? This is why…"
"Just one big happy uniparty family!!" tweeted Rep. Chip Roy (R-Texas). "Yay, debt!!"
The state of play: Democrats will need to persuade enough of their members to vote for the bill to make up for lost votes on the GOP side.
Go deeper