Scoop: Sinema enters debt ceiling negotiations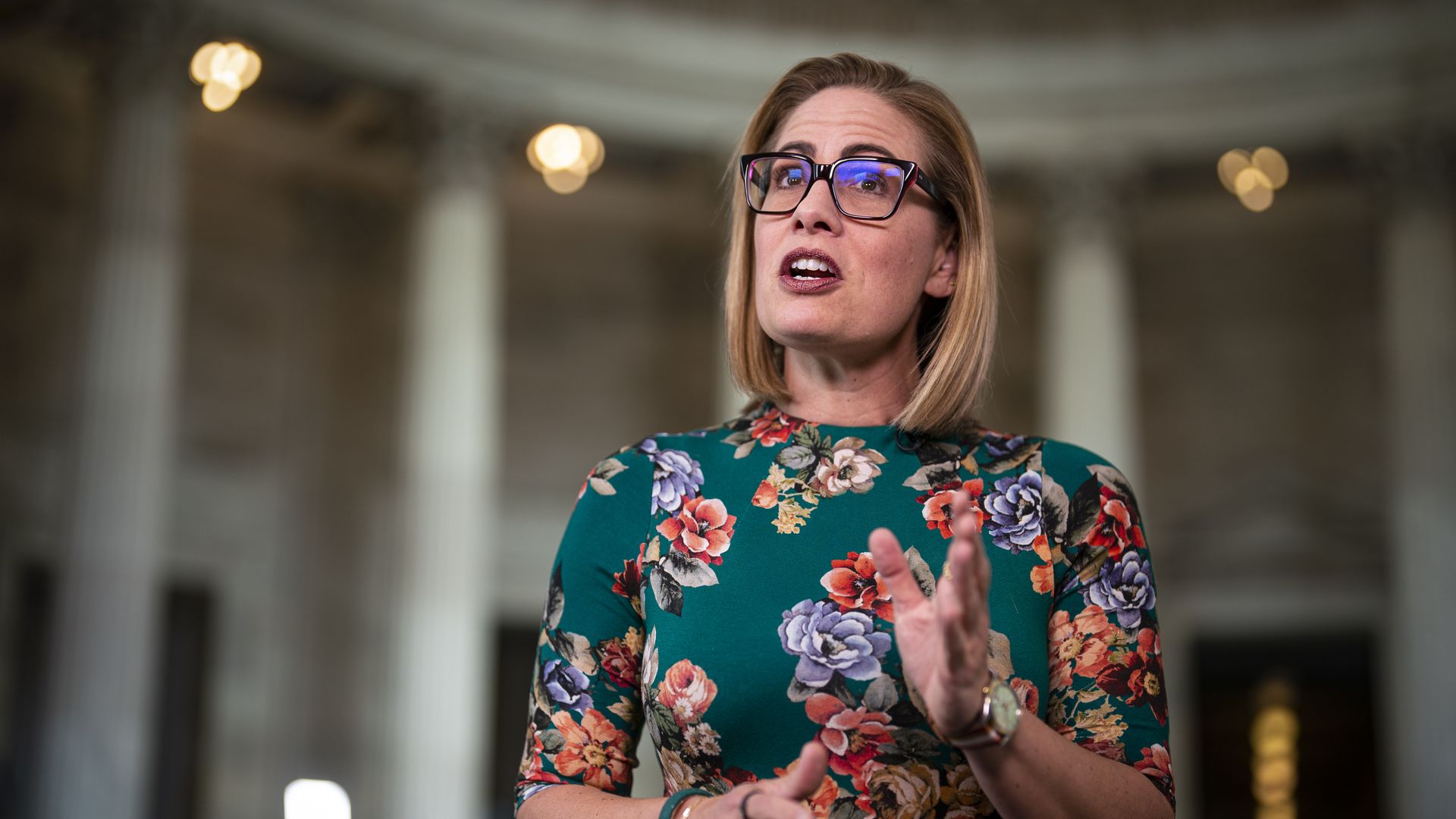 Sen. Kyrsten Sinema (I-Ariz.) has inserted herself into the debt ceiling negotiations, working with both sides to try to bridge differences on permitting reform, according to people familiar with the matter.
Why it matters: Her late entrance is a sign that negotiators are willing to explore new avenues to resolve thorny issues before June 5, the new deadline from Treasury Secretary Janet Yellen for when the U.S. government will run out of money.
Permitting reform — a catch-all category that includes both Republican and Democratic plans to improve energy production and transmission — is emerging as a tough-to-resolve disagreement between the White House and congressional negotiators.
Republicans want to change the National Environmental Policy Act (NEPA) with the goal of cutting red tape for oil and gas companies when they develop new projects. Democrats want to make it easier for solar and wind farms to access transmission lines.
Negotiators also are at an impasse on a demand from House Speaker Kevin McCarthy (R-Calif.) to add new work requirements to welfare benefits, according to Biden administration officials.
But the two sides are making progress on overall spending levels, with the goal of capping spending for two years at lower levels. In exchange, the debt ceiling would be raised past the 2024 elections.
Driving the news: By removing any wiggle room on the government's default date, Yellen's new pronouncement is adding urgency to the negotiations.
"We're within the window for which we meet the June 5 deadline," Rep. Patrick McHenry (R-N.C.) told reporters on Capitol Hill. "It's not over. We're not done."
House Majority Whip Tom Emmer (R-Minn.) told his team late Friday that negotiators still didn't have a deal, but that they should be prepared to find the votes to pass it when the details are finalized, lawmakers said.
Zoom in: Sinema is trying to use her status as an independent senator — and her experience as a key vote in last year's showdown over the legislation that became President Biden's Inflation Reduction Act — to find common ground.
But some Democratic lawmakers are privately concerned that her 11th-hour effort to save the day will water down key green energy provisions.
A spokesperson for Sinema declined to comment; the White House also had no comment.
Zoom out: Both parties' ideological bases — Democratic progressives and the most conservative Republicans -- have voiced concerns about the contours of a potential deal.
Divided by ideology, the two groups essentially are saying the same thing: Their leaders aren't fighting hard enough for their party's core principles.
What they're saying: "If rumors are accurate, and I certainly hope they are not, the negotiated deal would be devastating to the nation's fiscal future," said Rep. Bob Good (R-Va.)
Biden "needs to continue to stand firm against cruel eligibility requirements on TANF or SNAP programs," said Rep. Steven Horsford (D-Nev) chair of the Congressional Black Caucus, referring to the Supplemental Nutrition Assistance Program (SNAP) and Temporary Assistance for Needy Families (TANF).
Go deeper: On energy permitting revisions, Rep. Garret Graves (R-La.), a top McCarthy negotiator, have made NEPA reform a priority.
Democrats, for the most part, oppose significant changes to NEPA, but they do want to make it easier for renewable energy sources to plug into the electricity grid.
Sen. John Hickenlooper (D-Colo.) and Scott Peters (D-Calif) are pushing legislation that would incentivize the construction of new transmission lines and require different power regions to have the capacity to transfer up 30% of their electricity to each other.
Sinema wants to explore ways to lower that 30% power-sharing requirement, which would make the transition slower, but easier for the energy industry.
The bottom line: McCarthy and Biden still need to nail down a plan that allows them to cobble together a coalition of 218 votes in the 435-member House — and energy permitting is a key issue standing in the way.
Eugene Scott contributed to this report.
Go deeper