More training after botched Uvalde police response, but accountability still in question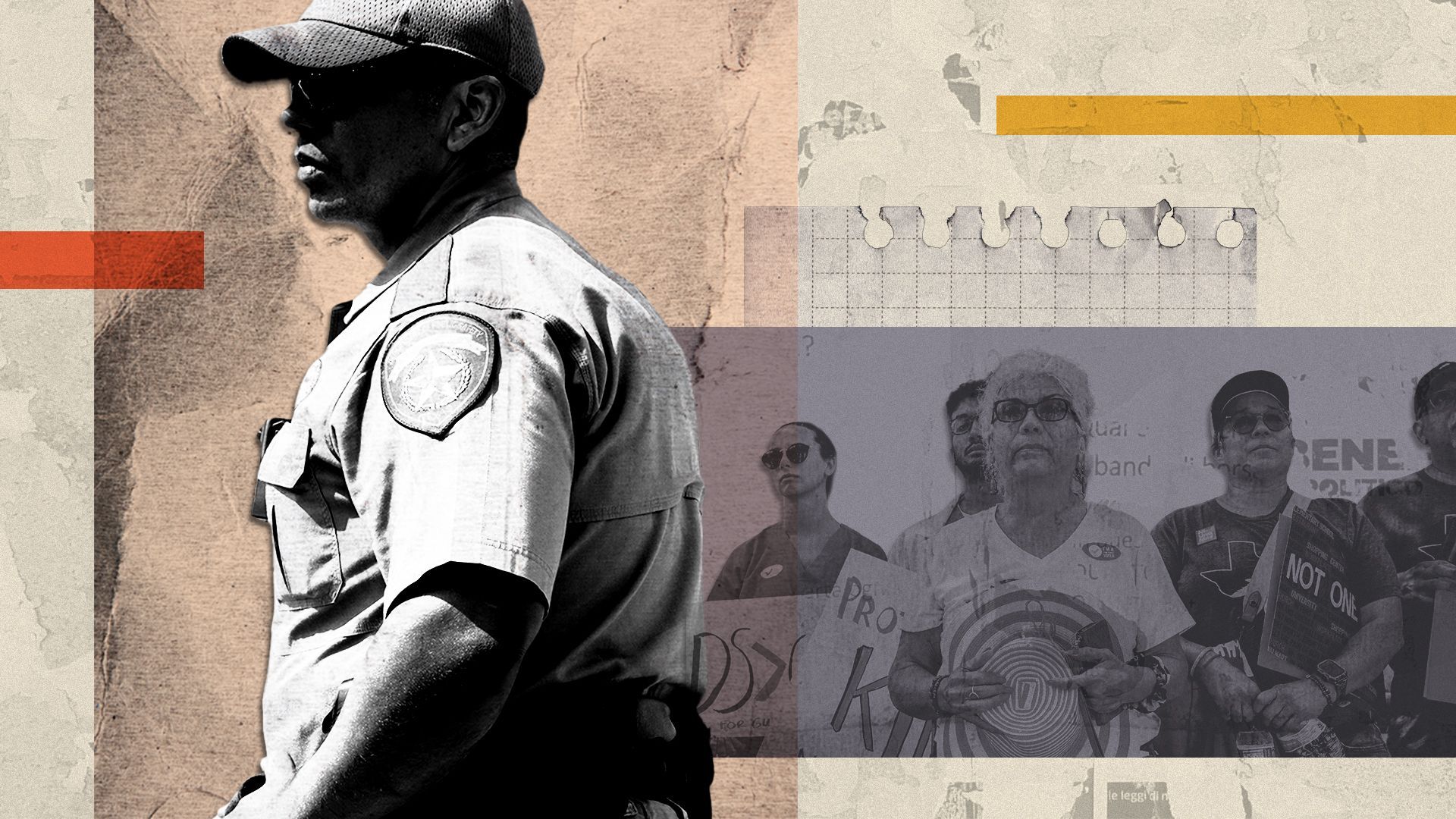 Texas police are becoming better equipped to face active shooters after the "abject failure" of the response to last year's Uvalde school shooting, a leading expert says — but critics are skeptical, insisting not enough is being done to hold police accountable.
The big picture: The May 24, 2022, shooting at Robb Elementary School that left 19 fourth graders and two teachers dead is among the deadliest in U.S. history.
Since the shooting, the Advanced Law Enforcement Rapid Response Training Center (ALERRT), the organization that has provided active shooter training in Texas and around the country for 20 years, has received more funding, and a new law will further bolster its work, says executive director Pete Blair.
"I think that this is a good step toward ensuring that officers have proficiency in responding to these events," Blair says. "I think we're in a better place."
The Texas law, which takes effect Sept. 1, requires all officers to complete 16 hours of active shooter training and to repeat the training every other year. Until the law goes into effect, not all police are required to take active shooter training. Some of the law enforcement officers who responded to Uvalde had not received the training, investigators found.
Blair says his organization, which is part of Texas State University, has already started providing extra training to police after Uvalde.
Yes, but: Democratic lawmakers tell Axios most measures to hold police accountable have largely been ignored.
Holding police criminally liable for some of their behaviors does not have wide support, says G.M. Cox, a retired police chief and lecturer at Sam Houston State University. Police unions are effective at defending their ranks, and making a strong criminal case is hard, Cox adds.
A bill proposed by Democratic state Sen. Roland Gutierrez that would end qualified immunity for police gained no traction. Gutierrez, who represents a district that includes Uvalde, hoped the bill would make it easier for victims' families to sue the officers who responded to the scene, he says.
Legislation by Houston-area Democrat Rep. Jolanda Jones that would have required officers to have personal liability insurance to compensate victims in cases of wrongdoing didn't make it out of committee. Jones' bill was meant to address police violence against Black people.
Of note: The police response in Uvalde stands in stark contrast to how police have acted in other mass shootings — and to how police everywhere have been taught to respond to active shooters since the 1999 Columbine High School shooting.
In Nashville, police were hailed for their quick response at a Christian school where six people were killed on March 27.
In Allen, Texas, where eight people were killed at a mall earlier this month, a police officer who happened to be responding to a different call heard the shots, tracked down where they came from and fatally shot the suspect.
What to watch: A Republican-sponsored bill that would give more authority to the Texas Commission on Law Enforcement, which regulates licensed officers but said last year it had no authority to discipline Uvalde responders, passed in both chambers of the Texas legislature.
The bill would give TCOLE the ability to set policies for law enforcement in the state including for use of force, vehicle pursuits and impartial policing, according to Andrew McConnell, a policy analyst for the Texas Sunset Advisory Commission, which helped make recommendations for the bill.
Gov. Greg Abbott (R) has until June 18 to sign or veto the bill. It's unclear if he will.
Go deeper