Debt ceiling talks enter make-or-break phase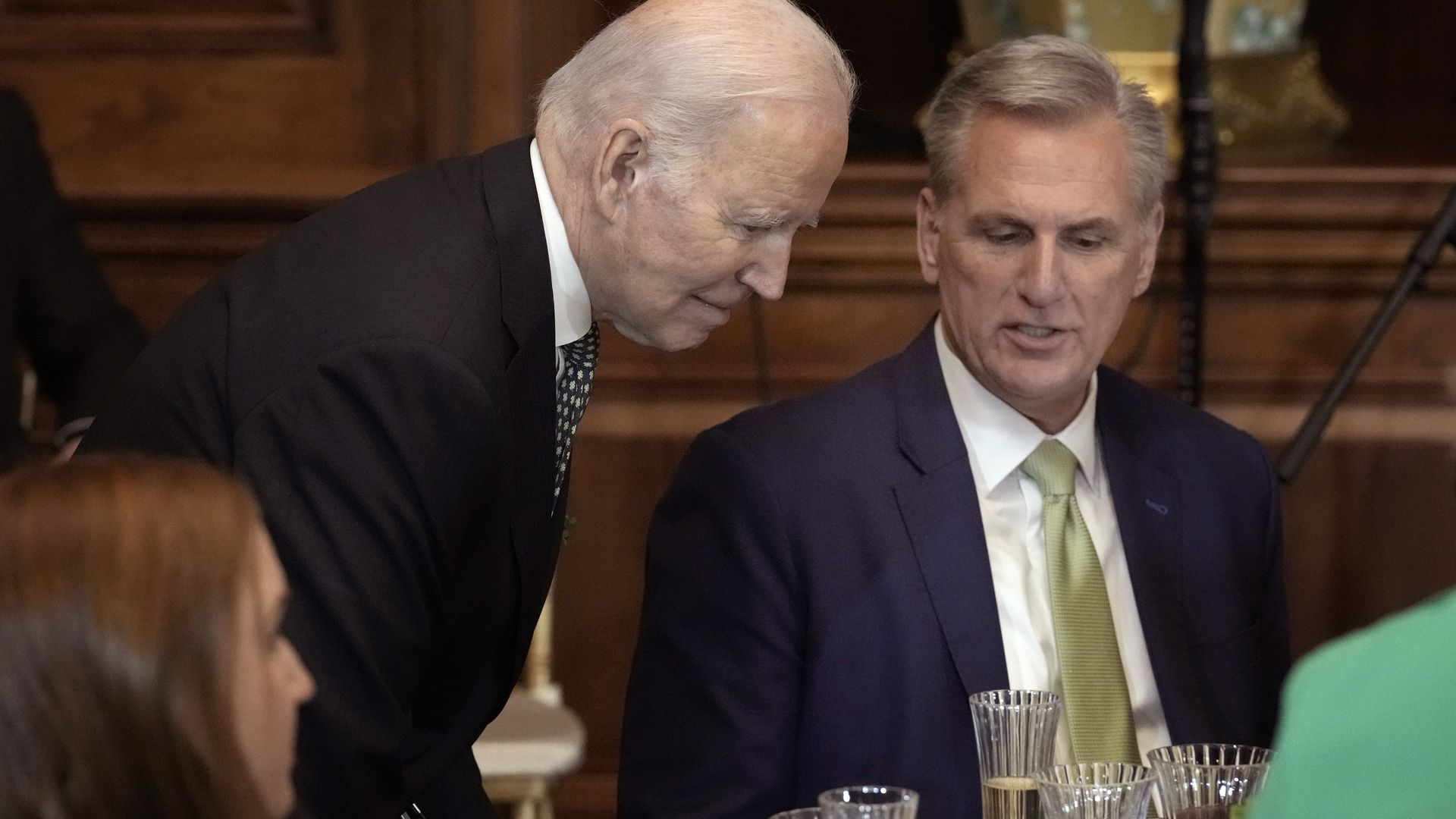 Ahead of their debt ceiling meeting Monday afternoon, neither President Biden nor House Speaker Kevin McCarthy (R-Calif.) know whether the other side is willing to compromise at the 11th hour.
Why it matters: Treasury Secretary Janet Yellen repeated her warnings Sunday — which she had made in public and in private – that June 1 is a "hard deadline" to raise the debt ceiling.
While Biden is keeping the 14th Amendment as a viable option, he made it clear in Japan that it's not his preferred course of action, citing the certain legal challenges.
Driving the news: After on-again-off-again talks over the last 72 hours, Biden and McCarthy spoke Sunday when the president was flying home from Japan. Their top negotiators reconvened Sunday night.
McCarthy described his call with Biden as "productive" but he wasn't overly optimistic. "There's no agreement," he told reporters Sunday on Capitol Hill. "We're still apart."
Before their Air Force One call, accusations — and doubts about a deal — filled the airspace.
"I'm hoping that Speaker McCarthy is just waiting to negotiate with me when I get home, " Biden said before leaving Japan where he attended a G-7 summit, "I don't know whether that's true or not."
At his closing press conference, Biden demanded that Republicans move off their "extreme positions."
McCarthy was quick to counter on Fox News. "I do not think it's extreme that we simply say we should spend less than we spent this year."
What we're watching: McCarthy's point man – Rep. Garret Graves (R-La.) – says top line spending levels are the key to a potential deal.
Republicans are insisting on spending less money in FY 2024 than FY 2023, with Graves calling it a "red line."
The White House has proposed keeping spending between this year and next year flat, but they want the Pentagon to share some of those cuts.
Biden seems pretty far from accepting the GOP's spending cuts.
Go deeper: Even if the two leaders reach an agreement early this week, they'll still face a difficult — and shared — problem of shepherding it through the House.
Go deeper