Big tech still advertising on Twitter despite rise in hate speech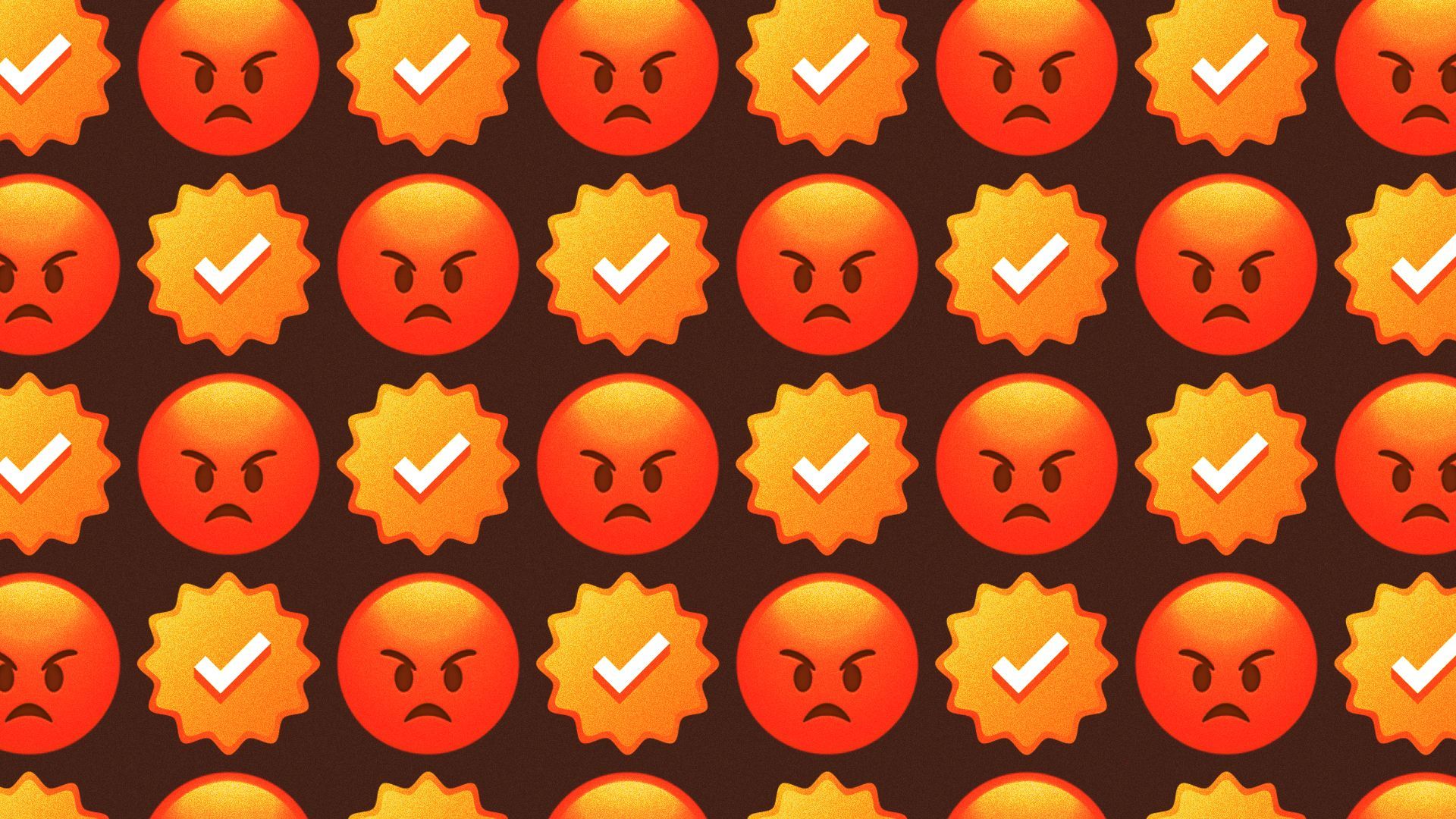 Several of the largest tech firms have remained among Twitter's top advertisers this year — including Apple, Amazon and IBM — despite the rise in hate speech on the service as well as a wide range of incendiary tweets from owner Elon Musk.
Why it matters: Musk's project to remake Twitter into what he calls a free-speech zone, and what critics see as an increasingly toxic environment, will prosper or fail depending on the choices both advertisers and users make to stay or go.
Driving the news: As early as December researchers documented a significant rise in hate speech on the site after Musk assumed ownership at the end of October.
Meanwhile, Apple and Amazon were among the top advertisers on Twitter from January to April, per MediaRadar — as were IBM, Hewlett-Packard Enterprise and Comcast.
Between the lines: Conversations with people at some of these firms suggest a range of reasons for continuing to advertising — including fear of incurring Musk's wrath, existing business relationships with Musk and/or Twitter, and the fact that Twitter can be effective for certain types of advertising.
The big picture: Advertising remains Twitter's primary source of revenue, despite Musk's push to drive paid subscriptions. He recently named former NBC ad executive Linda Yaccarino to be Twitter's CEO, focused on the business side of the company.
Musk isn't making her job any easier. "It's just amazing that [Musk] can't take a break from race commentary to give his new CEO some space to do the one job he needs her to do," former Twitter executive Jason Goldman tweeted this week.
Be smart: Unlike other advertising crises around hate speech, marketers have yet to face large-scale boycotts over advertising on Twitter, one source noted.
That may be because there's already been so much data and reporting about advertisers' own skepticism.
Still, the absence of a boycott movement, like the one that Facebook faced in 2020 over its decision not to fact-check posts by then-president Trump, has also made it easier for advertisers to continue spending on Twitter without fear of being called out.
A number of groups, including Accountable Tech, have called on companies to stop advertising on Twitter.
"Any company cutting a check to Twitter is endorsing the surging racism, disinformation, and hate Musk has encouraged on his platform," Accountable Tech executive director Nicole Gill told Axios.
"Hiring an ad exec as Twitter CEO will do little to fix what brands have known for months: Elon is leading Twitter down an extreme and dangerous path, and companies continuing to fund this vision are complicit in it."
Yes, but: Even without an organized boycott, Twitter's overall ad outlook has been bleak.
A March 2023 forecast from Insider Intelligence suggests Twitter will bring in roughly $2.9 billion in ad revenue for 2023, after initially forecasting in October 2022 that it would earn $4.74 billion, Axios has reported.
What they're saying: Only one company offered a response to Axios inquiries about their choice to continue Twitter advertising.
"We meet our stakeholders where they are, and they continue to actively engage with us on Twitter," Hewlett-Packard Enterprise spokesperson Adam R. Bauer said in a statement.
IBM declined to comment, while representatives at Amazon, Apple, Comcast and Warner Bros. Discovery either did not respond to e-mails seeking comment or have yet to provide a response.
Twitter's press relations e-mail account responded to Axios with its standard reply: a poop emoji.
Many media companies, including Axios, also continue to run paid ad campaigns on Twitter. An Axios spokesperson declined to comment further.
Go deeper