Partisan squabble forces House Democrats to glean intel from Fox News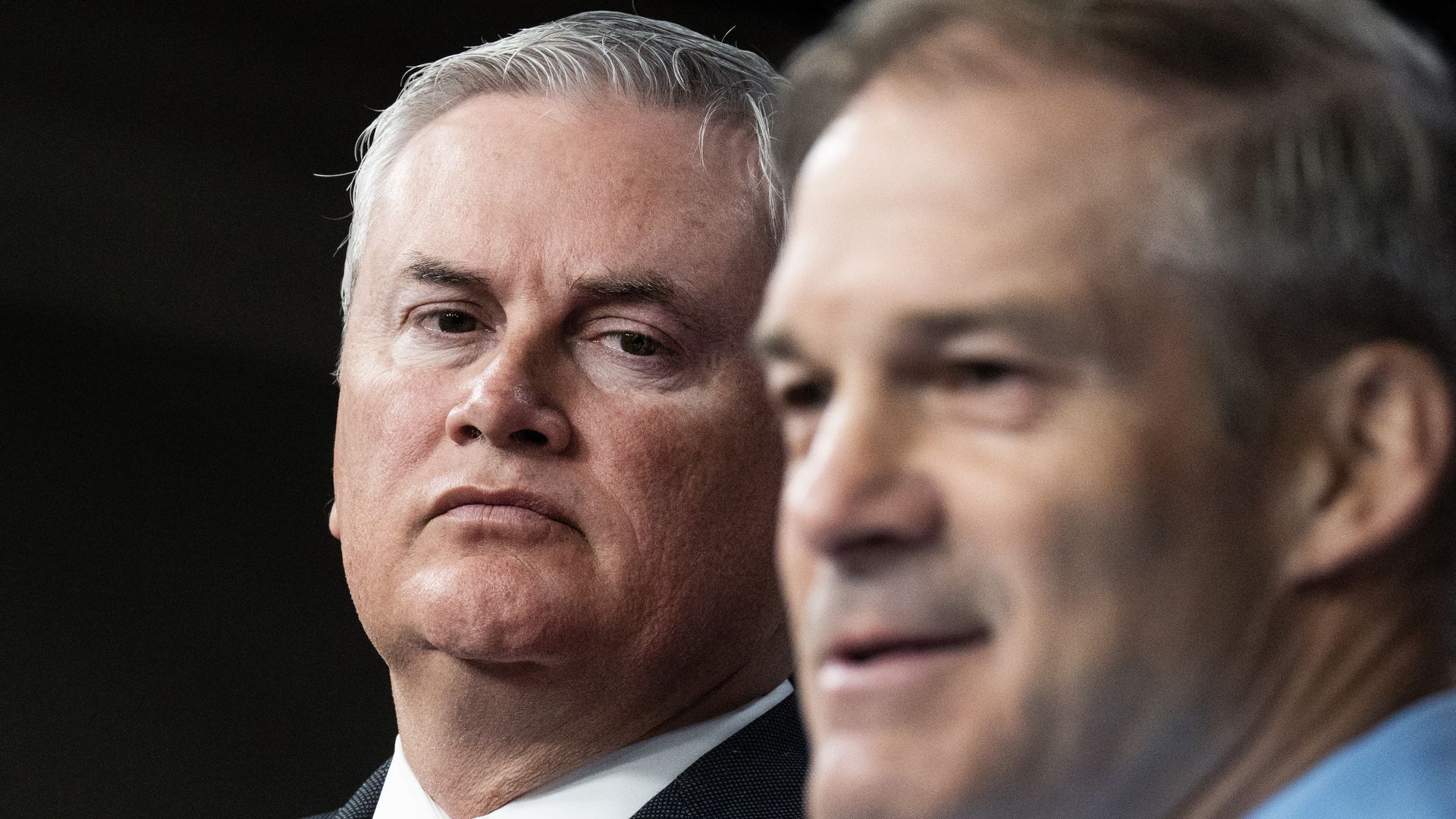 Democrats on the House Oversight Committee are resorting to Fox News to keep tabs on their GOP chair's web of alleged evidence in his sprawling investigations, Axios has learned.
Why it matters: House Oversight Republicans are plowing ahead with hearings in which they tout explosive claims about FBI bias and Biden family influence peddling — sometimes without sharing evidence or whistleblower transcripts with Democrats.
It's not unusual for the majority party to initially speak to and vet whistleblowers on their own, but investigative panels in the past have typically shared information with the minority before the public.
That hasn't always been the case with this Congress.
Committee members have sent scathing letters and argued mid-hearing over withheld whistleblower information and whether key witnesses are, legally, even whistleblowers.
What they're saying: Democrats accuse Republicans of purposely withholding pertinent information.
"[I]n an effort to maximize innuendo on Fox News and dodge accountability, Chairman Comer has continued to insist he has secret evidence that he has concealed from Committee Democrats and the American public," a Democratic Oversight committee spokesperson told Axios in a statement.
Driving the news: Oversight Democratic staffers now closely monitor Comer's frequent Fox appearances.
For example, Comer has recently alleged during media appearance that a whistleblower has gone "missing," driving a frenzy of conspiracy theories. He later revealed the whistleblower was Gal Luft, an Israeli professor wanted in the U.S. for alleged weapons trafficking.
A similar debate spilled into a Thursday morning Weaponization Committee hearing, with multiple Democrats questioning Chairman Jim Jordan (R-Ohio) about committee rules allowing him to withhold witness testimony.
"I am not aware that you are able to withhold information from the minority that we would need to use to prepare," said Rep. Debbie Wasserman Schultz (D-Fla.), who later questioned whether the witnesses were legally considered whistleblowers.
Context: Different laws protect whistleblowers, with their own definitions and procedures, according to the National Whistleblower Center.
The other side: Republicans say their whistleblowers don't trust Democrats. They accuse the minority of attacking witnesses' character rather than engaging with their allegations — and of leaking information that could create a "chilling effect."
"Democrats on the Oversight Committee have acted as defense lawyers for the Bidens and have refused to conduct oversight over the Biden family's influence peddling schemes," a House Oversight Committee spokesperson told Axios.
"Simply put, whistleblowers are not comfortable speaking to Democrats because of their record of slandering whistleblowers," Judiciary spokesperson Russell Dye told Axios, alleging Democrats leaked the committee's first subpoenas and earlier whistleblower testimony.
Go deeper