Young adults can't be prohibited from buying handguns, judge rules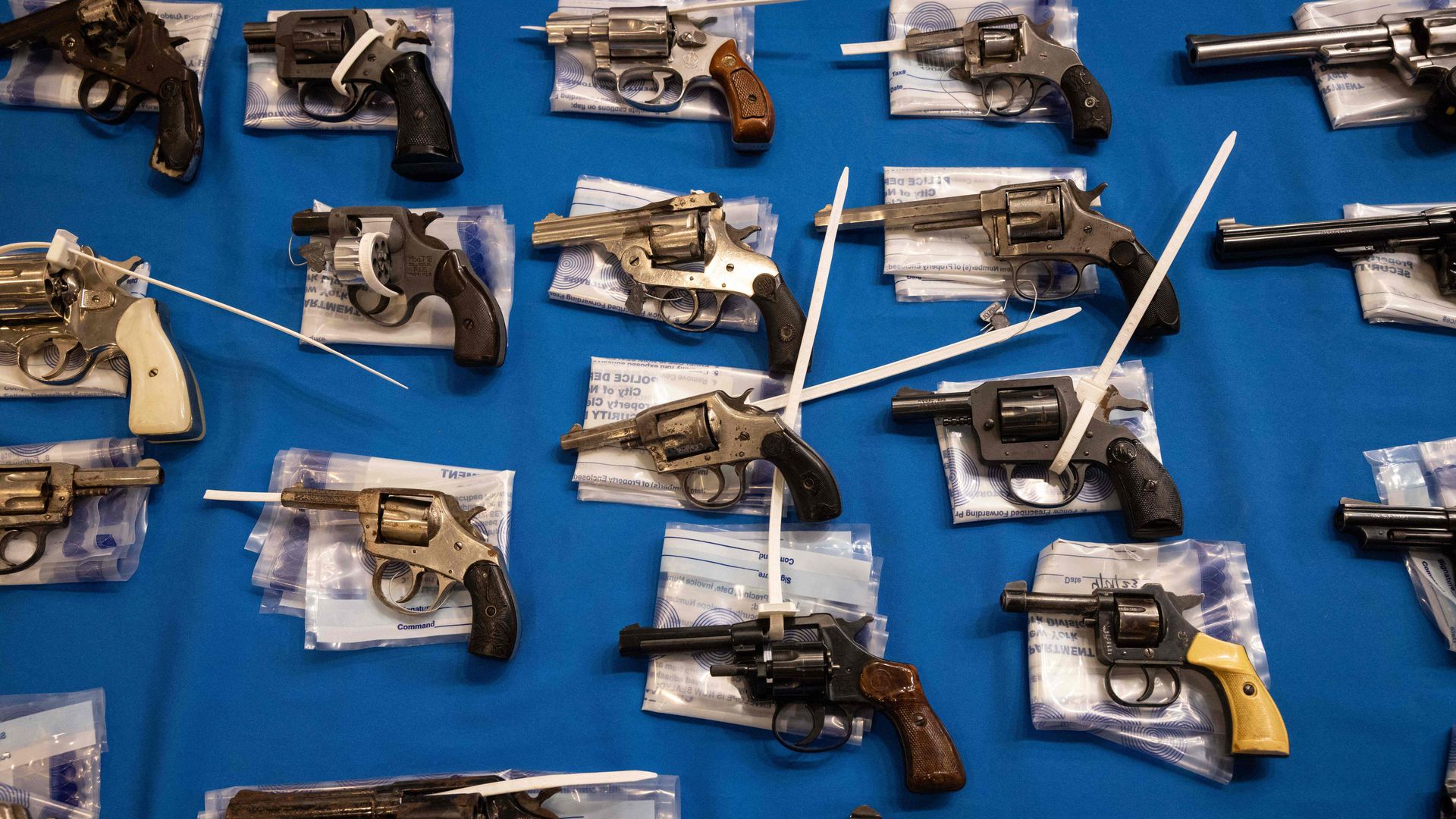 A federal judge in Virginia on Wednesday ruled that laws barring federally licensed firearms dealers from selling handguns to 18-to-20-year olds are unconstitutional.
Driving the news: "Because the statutes and regulations in question are not consistent with our Nation's history and tradition, they, therefore, cannot stand," U.S. District Judge Robert E. Payne wrote in a 71-page opinion.
The judge, an appointee of former President George H.W. Bush, found that the collection of federal laws and regulations violate the Second Amendment.
Per Payne's opinion, the right to buy a handgun is protected under the right to "keep and bear arms" and 18-to-20 year olds are among "the people" included.
The Justice Department is expected to appeal the decision and request a stay, per the Washington Post, which first reported the news.
The DOJ did not immediately respond to Axios' request for comment.
What they're saying: "It's a significant decision — we disagree with the outcome," William T. Clark, an attorney with the Giffords Law Center, told The Post.
The gun violence prevention center also filed an amicus brief in the case, advocating for the judge to uphold the laws.
"There is compelling scientific evidence showing that teenagers are more impulsive and face unique elevated dangers from firearms," Clark added.
The case's plaintiff, John Corey Fraser, had been turned away by a federally licensed dealer last May while attempting to buy a Glock 19x because he was under 21, according to the lawsuit.
Fraser's lawyer Elliott M. Harding told The Post they were pleased with the judge's "well written and thorough decision."
Of note: Payne in his opinion cited the Supreme Court's ruling from last year in New York State Rifle & Pistol Association Inc. v. Bruen, which held that it's a constitutional right to carry a weapon in public for self-defense purposes.
Payne said the high court held Supreme Court held "the Second and Fourteenth Amendments protect an individual's right to carry a handgun for self-defense outside the home."
The judge also said that in Bruen, the high court "clarified the proper framework for analyzing asserted violations of the Second Amendment caused by regulatory statutes."
The plaintiffs in the Bruen case were two men whose applications were denied because a licensing officer said they failed to show "proper cause" to carry a firearm in public for self-defense reasons.
Zoom out: This year has seen more mass killings to date than any other year since 2006, largely driven by gun violence.
Go deeper: Gun violence settlements prevail as reform stalls
Go deeper