Scoop: U.S. Ambassador to Israel Tom Nides to leave post this summer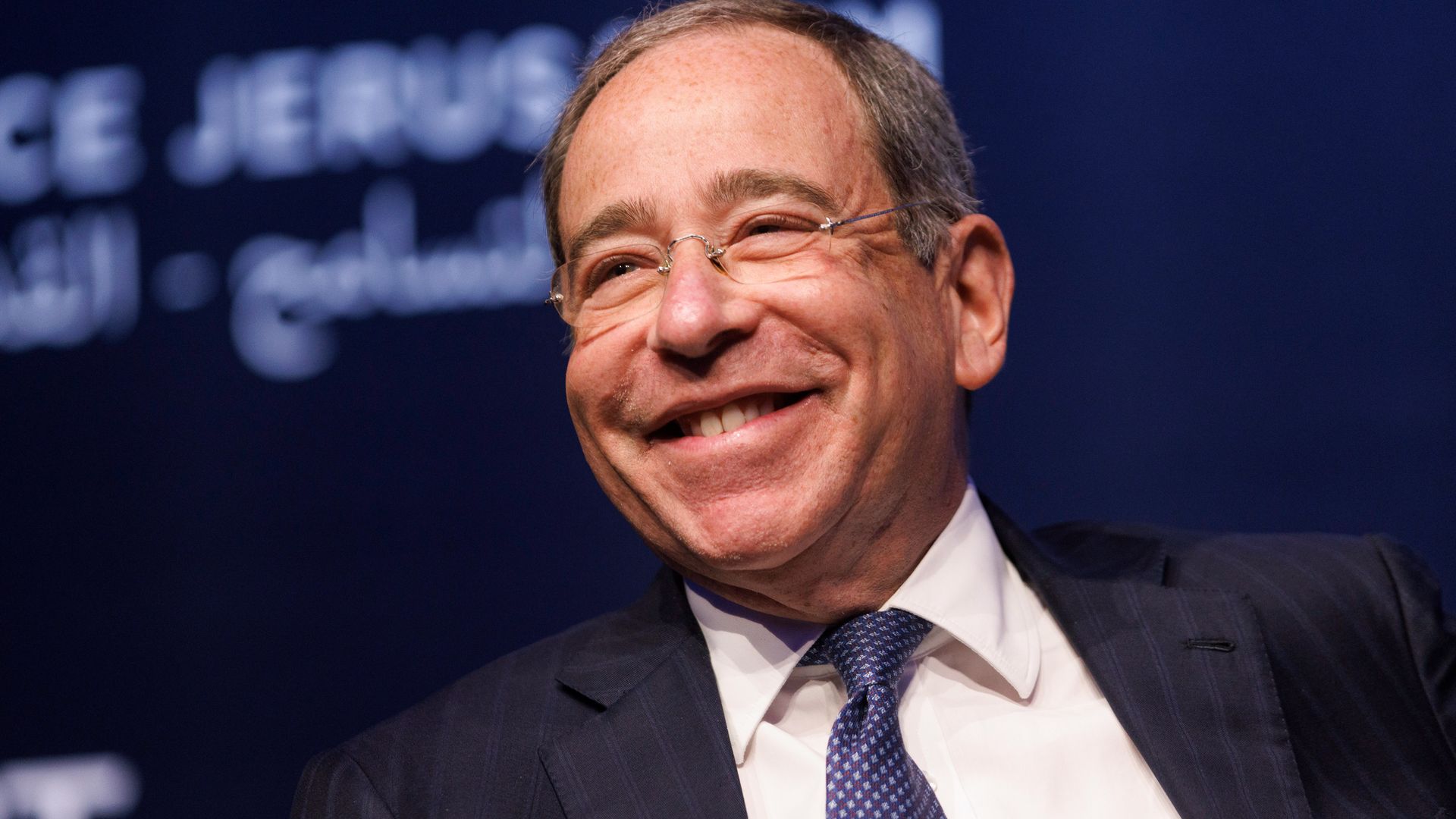 U.S. Ambassador to Israel Tom Nides will leave his post this summer after nearly two years in Jerusalem, two U.S. officials told Axios.
Why it matters: Nides announced his departure at a time when the Netanyahu government's controversial judicial overhaul continues to complicate the U.S.-Israel relationship. President Biden still hasn't invited Prime Minister Benjamin Netanyahu to the White House — more than four months after the Israeli leader was sworn in.
The U.S. ambassador to Israel post is one of the most sensitive and politically explosive diplomatic positions at the State Department. That's due in part to the special relationship between the U.S. and Israel, the large Jewish community in the U.S., and the Israeli-Palestinian conflict.
Driving the news: While on a working visit to Washington last week, Nides told Secretary of State Tony Blinken and White House National Security adviser Jake Sullivan that he wants to finish his posting this summer, a U.S. official told Axios.
Nides said he wants to go back to the U.S. for personal reasons after being away from his family since December 2021, the official said.
Nides notified the senior staff at the U.S. embassy Tuesday morning local time about his planned departure, two U.S. officials told Axios.
What they're saying: "Tom has worked with characteristic energy and skill to further strengthen the special bond between the United States and Israel, and to advance U.S. diplomatic, economic, and security interests," Blinken told Axios.
"We will all miss having him represent us in Israel, but I know he is looking forward to some well-deserved time with his family."
A U.S. official said Nides notified the Israeli Prime Minister's Office of his decision on Monday evening, several hours before the Israeli air strikes in Gaza.
The big picture: Nides worked with three different prime ministers in two years and managed to forge a close working relationship with all of them. He was highly respected by Israeli politicians from across the political spectrum.
The only Israeli party leaders Nides didn't work with were current ultranationalist ministers Betzalel Smotrich and Itamar Ben-Gvir and the members of their radical right-wing parties, a U.S. official said.
The last four months have been particularly chaotic in Israel, especially for U.S.-Israeli relations.
Nides at times had to deliver harsh messages to Netanyahu about the judicial overhaul plan. On March 27, he dictated to one of Netanyahu's aides a strong personal message from Biden demanding the prime minister to suspend the legislation, a U.S. official said.
Israeli and U.S. officials said that Nides also spent a lot of time on efforts to improve the lives of Palestinians in the occupied West Bank and pushed for U.S. aid to hospitals in East Jerusalem, for extending the opening hours of the Allenby crossing to Jordan and for Israel to allow the Palestinians to get 4G technology.
Background: Nides was appointed to the ambassador post while he was a Morgan Stanley executive. During the first Obama term, he served as deputy secretary of state for management and resources under then-Secretary of State Hillary Clinton.
Nides, who was a key political operative in the Democratic Party for years, is close to former White House chief of staff Ron Klain and current chief of staff Jeff Zients. He is also very close to Blinken, Sullivan and other senior Biden administration officials.
What to watch: Stephanie Hallett, the deputy chief of mission at the U.S. Embassy in Jerusalem, is expected to serve as charge d'affaires once Nides steps down, two U.S. officials said.
The political situation in Washington and the presidential campaign could make it difficult for Biden to have a new ambassador quickly confirmed.
Hallett started her posting in Israel last August after Biden's visit to the country. She was one of the White House officials preparing Biden's visit to the Middle East while serving as the Gulf director and acting senior director for the Middle East at the National Security Council, a U.S. official said.
Hallett previously worked at the U.S. embassies in Egypt, Cyprus, Oman, and Bahrain and was posted to the State Department's Iran team, the official added.
Go deeper