Biden battens down the hatches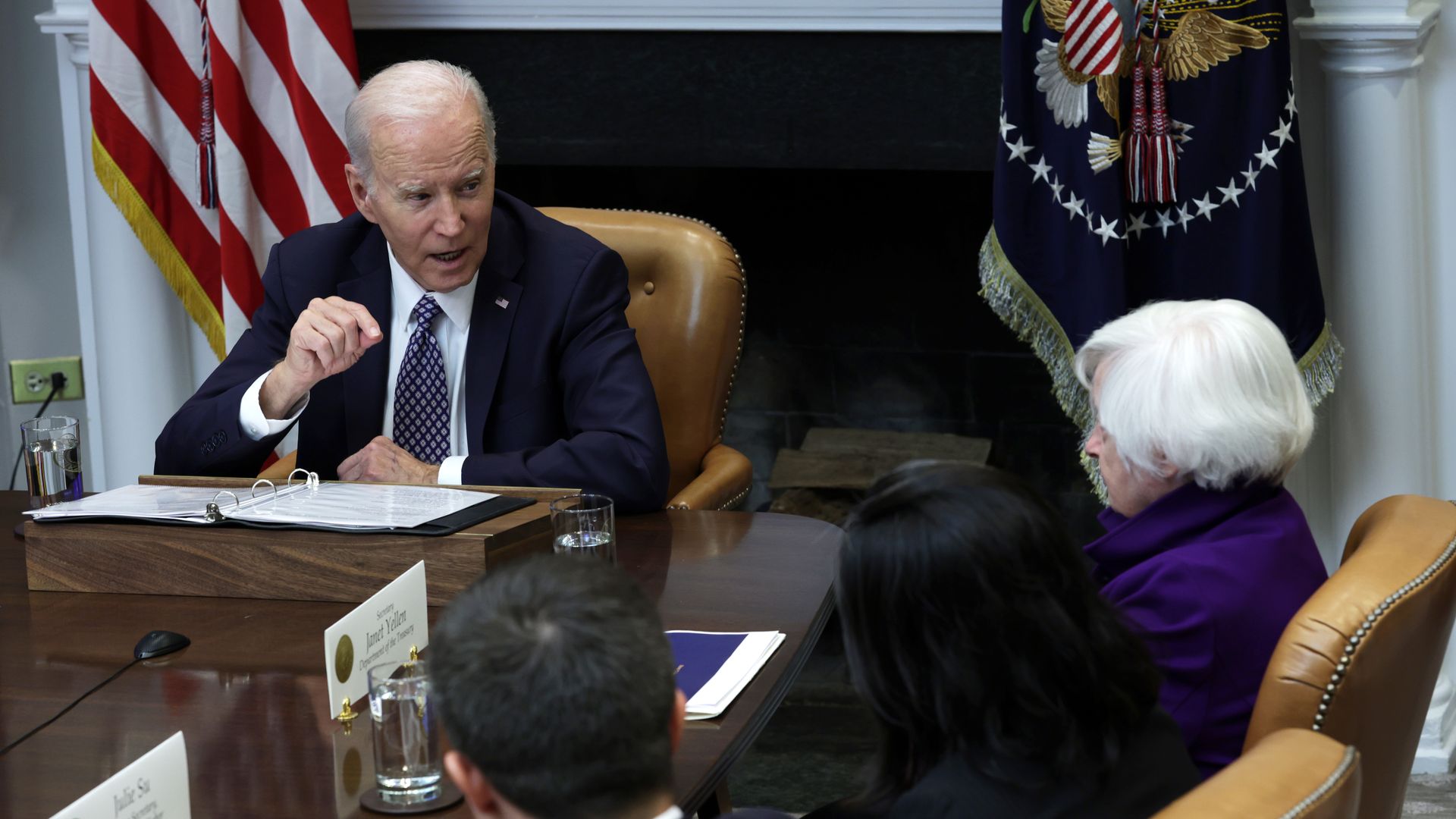 The White House is preparing for Tuesday's debt ceiling showdown with House Speaker Kevin McCarthy (R-Calif.) by fortifying its red lines, isolating vulnerable Republicans and staffing up for a war of attrition.
Why it matters: McCarthy believed that passing his debt ceiling bill against the odds would force President Biden to come to the negotiating table. After briefly regrouping, the White House opted to grant the coveted face-to-face meeting — while pairing it with a sharp escalation in rhetoric.
Driving the news: White House spokesman Andrew Bates circulated a memo Monday claiming GOP spending cuts would "supercharge the fentanyl crisis" by cutting thousands of agents from the Drug Enforcement Agency, FBI and Border Patrol.
It's the latest in a barrage of White House attacks highlighting cuts that could affect stated Republican priorities — with policing and veterans' benefits emerging as two of the most potent themes.
The White House is specifically targeting vulnerable House Republicans, releasing an analysis that found a total of 618,960 veterans live in the 18 GOP House districts Biden won in 2020.
What's next: There's no indication that strategy will change after Biden meets with McCarthy and other congressional leaders at 4pm ET Tuesday.
The White House already has announced Biden will deliver a debt ceiling speech Wednesday in the Hudson River Valley — in a district Biden won in 2020 but now is represented by Rep. Mike Lawler (R-N.Y.), who won by less than 1 percentage point in the midterms.
Rob Friedlander, most recently communications director for the Office of Management and Budget, has been detailed to a special advisory role focused on debt ceiling messaging, Politico reported today.
What they're saying: "There is no Plan B," National Economic Council deputy director Bharat Ramamurti told CNN on Monday.
"Our plan is for Congress to act to address the debt limit without conditions, just like they have done 78 times in the past. Just like they did three times under President Trump, even as they were adding $8 trillion to the deficit."
Yes, but: Republicans' leverage has increased substantially since the last time McCarthy and Biden met, 96 days ago.
43 out of 49 Republican senators sent a letter to Senate Majority Leader Chuck Schumer (D-N.Y.) on Saturday expressing support for the House GOP's efforts — and stressing that a "clean" debt ceiling bill would not pass the Senate.
The White House has been frustrated by its lack of support from "establishment Republicans, the business lobby and nonpartisan budget hawks" that traditionally have warned against the dangers of default, the Washington Post reports.
Top Biden Cabinet officials, including Treasury Secretary Janet Yellen, have begun personally calling CEOs in recent days to urge them to pressure Republicans — a new sign of potential skittishness.
The bottom line: Something may need to break for either side to back down.
"This fault line in the financial system is set to become an earthquake as the X-date approaches," Moody's chief economist Mark Zandi warned.
"There will be action only when donors and constituents, angry at their evaporating wealth, pound on lawmakers' doors."
Go deeper