Death of unhoused N.Y.C. subway rider placed in chokehold ruled a homicide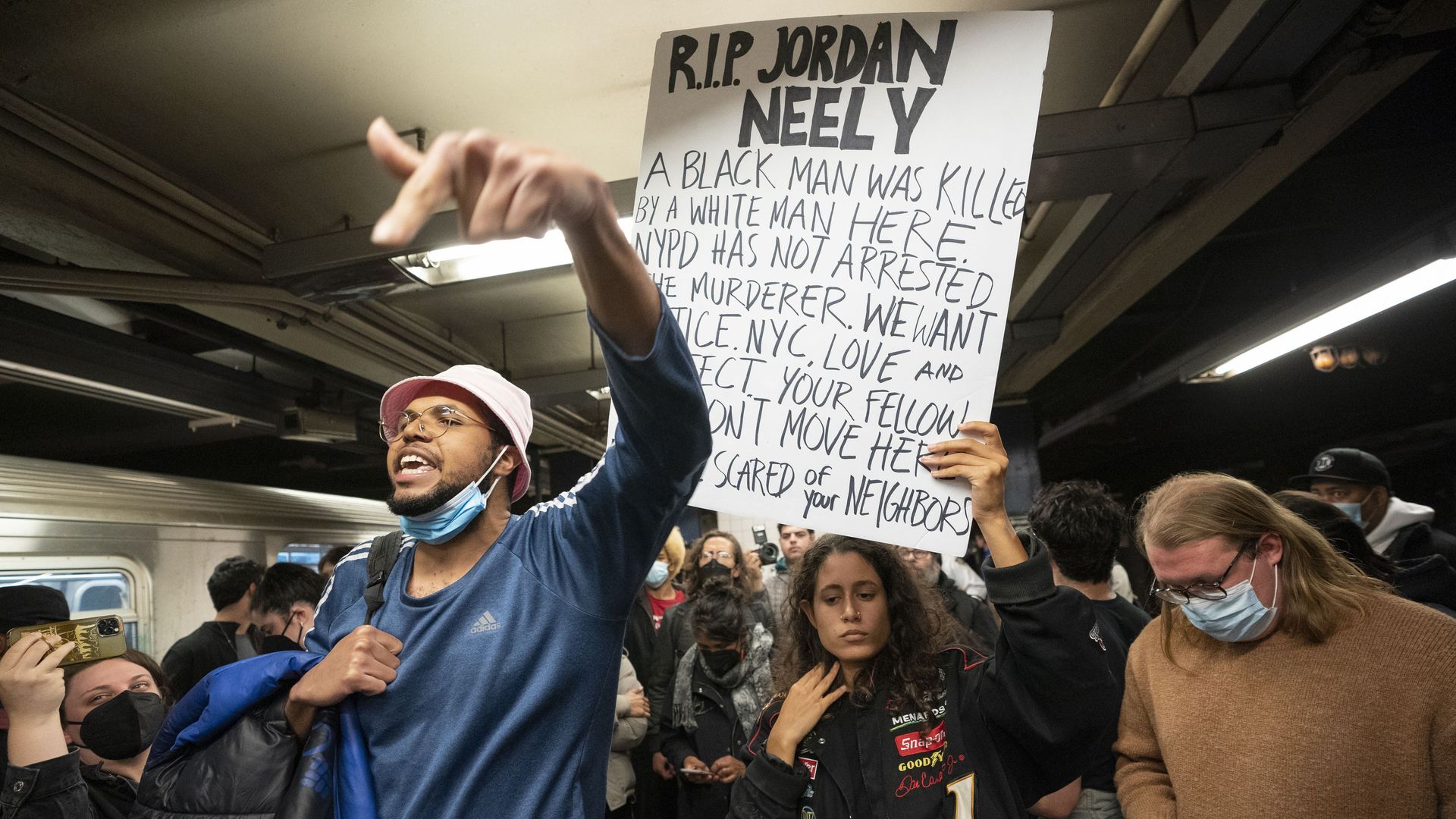 The death of an unhoused man who was placed in a chokehold by another New York subway train passenger as he experienced an apparent mental health episode was ruled a homicide on Wednesday evening.
The big picture: Prominent civil rights activist Rev. Al Sharpton was among those calling for the death of Jordan Neely, a 30-year-old Michael Jackson impersonator known for his performances in Times Square, to be investigated "as a potential case of manslaughter — if not murder" after video emerged of Monday's incident.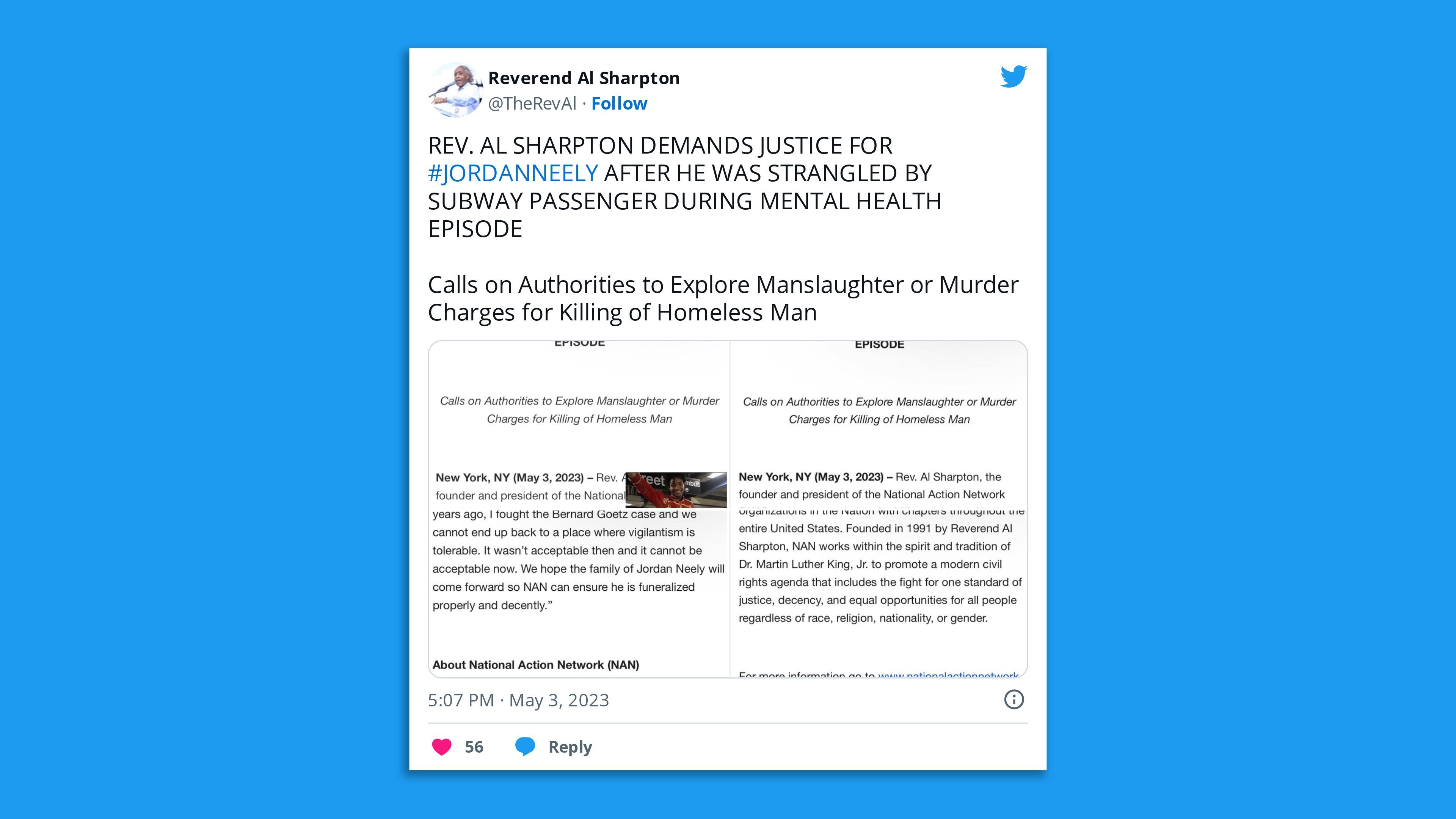 Protesters demanded justice on Wednesday as they held a vigil at Broadway-Lafayette subway station in Manhattan, as the New York City Office of Chief Medical Examiner determined Neely died from "compression of neck" or a "chokehold."
Homicide means a death caused by another person and it's not a ruling on intent or culpability. It's up to police and prosecutors to determine whether charges should be brought.
Zoom out: The issues of homelessness and mental illness in New York City subways and on the streets have come to the fore in recent months after several incidents, notably a shooting in a subway that left 10 people with gunshot wounds last year.
Mayor Eric Adams and N.Y. Gov. Kathy Hochul have taken steps including increasing police presence and deploying mental health workers in subways.
Zoom in: The video posted by freelance journalist Juan Alberto Vazquez shows a Black man, later identified as Neely, shouting and pacing in an F train before he's restrained by several passengers, including a white man who places an arm around his neck.
Neely lost consciousness and died in the hospital on Monday afternoon.
What we're watching: "As part of our rigorous ongoing investigation, we will review the Medical Examiner's report, assess all available video and photo footage, identify and interview as many witnesses as possible, and obtain additional medical records," per a media statement from the Manhattan district attorney's office on Wednesday evening.
What they're saying: Dave Giffen, the executive director at Coalition for the Homeless, criticized Hochul and Adams in a statement Wednesday for failing to "provide the critical mental health services desperately needed by so many people in our city."
"What's more, the fact that someone who took the life of a distressed, mentally-ill human being on a subway could be set free without facing any consequences is shocking, and evidences the City's callous indifference to the lives of those who are homeless and psychiatrically unwell," he added. "This is an absolute travesty that must be investigated immediately."
Rep. Alexandria Ocasio-Cortez (D-N.Y.) tweeted Wednesday: "Jordan Neely was murdered. But bc Jordan was houseless and crying for food in a time when the city is raising rents and stripping services to militarize itself while many in power demonize the poor, the murderer gets protected w/ passive headlines + no charges. It's disgusting."
Meanwhile, Adams said in a statement issued to media that "[a]ny loss of life is tragic," but added: "There's a lot we don't know about what happened here."
He said because of this he'd refrain from commenting further, though he did emphasize "we do know that there were serious mental health issues in play here."
Hochul told reporters Neely's death was "deeply disturbing," per the New York Times.
Go deeper