Corporate America is staying quiet on anti-trans bills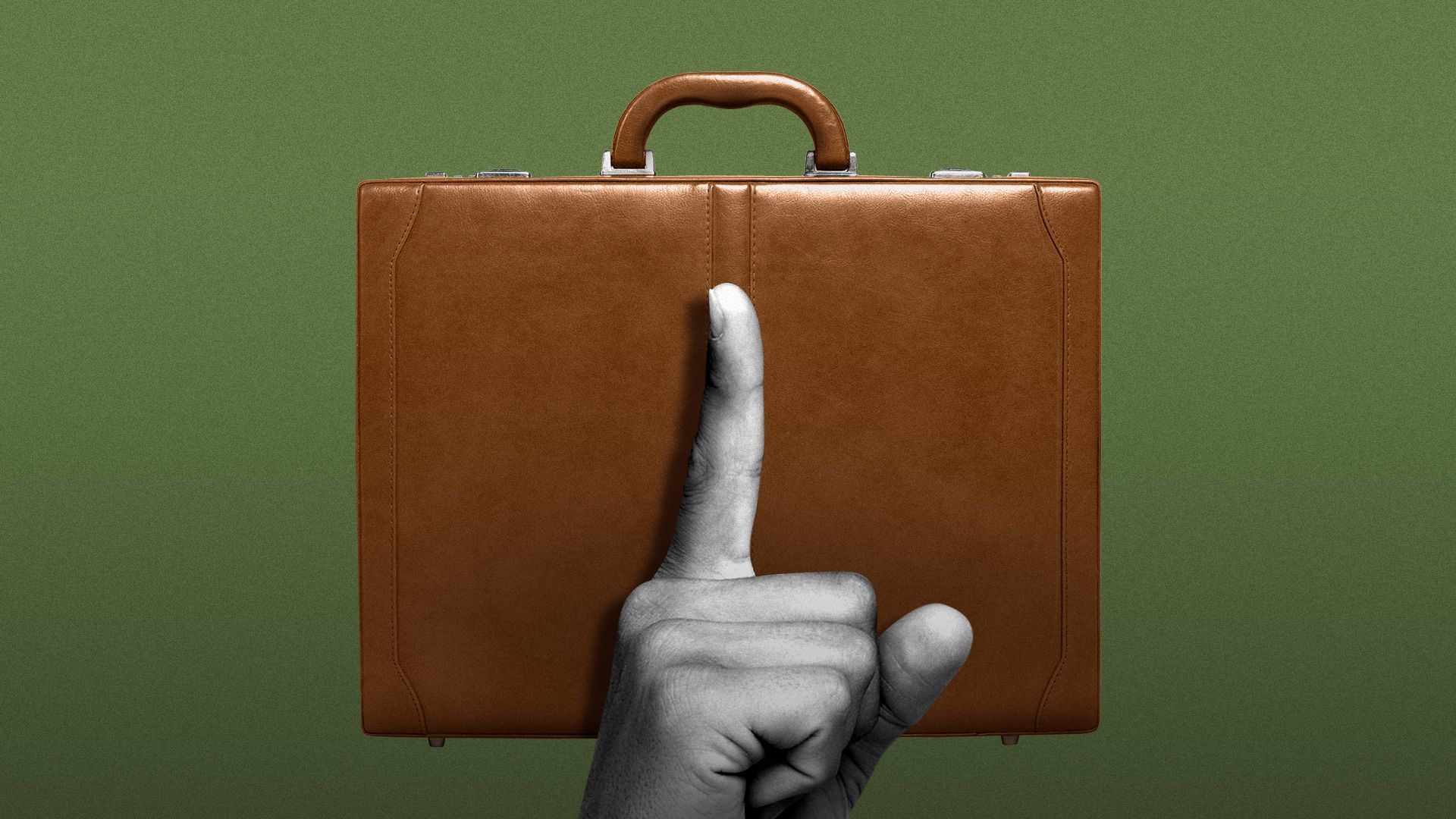 North Carolina faced mass corporate backlash and lost billions after passing a so-called "bathroom bill" that banned transgender people from using bathrooms aligning with their gender identity. That was in 2016.
Why it matters: Republicans today don't seem to fear the same economic consequences. The business community has grown far more quiet in the face of 469 anti-LGBTQ bills that the ACLU is tracking.
And the companies that have publicly opposed this wave of anti-LGBTQ bills aren't having the same effect.
Flashback: North Carolina eventually repealed that law, known as HB2, but the damage was done:
PayPal canceled a major Charlotte expansion, and artists — including Bruce Springsteen and Maroon 5 — scrapped tour stops in the state.
Other states including Montana, Virginia, Florida, Arkansas, South Dakota and Tennessee balked and buried similar bills.
Driving the news: North Carolina Republicans, undeterred by the backlash seven years ago, have introduced new legislation that would ban transgender women from women's sports teams, restrict access to gender-affirming care and put limits on drag shows.
Other states across the country that had killed bathroom bills including Tennessee, Texas and South Dakota, have since passed or advanced other anti-trans legislation.
Arkansas, Idaho and Iowa have passed new versions of bathroom bills into law. Kansas Republicans overrode their Democratic governor's veto on the issue.
Bathroom bills are advancing in Florida and Arizona, whose governor has pledged to veto anti-trans bills.
What's happening: Nearly a decade ago, "you had one state under attack at one time," director of Georgia Equality Jeff Graham told Axios Atlanta.
Today, "It is a national attack on the LGBT community."
"In the midst of that, threats and fears of boycotts change because … where are [companies] going to go?"
The big picture: "The political landscape is dramatically different in 2023," said Cathryn Oakley, the Human Rights Campaign's state legislative director and senior counsel. "These state legislatures are more gerrymandered now than they ever have been."
As a result, the "moderate Republican pro-business legislator" who stopped these bills nearly a decade ago, isn't in the state house anymore.
Indeed, Texas' 2017 bathroom bill died after business pushback and thanks to a more moderate House speaker. This year, however, a slew of bills targeting transgender Texans have sped through the legislature, Axios Austin's Nicole Cobler reports.
"Corporate America knows these issues are toxic to their business," former North Carolina Gov. Pat McCrory (R), who signed the bathroom bill into law, told Axios, referencing major social issues like gender identity, abortion and guns.
"It's just a lose-lose for them to get involved, and they're going to now stay in their lanes."
For example, Disney spoke out against Florida's "Don't Say Gay" law last year — one of 10 anti-LGBTQ bills the state has advanced.
But that prompted retaliation by Gov. Ron DeSantis, who has undermined the company's special privileges under Florida law, as Axios Tampa Bay's Yacob Reyes reports.
Georgia's governor vetoed a 2016 "religious freedom" bill amid public pressure from businesses about the risk of LGBTQ discrimination. Indiana faced corporate backlash for a similar one.
But the corporate response to recent anti-trans laws in Georgia and Indiana has largely been silence.
Reality check: Graham of Georgia Equality told Axios Atlanta businesses were engaged behind the scenes "on a number of fronts in trying to ensure the LGBT community was not under attack," including by stopping another religious freedom bill this year.
Greg Edwards, CEO of Catch DSM — an Iowa convention and visitor's bureau — told Axios Des Moines' Jason Clayworth he isn't aware of economic development fallout from the state's new anti-trans laws.
Besides "a few comments from planners that this 'could have some influence on their decision-making process,'" he said, companies are mostly ignoring the laws since so many states have passed similar ones.
Virginia Delegate Danica Roem, the first openly transgender woman elected to any statehouse, won her seat in 2017 by defeating a Republican who pushed a failed bathroom bill, Axios Richmond's Ned Oliver reports.
That measure, she noted, won almost no support from Republicans who controlled the House at the time.
This year, Virginia House Republicans passed anti-trans bills targeting youth sports participation and school pronoun usage, which Roem called "poll-tested crap that's good for their base." Both died in the Democratic-controlled state Senate.
"Trans kids have been playing sports in Virginia since 2016," she said. "They didn't care until it became popular to care in the last couple years."
Democrats in North Carolina have tried in vain to warn that this year's legislation could bring economic damage like HB2. Republicans in turn have pointed to the state's top ranking for business climate.
State of play: Of the major North Carolina companies Axios asked to comment on the pending legislation, all either didn't respond or declined to comment, including Bank of America, Truist and Wells Fargo.
What we're watching: Virginia Delegate Roem said that while she was unable to sway Republicans on this year's bills, she's heartened by the recent rise in trans elected officials nationally.
"If you look at the example we laid out in 2017, that's going to be the clarion call across the country. Those trans kids who you picked on today, just might be the candidates who unseat you in the future."
Axios Phoenix's Jeremy Duda, Axios Indianapolis' Arika Herron, Axios Northwest Arkansas' Alex Golden and Axios Tampa Bay's Selene San Felice contributed reporting.
Go deeper