Anti-transgender bills speed through Texas Capitol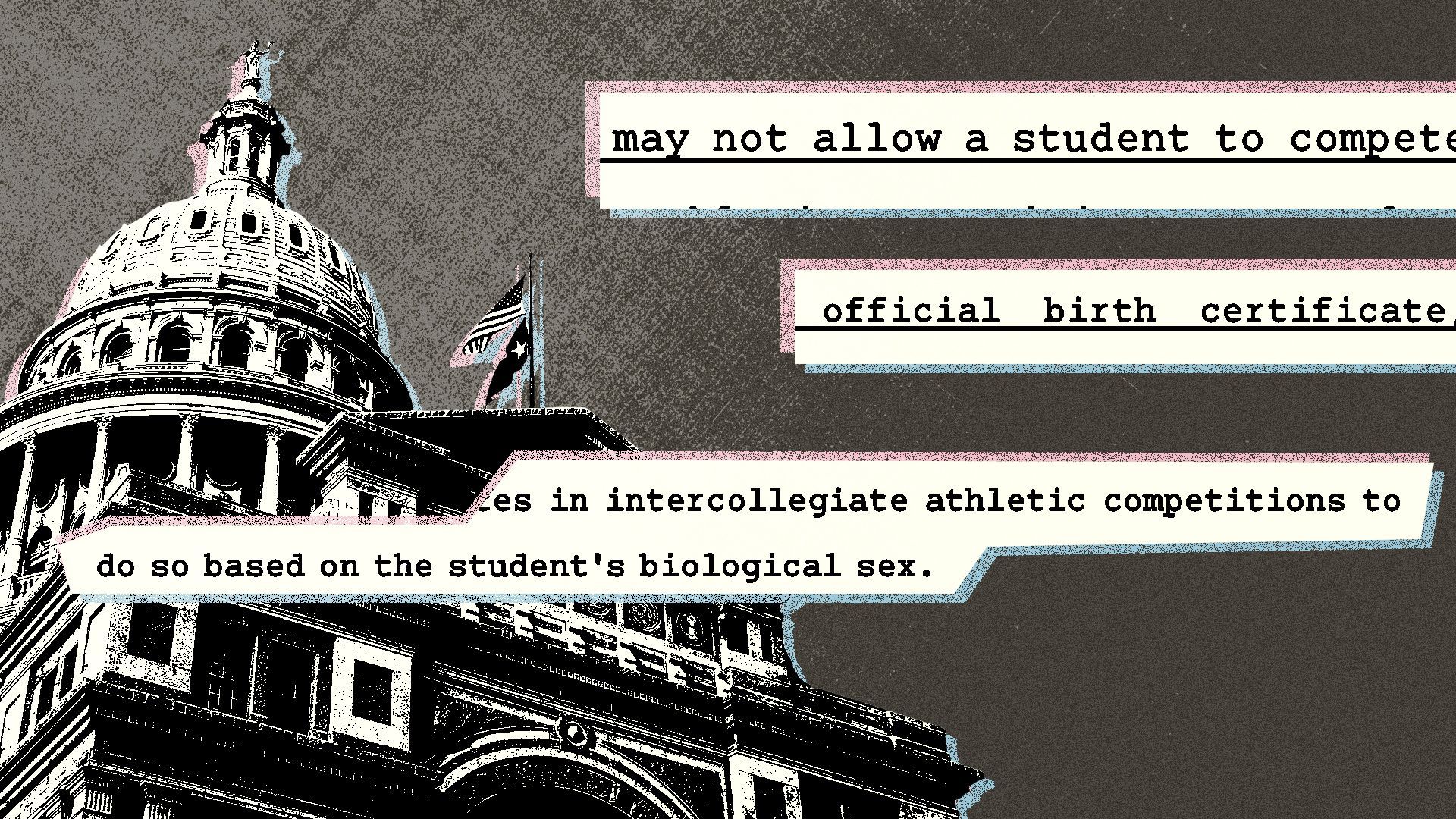 Several anti-transgender rights measures are rapidly moving through the Republican-controlled Texas Legislature, advancing on party-line votes.
State of play: The Senate has approved at least three of those bills — restricting transgender athletes from sports, banning access to gender affirming care for kids and blocking transgender and nonbinary youth from updating their birth certificate with their gender identity.
The big picture: Dozens of activists have testified against the bills, and many more have rallied at the Capitol to protest the measures and other legislation they say would infringe on LGBTQ+ rights.
What they're saying: Jacqueline Murphy, a transgender woman from Austin, testified against Senate Bill 14, which would prohibit doctors from providing gender affirming care to children under 18: "Whether it is because of genuine bigotry or merely political expediency, you have made your political mission clear. You are not protecting me."
The Senate approved SB 14 without exceptions to let current patients continue treatment.
The measure now heads to the House, where a committee is considering whether to move an identical bill to the full chamber for a vote.
Flashback: In 2017, Lt. Gov. Dan Patrick, who presides over the Senate, forced a special session over his priority bill to require schoolchildren use bathrooms according to their gender assigned at birth.
That measure ultimately failed amid threats of corporate boycotts, after Democrats joined business-minded Republicans to oppose it.
Two years ago, with solid Republican support, the Legislature restricted transgender high school students from playing school sports that align with their gender identity. Gov. Greg Abbott signed the bill into law.
Reality check: Democrats in the Republican-led Texas Legislature have little power to stop the measures from moving forward, but Democratic House leader Rep. Trey Martinez Fischer of San Antonio hopes that a handful of bills can be used as bargaining chips to kill other measures, including anti-transgender and other anti-LGBTQ legislation.
In a strategy memo obtained by the Dallas Morning News, Martinez Fischer pointed to 14 bills that require Democratic support to pass because they are constitutional amendments, which need two-thirds support of both chambers.
"Members, we have an incredible opportunity to leverage significant outcomes for our constituents if we stay together and hold the line," he wrote.
What to watch: Whether Republicans ultimately will compromise over exceptions for children already receiving gendering-affirming care.
Go deeper