Biden's re-election bid is slow out of the gate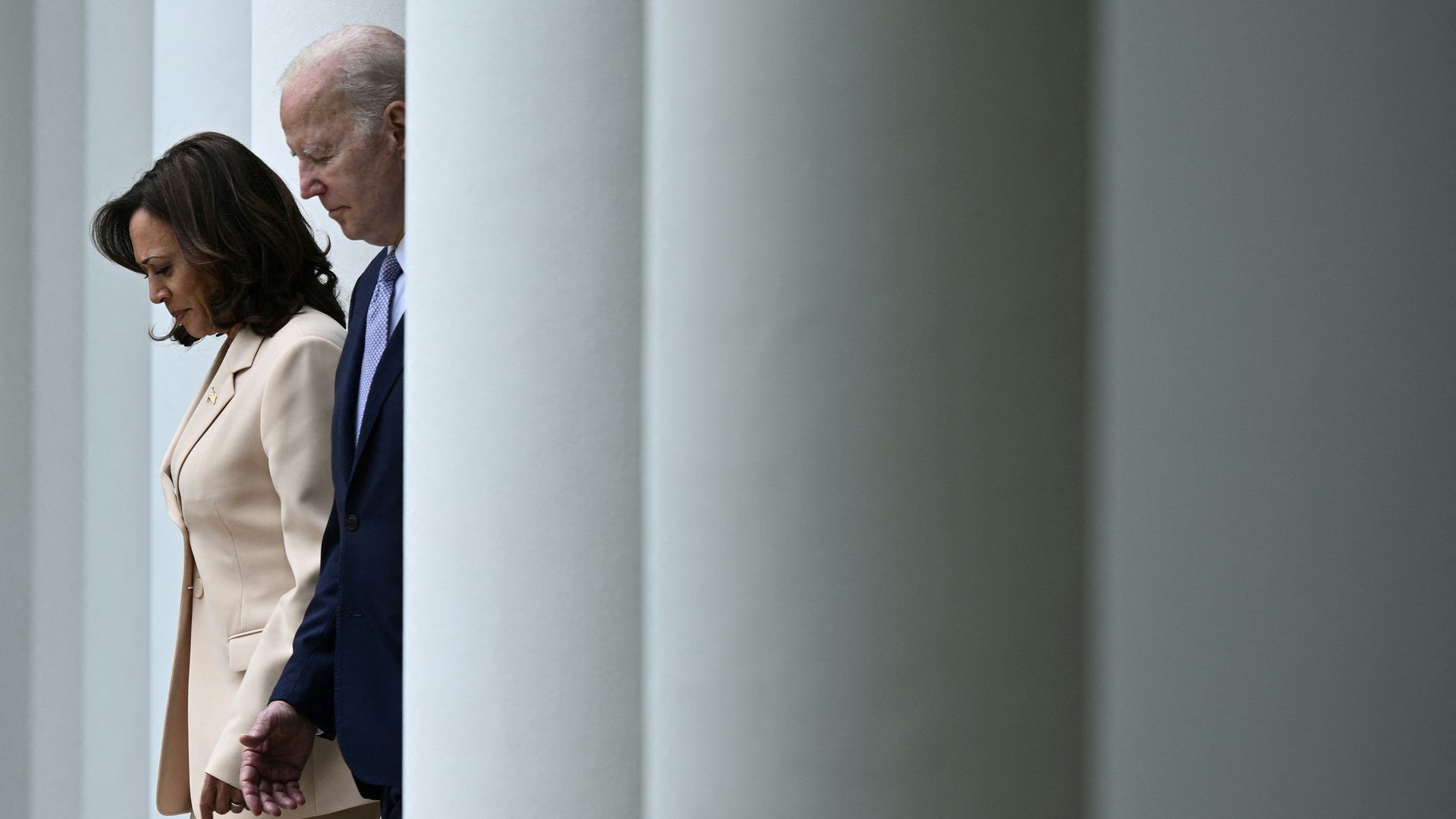 President Biden's re-election campaign is off to a slow start — months behind the 2012 pace of Barack Obama, the last president to win re-election.
Why it matters: Biden announced his re-election bid before his campaign team was ready to go, and now is hustling to build an organization that could take on GOP frontrunner Donald Trump, who announced his campaign nearly six months ago.
"Biden 2024" has just two full-time staffers who've been announced publicly. Campaign manager Julie Chávez Rodríguez — a senior aide to Biden — doesn't start her new job for another two weeks, limiting the campaign's decision-making.
Bloomberg initially reported that Biden's team would report its fundraising for the first 48 hours after he announced the campaign on April 25 — but a week later, no totals had been announced. A campaign spokesperson told Axios that the plan was always to share fundraising numbers at the end of the second quarter.  
The campaign is relying on the Democratic National Committee for personnel support and money. All of Biden's ads and the announcement video were paid for by the DNC. In 2011, Obama's re-election announcement was paid for by his campaign.
Between the lines: Biden's team is well behind Obama's schedule from 12 years ago. By January 2011, Obama's team had announced its senior leadership, was scouting Chicago office space, and was actively courting donors.
Obama's 2012 campaign manager, Jim Messina, criss-crossed the country for months before the official launch to meet with donors and had secured large donation commitments by early March 2011, according to a Politico story at the time.
Biden's team held its first big donor event of the 2024 cycle last weekend — but it wasn't a fundraiser. Because Chávez Rodríguez is still a senior aide at the White House, she was limited by ethics rules in what she could talk about with donors and didn't relay much new information, according to two prospective donors who were present.
Biden's campaign has yet to announce who will lead its fundraising team.
The campaign's reluctance to release its fundraising numbers so far is a contrast to four years ago, when Biden's 2020 team announced that it had taken in $6.3 million in the first 24 hours after his campaign announcement.
Biden and fellow Democrats are betting that opposition to Trump and issues such as abortion rights will rally the Democratic base — despite polls showing a lack of enthusiasm for another Biden term and his approval ratings in the low 40s.
Yes, but: Biden's team is in a different political situation than what Obama faced in 2011, and doesn't feel as much urgency.
Messina told Axios: "Biden is better positioned than Obama" was. Under Biden, Democrats "had a better midterm result, they have more Democratic governors helping out, and the DNC is much better functioning. We had to start earlier."
In the 2020 campaign Biden's team often was criticized as disorganized, yet he won the Democratic nomination and the presidency — and in 2022, his Democrats had stronger-than-expected results in the midterms.
Biden quipped at last weekend's White House Correspondents Dinner: "This dinner is one of the two great traditions in Washington. The other one is underestimating me and Kamala."
Zoom in: Biden trusts people he has known and worked with for decades, and so far has kept many of his top advisers in the White House rather than deploy them to the campaign.
Last weekend's retreat for Biden donors largely featured presentations from White House officials who said ethics rules limited what they could say about the campaign.
Some donors thought the Friday night dinner in Washington was energizing, but that the Saturday presentations mostly recited public talking points and were vague.
The intrigue: Former Biden chief of staff Ron Klain made a presentation at the retreat, a sign that he'll likely angle to be a powerful figure in Biden's re-election effort.
Klain attested to Biden's vigor in front of the donors, according to two people present. He recalled early morning meetings and late-night calls from Biden after Axios reported on the president's limited daytime public schedule. Klain did not respond to a request for comment.
Go deeper