What we know about the Cleveland, Texas, mass shooting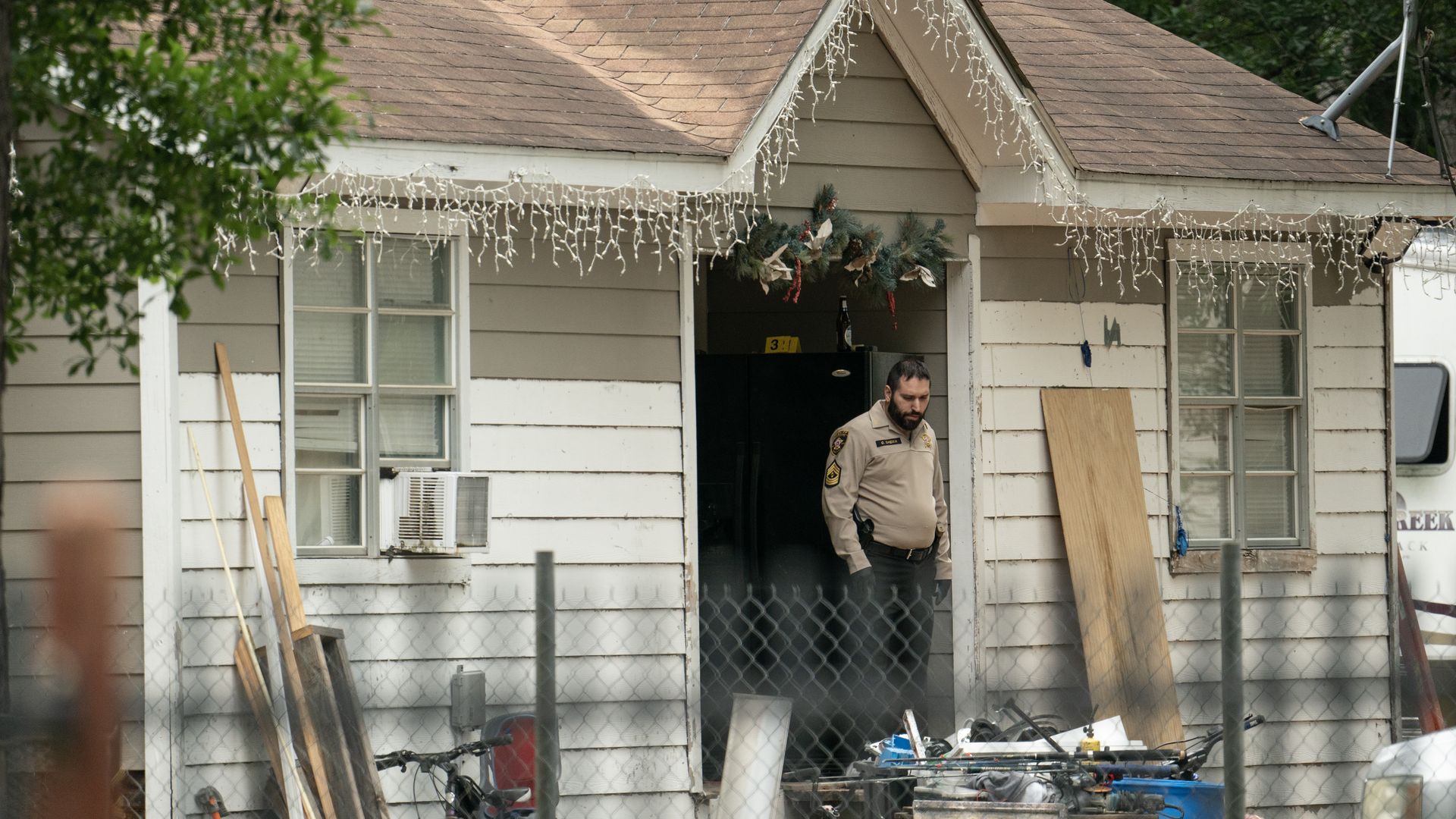 The suspect in a mass shooting that killed five people in a small Texas town last Friday has been taken into custody in Montgomery County "without incident," the local sheriff's office said Tuesday evening.
Driving the news: Authorities on Sunday offered a reward totaling $80,000 for the capture of Francisco Oropesa, 38, a Mexican national, whom they identified as the suspect in the case. Oropesa lived near the Cleveland, Texas, home where the shooting occurred around 11:30pm local time on Friday night.
A woman the Associated Press reported is Oropesa's wife, Divimara Nava, 53, was also arrested and is being held in the Montgomery County Jail, the sheriff's office confirmed to Axios. Nava is accused of hiding Oropesa during the police manhunt.
"What we need from the public is any type of information, because right now we're just running into dead ends," said James Smith, the FBI's special agent in charge, at a Sunday afternoon news conference. "We have zero leads."
San Jacinto Sheriff Greg Capers said Saturday that Oropesa is believed to have used an AR-15 to shoot the victims after he was asked to stop shooting the rifle in his yard.
A doorbell camera at the victims' home later photographed him approaching the home with the rifle, Capers said.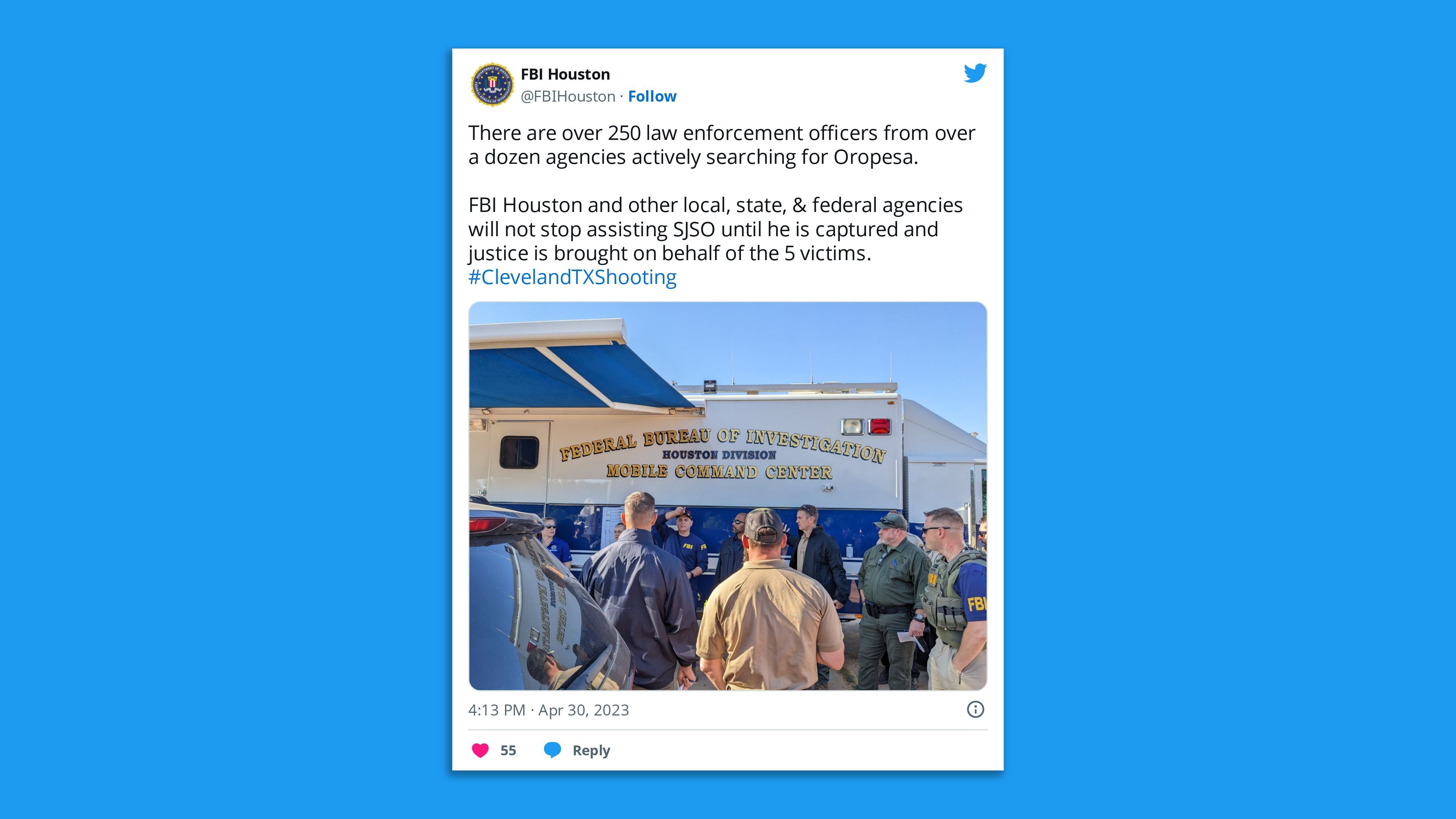 What we know about the shooting
Capers said the incident began after at least one of the residents in the home asked Oropesa to stop shooting a gun in his yard.
Wilson Garcia, who owns the home where the shooting occurred, said his family had company over that night. "We were going to make something to eat, the guy, came out and he was shooting. We asked him to be quiet 'cause my baby was scared," Garcia told KTRK-TV via a translator.
Oropesa reportedly responded that he would do what he wanted in his own yard.
Garcia said they warned Oropesa they would call the police if he did not stop shooting and that he walked across the yard and shot Garcia's wife, Sonia Argentina Guzman, while she stood at the front door.
"Then he went room to room, looking for people," Garcia told KTRK.
Garcia told the network he's lived in the home for three years and never had problems with Oropesa.
Capers said they believe Oropesa had been drinking before the altercation.
What we know about the victims
Five people were killed in the shooting, Capers said in a press conference on Saturday.
The victims were identified by law enforcement as: Sonia Argentina Guzman, 25; Diana Velazquez Alvarado, 21; Julisa Molina Rivera, 31; Jose Jonathan Casarez, 18; and Daniel Enrique Laso, 9.
All four adult victims were pronounced dead at the scene. Laso was transported to a local hospital where he later died, Capers said.
Two of the victims were found in a bedroom, shielding two young children with their bodies.
Those two children, along with a third, were found covered in blood, police said, but were not injured. They were transported to a local hospital, but not identified by authorities.
All victims were shot "from the neck up," Capers said. He also described the injuries as "almost execution-style."
Ten people were in the house at the time of the shooting, though they're believed to not be members of the same family, authorities said.
The victims were from Honduras.
Some of those in the home had moved there in the past week from Houston.
Garcia identified Guzman as his wife and Laso as his son when speaking to KTRK. The relationships between the other victims to each other, and to Garcia, had not been publicly confirmed by officials.
Dayslong manhunt
Authorities said at the Sunday afternoon news conference that the Texas governor was providing a $50,000 reward for the capture of Oropesa in addition to the $5,000 offered by nonprofit Multi-County Crime Stoppers and the FBI's $25,000.
Oropesa is thought to have fled the scene on foot, Capers said Saturday.
Authorities tracked him through his cell phone until it was discovered abandoned along with several items of clothing. Tracking dogs were then brought in and picked up the scent, but later lost it.
Capers said at a briefing Tuesday evening Oropesa "was caught hiding in a closet underneath some laundry" in a closet at a home in Conroe, Montgomery County, some 23 miles from Cleveland, during a multi-agency operation following a tip to the FBI's tip line.
Oropesa faces five counts of murder. His bond was set at $5 million.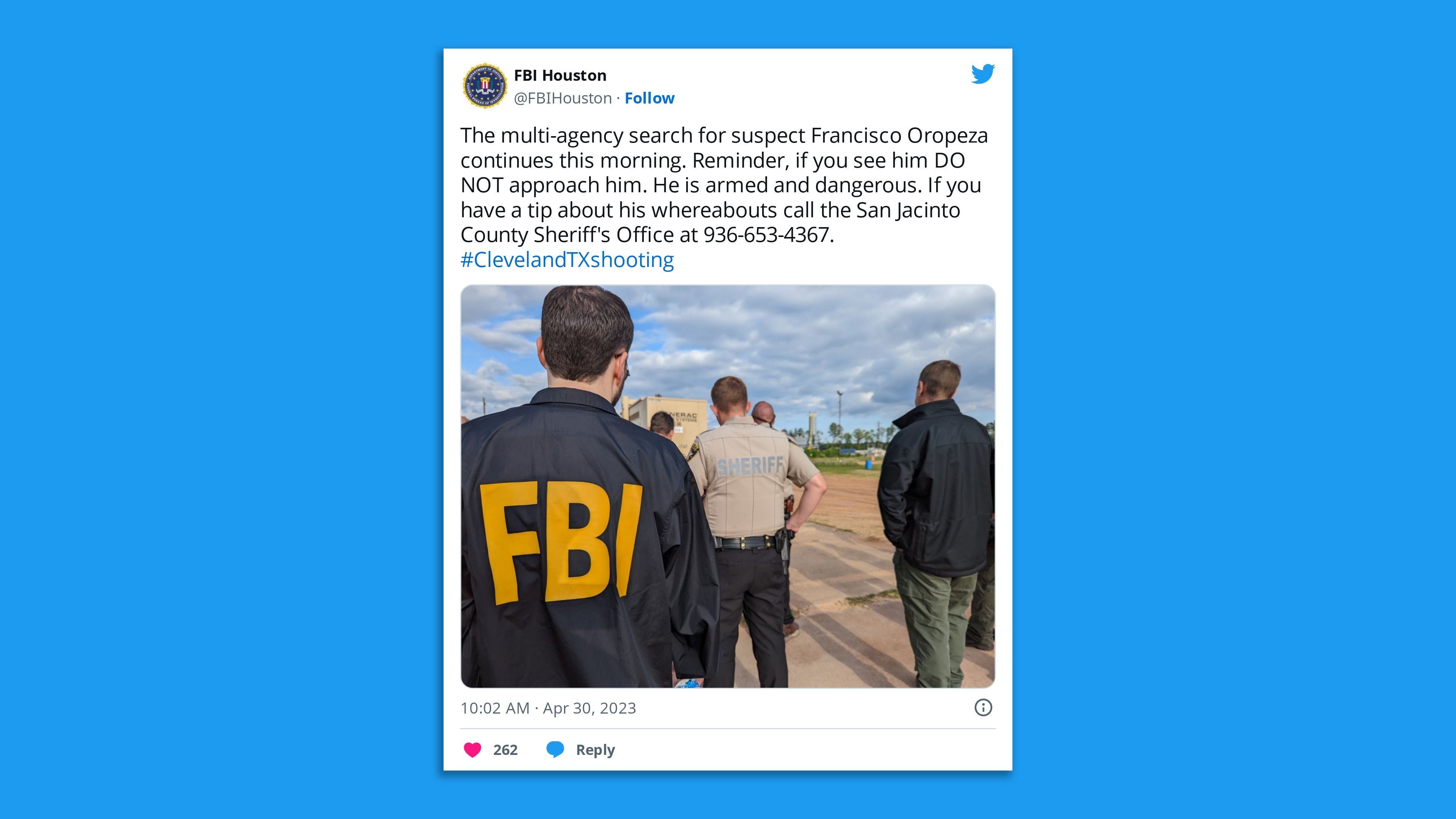 Editor's note: This story has been updated to reflect Oropesa and his wife being taken into custody and to correct the spelling of the suspect's last name to Oropesa, per the FBI.
Go deeper