Colorado governor signs 4 major gun bills, drawing White House applause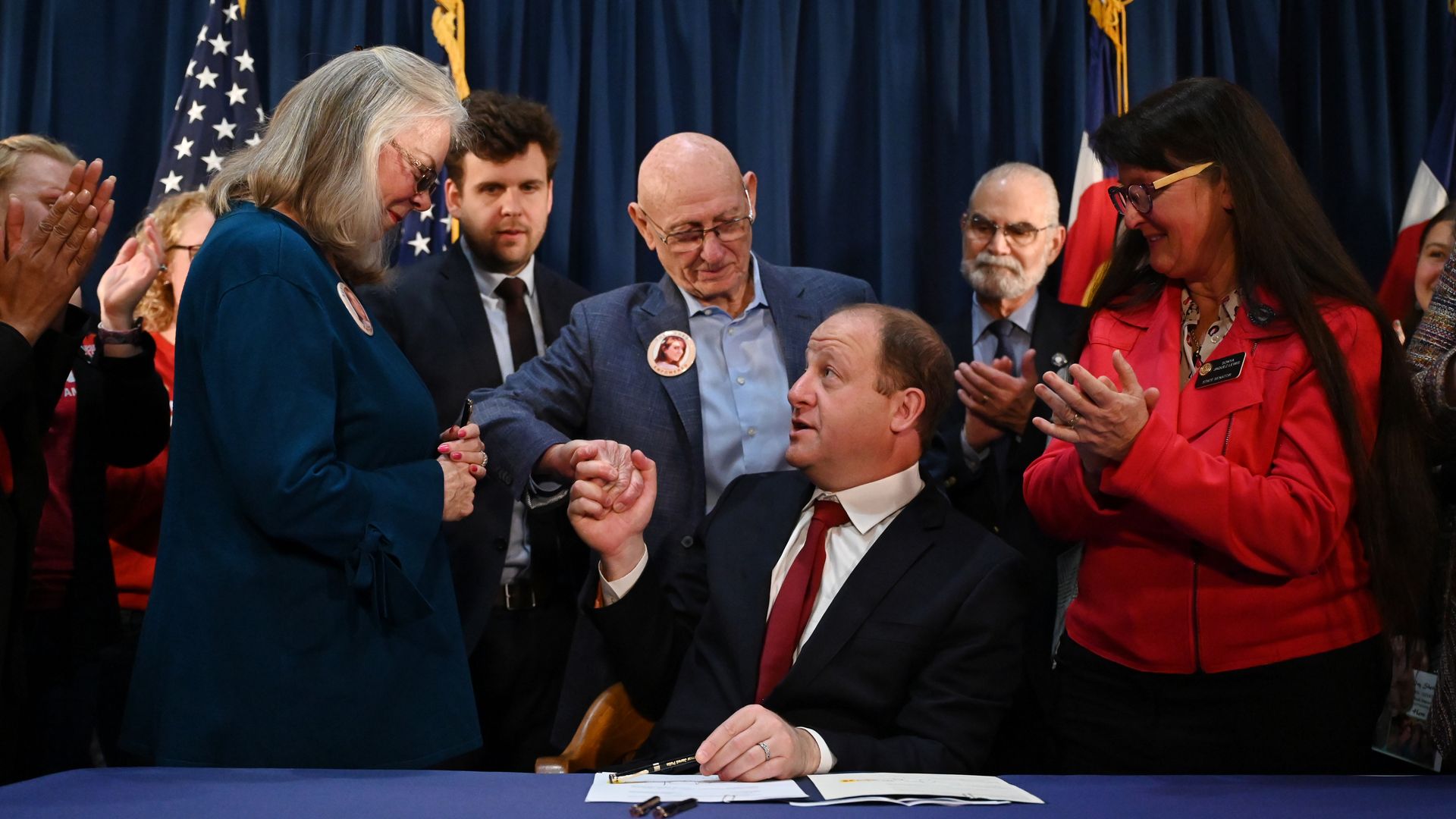 Colorado Gov. Jared Polis (D) on Friday signed into law four major gun measures designed to make it harder to obtain firearms.
Why it matters: The new laws follow multiple high-profile shootings in Colorado in recent months, and represent the latest in a series of recent actions by states to restrict firearm access as gun violence grows.
Driving the news: The legislation expands Colorado's existing "red flag" law to allow educators, health care professionals, and district attorneys request the seizure of a person's firearms under an extreme risk protection order.
What they're saying: "Today, Colorado has enacted four common-sense gun reforms, including elimination of some of the barriers to holding gun manufacturers and dealers accountable," White House press secretary Karine Jean-Pierre said on Twitter.
"Thank you, Colorado leaders and gun violence survivors, for this important step forward," she added.
Of note: Not all Democratic lawmakers supported the legislation, and some questioned their legality.
Moments after the bill signings, Rocky Mountain Gun Owners, a Second Amendment advocacy group, filed two lawsuits challenging the constitutionality of the new waiting period and age requirement.
Context: Colorado's dark history of mass shootings loomed over this year's debate. And the Democratic-controlled legislature made gun restrictions a priority after the November shooting at Club Q in Colorado Springs that left five dead and raised questions about the state's existing "red flag" law.
The big picture: Colorado's efforts to reduce gun violence are part of a broader effort in states to take action where the federal government has not.
Yes, but: Gun regulations remain a contentious issue in western states, and Colorado Democratic leaders — including Polis — opposed a measure this year to ban assault-style weapons.
A pending bill to ban the sale of ghost guns — used in both the Club Q and an East high School shooting — is expected to pass later this legislative session.
The governor also recently signed two measures to create an Office of School Safety and require more training of school resource officers.
Go deeper: Fox News poll finds voters overwhelmingly want restrictions on guns
Go deeper