Push to unionize tech industry makes advances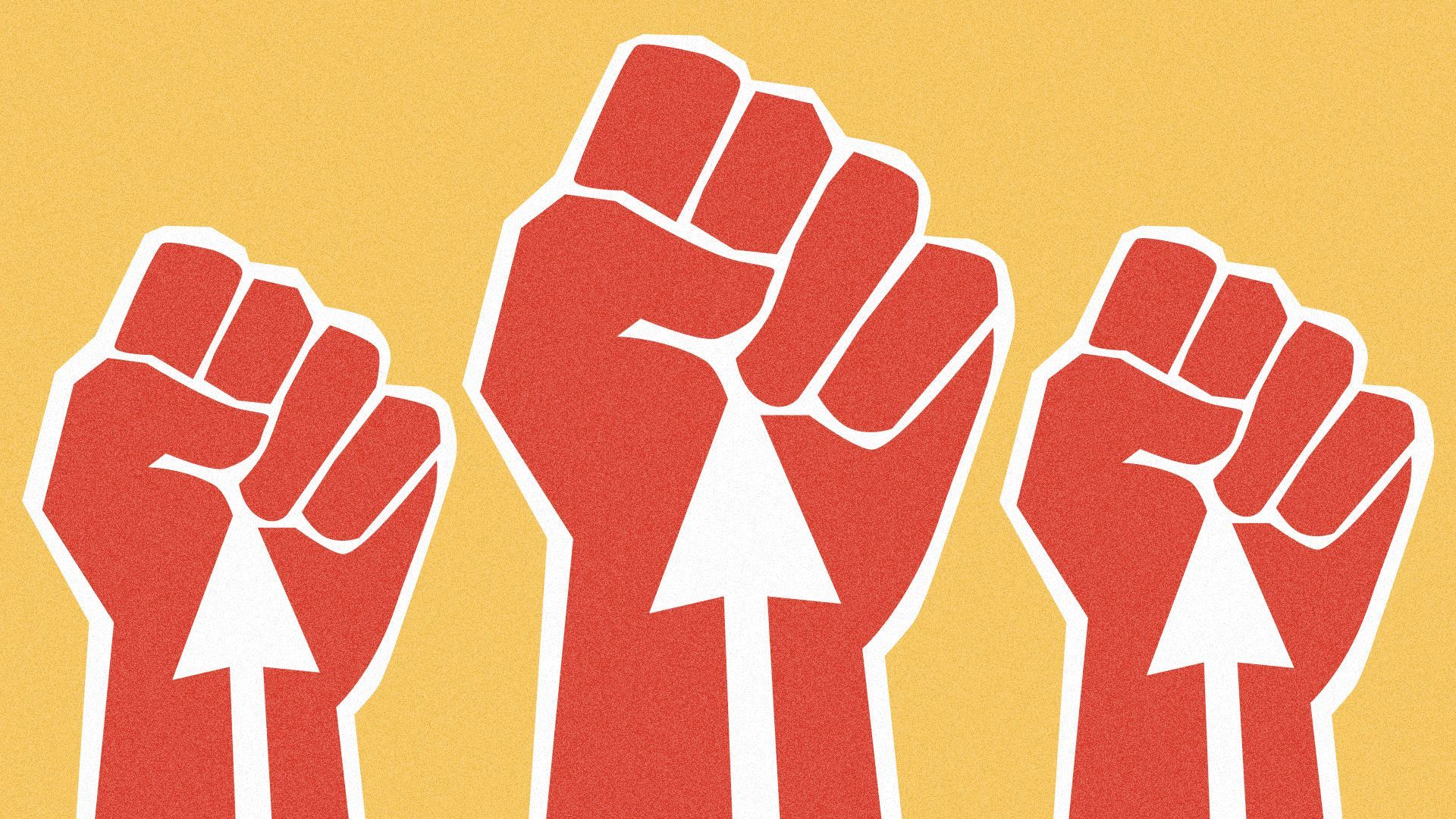 A pair of developments this week shows how the push to unionize tech workers has expanded beyond warehouse and retail staff to employees who sit closer to the tech industry's product and engineering hearts.
Why it matters: Organizing efforts are coming for office workers just as many tech companies are shedding staff, potentially giving employees new incentives to consider unions.
The union pushes also come at a moment when workers in tech, as in many other fields, are feeling insecure about their future in the face of rapidly developing and increasingly capable AI-powered bots.
Driving the news: A group of contractors for YouTube music, some of whom have been on strike, voted Wednesday 41-0 to form a union.
Between the lines: Most of the union efforts within large tech companies have focused on non-office workers, including Apple retail employees and Amazon warehouse workers.
The video game industry has seen union efforts go further.
Google has also proven a unique case, with the Alphabet Workers Union forming to speak for not only full-time workers, but also the company's legions of vendors, contractors and temporary employees. In most cases, though, the AWU acts as a minority union, without the ability to directly negotiate on behalf of employees.
Microsoft, meanwhile, announced last year that it would not stand in the way of any workers who wanted to unionize.
What they're saying:
"My coworkers and I have spoken, time and time again—we want, and have won, a protected voice on the job to bring both Alphabet and Cognizant to the negotiating table so that we can win the fair working conditions we deserve," YouTube music contractor Maxwell Longfield said in a statement.
"We have no objection to these Cognizant workers electing to form a union. We've long had many contracts with unionized suppliers," YouTube said in a statement to Axios. "However, as we made clear in our active appeal to the NLRB, we are not a joint employer as we simply do not control their employment terms or working conditions — this matter is between the workers and their employer, Cognizant."
"The National Labor Relations Board has informed us that a majority of Cognizant associates voted in support of unionizing," Cognizant said in a statement to Axios. "Our philosophy remains that we are better together through open dialogue and collaboration."
Go deeper