Sudan conflict worsens already severely underfunded humanitarian crises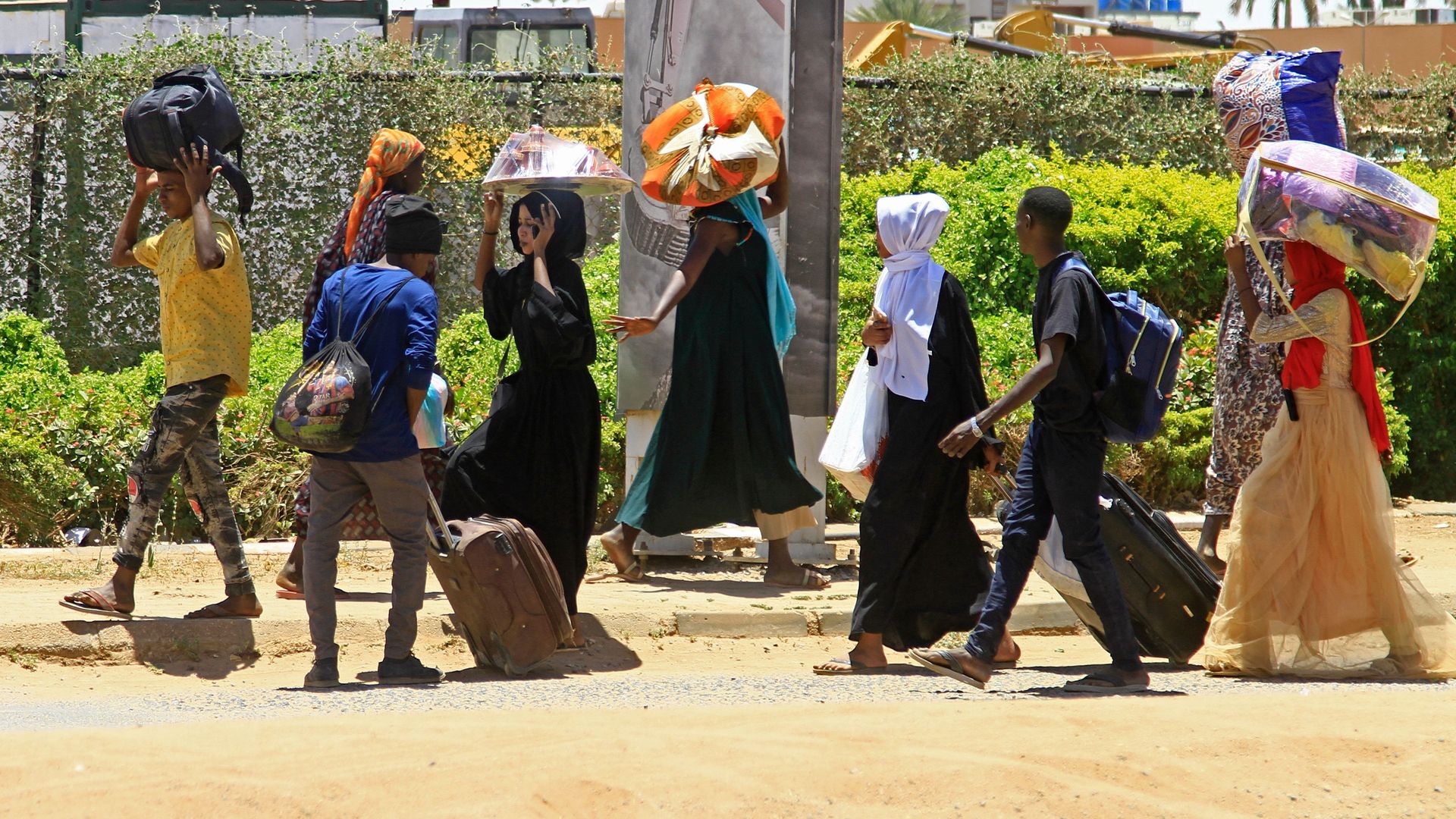 The fighting in Sudan is exacerbating the already dire humanitarian crises in the northeast African country and the nations taking in large numbers of refugees fleeing the conflict — all at a time when UN aid plans for those countries are severely underfunded.
Driving the news: Less than 14% of the UN humanitarian response plans for Sudan and Chad are funded. Just 24.8% of the response plan for South Sudan has the needed funds.
These levels weren't enough before the fighting in Sudan began, and they won't be enough as humanitarian needs across the country and neighboring nations rise, aid groups say.
Sudan
Across Sudan, humanitarian needs were already at all-time highs before the recent fighting began.
Before the fighting broke out in Sudan, the UN estimated 15.8 million people — one-third of the country's population — would need humanitarian assistance this year due to conflict, climate change, disease outbreaks and a worsening economic crisis.
Those needs will undoubtedly rise as the current fighting continues to trap people in their homes and the country faces food, fuel, water and medicine shortages.
What they're saying: "While swift evacuations [of foreigners and dual citizens] from Sudan have helped thousands, what about the nearly 47 million Sudanese who remain in the country?" International Rescue Committee CEO David Miliband said in a statement on Thursday.
"A rapid surge of humanitarian aid is the key to helping millions in Sudan."
Chad
The fighting in Sudan has so far forced roughly 20,000 people, mainly from the Darfur region, to flee to Chad. The number could rise to 100,000 in a "worst-case scenario," UNHCR official Laura Lo Castro recently told reporters.
The country hosted more than a half-million refugees — most of whom are from Sudan — before the fighting began. Existing refugee camps were already largely at or over capacity, aid groups tell Axios.
The influx of refugees from Sudan is adding to a prolonged humanitarian crisis in Chad, Amadou Bocoum, CARE's country director for Chad, told Axios. Chad was already a "forgotten crisis," but now it's a "crisis added to a crisis," he said.
Aid groups are working in coordination with their UN partners to set up temporary shelters and provide food, water and other basic necessities, but the lack of funding remains one of the biggest challenges in responding to the most pressing needs, Bocoum said.
The looming rainy season could add to the challenges in addressing the needs of refugees and internally displaced people in Chad.
Aid groups are in a race against time to prepare shelter and get assistance set up for those fleeing Sudan before the rainy season begins, typically in early June. They also worry that if the fighting continues in Sudan, heavy rains could make it much more difficult for those trying to flee to Chad.
The rainy season also makes it harder for humanitarian groups to access certain areas of need, said Aleksandra Roulet-Cimpric, the IRC country director for Chad.
A bad rainy season could also increase the humanitarian needs of the local population. Floods from last year's rainy season displaced tens of thousands (South Sudan also suffered from devastating floods last year).
South Sudan
The UN has warned that South Sudan was already facing the worst humanitarian crisis since its independence in 2011.
At least 9.4 million people, including 5 million children, will need assistance in 2023, per UN estimates before the current fighting erupted in Sudan.
At least 10,000 people, primarily South Sudanese refugees who had previously fled to Sudan due to conflict and other crises, have arrived in South Sudan over the last 12 days.
That number is expected to rapidly rise, with the UN refugee agency saying it's preparing for up to 165,000 people crossing the border from Sudan.
What they're saying: The influx will strain an already "extremely fragile" country that's struggling to respond to the needs of those already facing food insecurity, Marie-Hélène Verney, a UNHCR official, told reporters this week.
The bottom line
Without a significant increase in funding, humanitarians fear they'll be limited in the amount and type of assistance they can give.
If "we need to pick from the same pot of money [that] is actually already insufficient for the response before the crisis," it will be hard for humanitarian groups to distribute resources among "new [refugees] and those who are already there," Roulet-Cimpric said.
Go deeper: Sudan's rival generals "hold country hostage" as battle of egos turns deadly
Go deeper