DeSantis in Jerusalem touts pro-Israel credentials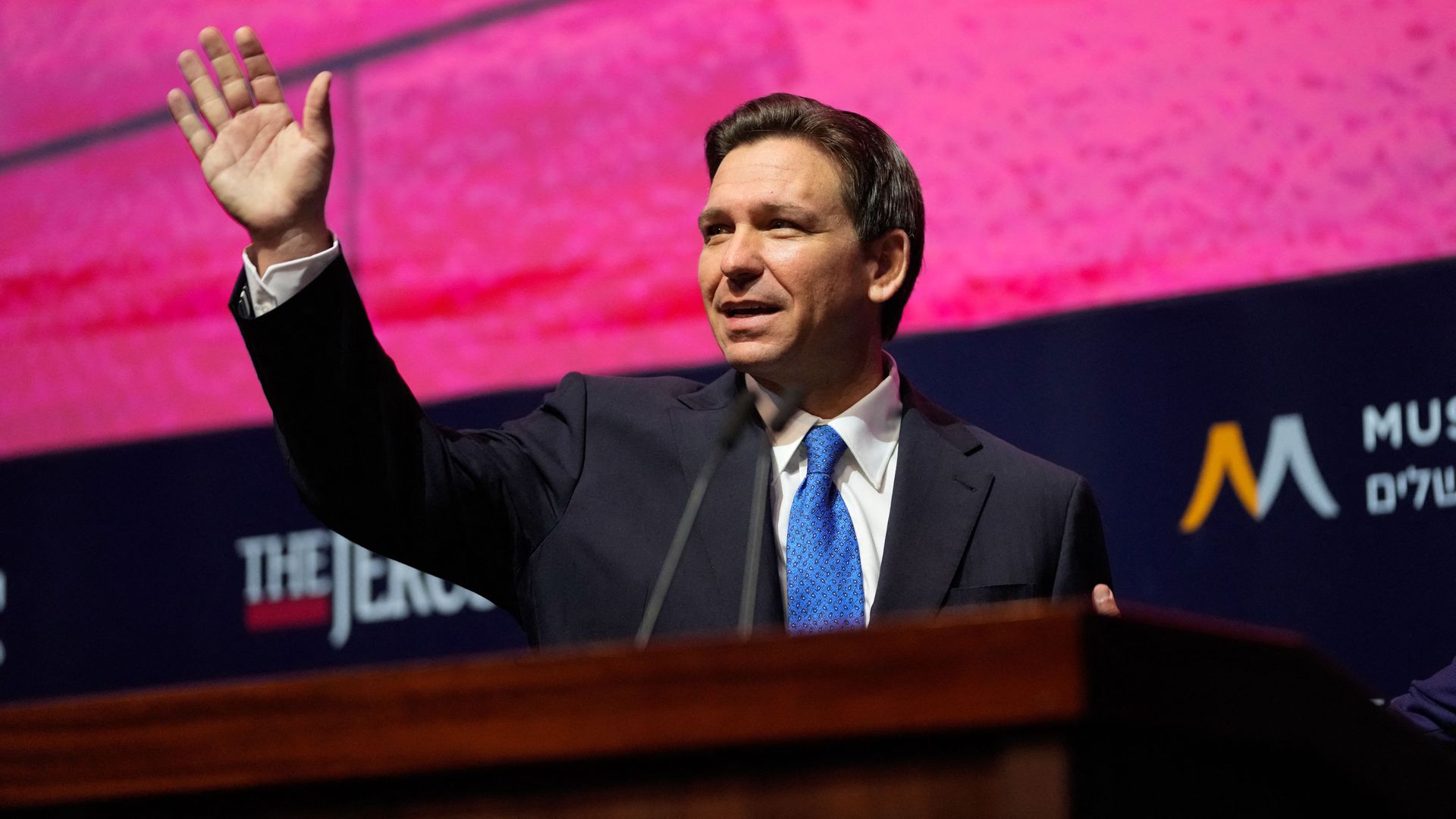 Florida Gov. Ron DeSantis used his speech in Jerusalem on Thursday to emphasize his pro-Israel credentials ahead of his expected bid for the Republican nomination in the 2024 presidential election.
Why it matters: This is DeSantis' fourth visit to Israel. His office branded the four-leg trip as an "international trade mission," but it's also been an opportunity for DeSantis to spotlight his foreign policy and diplomatic credentials as a likely presidential hopeful.
The trip included stops in Japan and South Korea. He will also visit the U.K. before returning to the U.S.
Driving the news: Although DeSantis made clear during his trip to Asia that he is not a candidate for the Republican party presidential nomination, he was received in Israel as one.
He met with Israeli President Isaac Herzog on Wednesday and Prime Minister Benjamin Netanyahu later Thursday.
Israeli-Canadian philanthropist Silvan Adams, who introduced DeSantis ahead of his speech at the "Celebrate the Faces of Israel" event at Jerusalem's Museum of Tolerance, said that maybe the Florida governor's next visit to Israel will be aboard Air Force One. The audience of hundreds enthusiastically applauded.
What he's saying: DeSantis presented the Trump administration's decision to move the U.S. embassy to Jerusalem as his own achievement, saying he worked to "cajole" the former president to make the move. He didn't mention former President Trump by name.
DeSantis also stressed that he opposed the 2015 nuclear deal with Iran and said it failed because it only emboldened the regime in Tehran. He made no mention of Trump's decision to pull the U.S. out of the deal.
"Iran with a nuclear weapon will create an unprecedented threat in the region. If you combine their radical ideology with nuclear weapons it will be an existential threat to Israel and a threat to America," he said.
DeSantis also said that U.S. "must respect Israel's right to make its own decisions about its own governance – you are a smart country you figure it out – it shouldn't be for us to butt into these important issues."
The comment came about a month after the White House, including President Biden, pressured Netanyahu to delay his government's controversial judicial overhaul plan.
DeSantis didn't mention issues affecting the Palestinians. He called the occupied West Bank by its Hebrew name of "Judea and Samaria" and mentioned his previous visit to the Ariel settlement.
During the speech, DeSantis also repeatedly said the shared religious values between Judaism and Christianity are the basis for the alliance between the U.S. and Israel.
He told a story about his visit to the Western Wall in Jerusalem in 2019 and said he prayed that Florida would pass the hurricane season safely. He said that at the time, a hurricane that was heading to Florida slowed and didn't hit the state. "I think it was because of my prayer at the Western Wall," he said.
The big picture: DeSantis' trip comes as the Florida governor faces criticism on several fronts at home, including over a highly-public feud with the Walt Disney Company that resulted in the entertainment giant suing him over an alleged "targeted campaign."
Go deeper