What we know about Montana House silencing first transgender lawmaker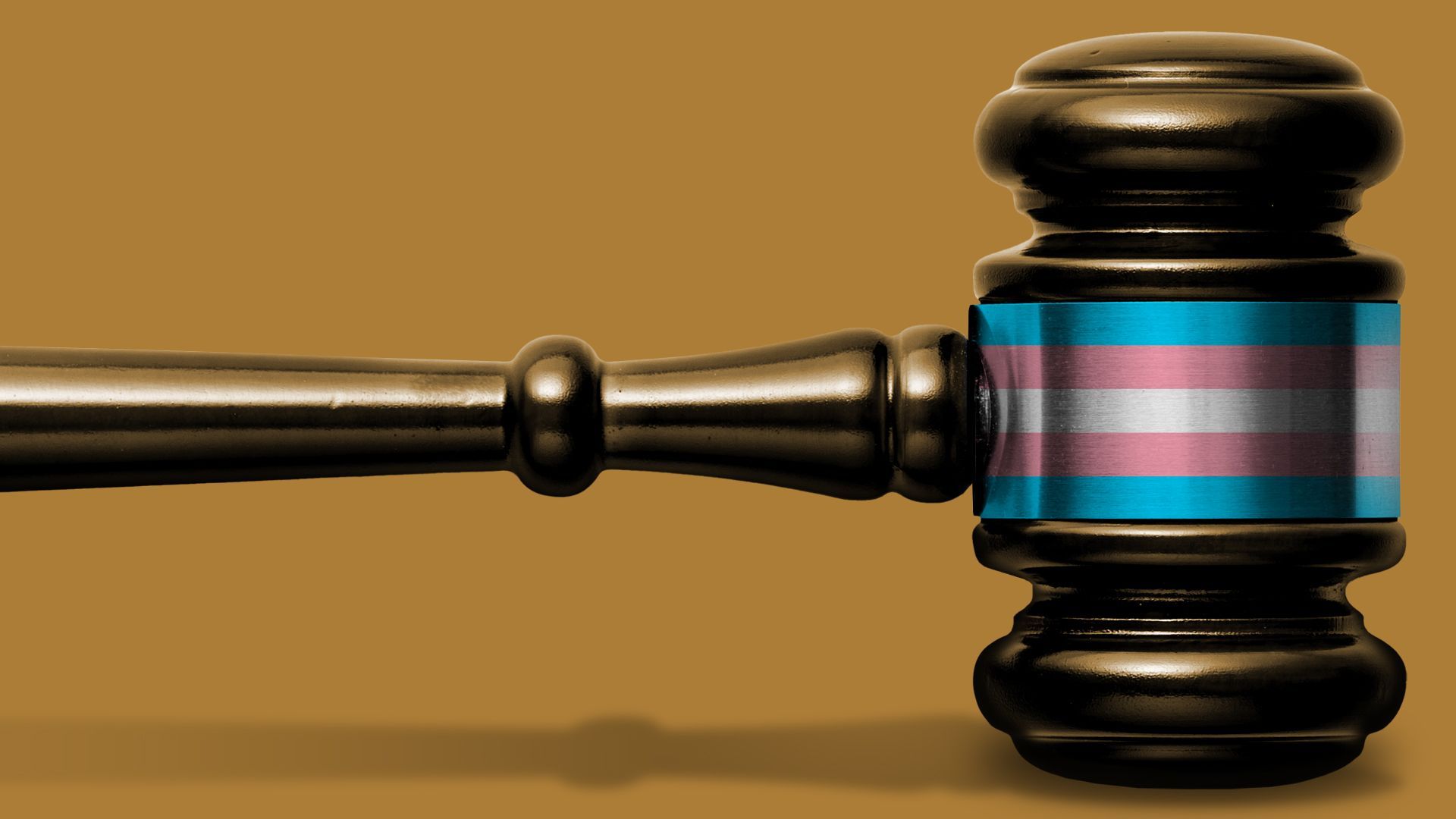 Montana State Rep. Zooey Zephyr filed a lawsuit Monday challenging the GOP-led House's decision last week to bar her from the House floor and gallery for the rest of the 90-day legislative session.
The big picture: Zephyr was initially barred from speaking in the state's House chamber two weeks ago, which prompted protests that saw demonstrators arrested and and the abrupt cancellation of a planned session of the House last week.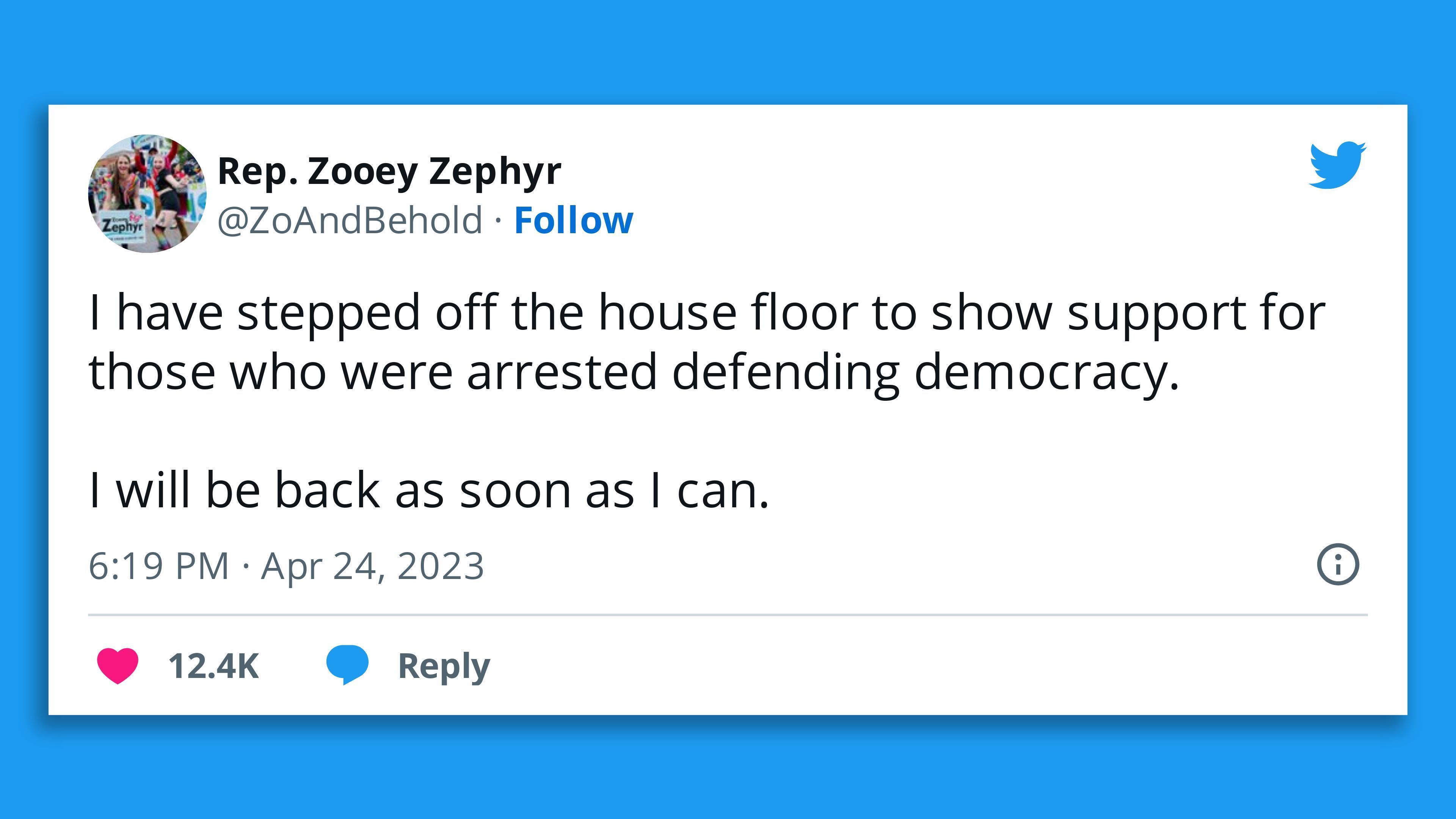 Catch up quick: GOP leaders in the Republican-controlled legislature said she couldn't return unless she apologized for saying that fellow lawmakers would have "blood on their hands" if they voted to support a bill banning gender-affirming care, per AP.
A group of conservative lawmakers known as the Montana Freedom Caucus have last week called for Zephyr's censure over her comments.
"It's not enough for them to get the harmful bills through," Zephyr said last Monday. "When someone stands up and calls out their bills for the harm they cause ... they want silence. We will not be complicit in our eradication."
Demonstrations broke out during House proceedings last Monday, with police in riot gear clearing the chamber and seven people getting arrested and Zephyr was informed about the disciplinary vote a day later.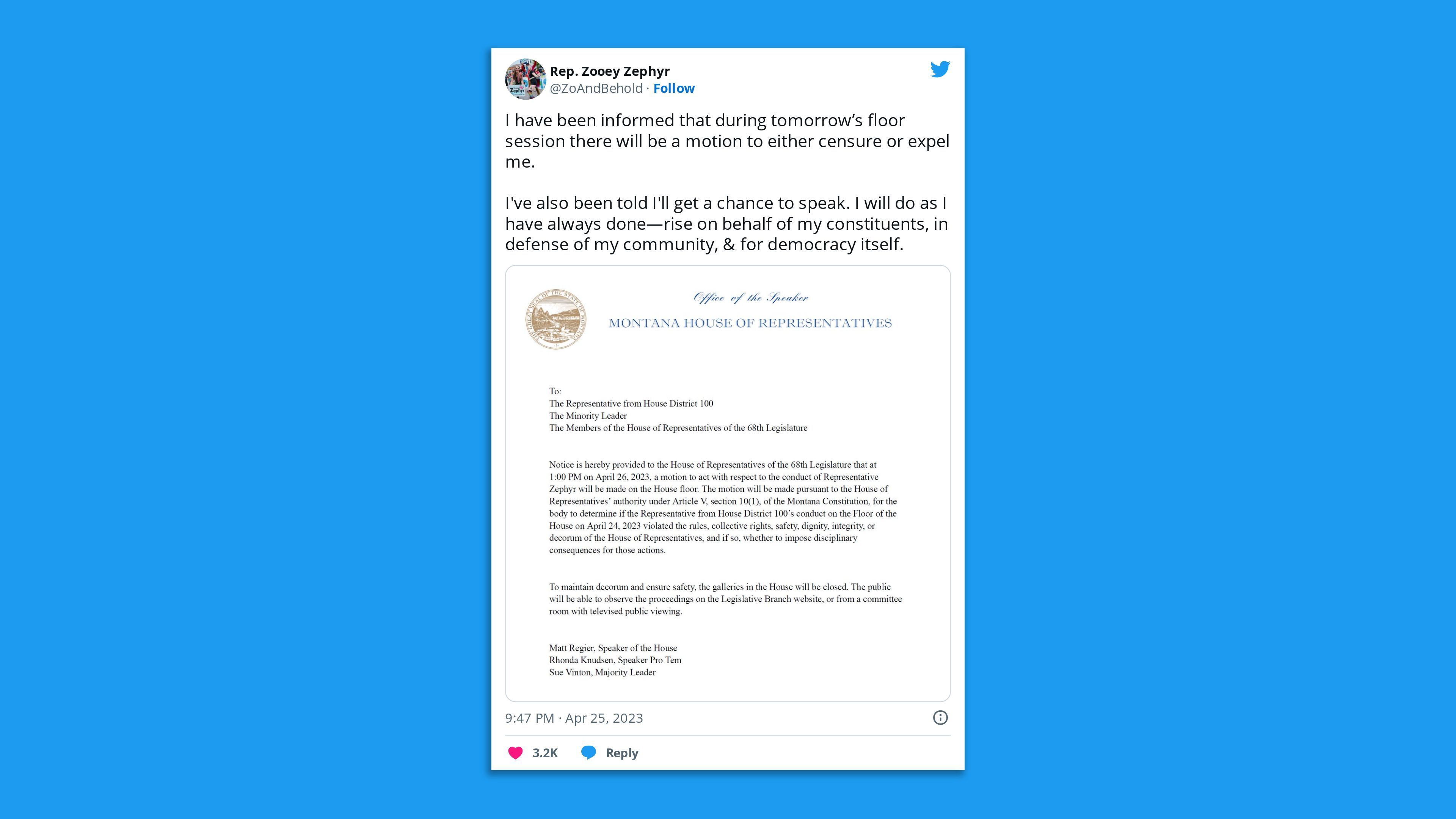 By the numbers: Sixty-eight members voted Wednesday in support of the motion to bar Zephyr from the House floor and gallery for the rest of the legislative session, while 31 members, including Zephyr, voted against it.
Of note: Zephyr can still join remotely.
State of play: Zephyr filed a lawsuit on Monday alleging that the decision to silence her violated both her constitutional rights and those of her constituents.
In a statement Zephyr condemned the disciplinary actions taken against her as a "disturbing and terrifying affront to democracy itself."
The lawsuit, filed by the ACLU of Montana, also names four of Zephyr's constituents as plaintiffs.
What they're saying: While Regier couldn't immediately be reached for comment about the letter, he told reporters: "All representatives are free to participate in House debates while following the House rules. The choice to not follow the House rules is one that Representative Zephyr has made."
Rep. Zephyr's office did not immediately respond to Axios' request for comment.
Go deeper: How Tennessee GOP expelling 2 Democrats could have ripple effect in other states
Editor's note: This article has been updated with additional details throughout.
Go deeper