Montana's first transgender lawmaker files lawsuit against state over censure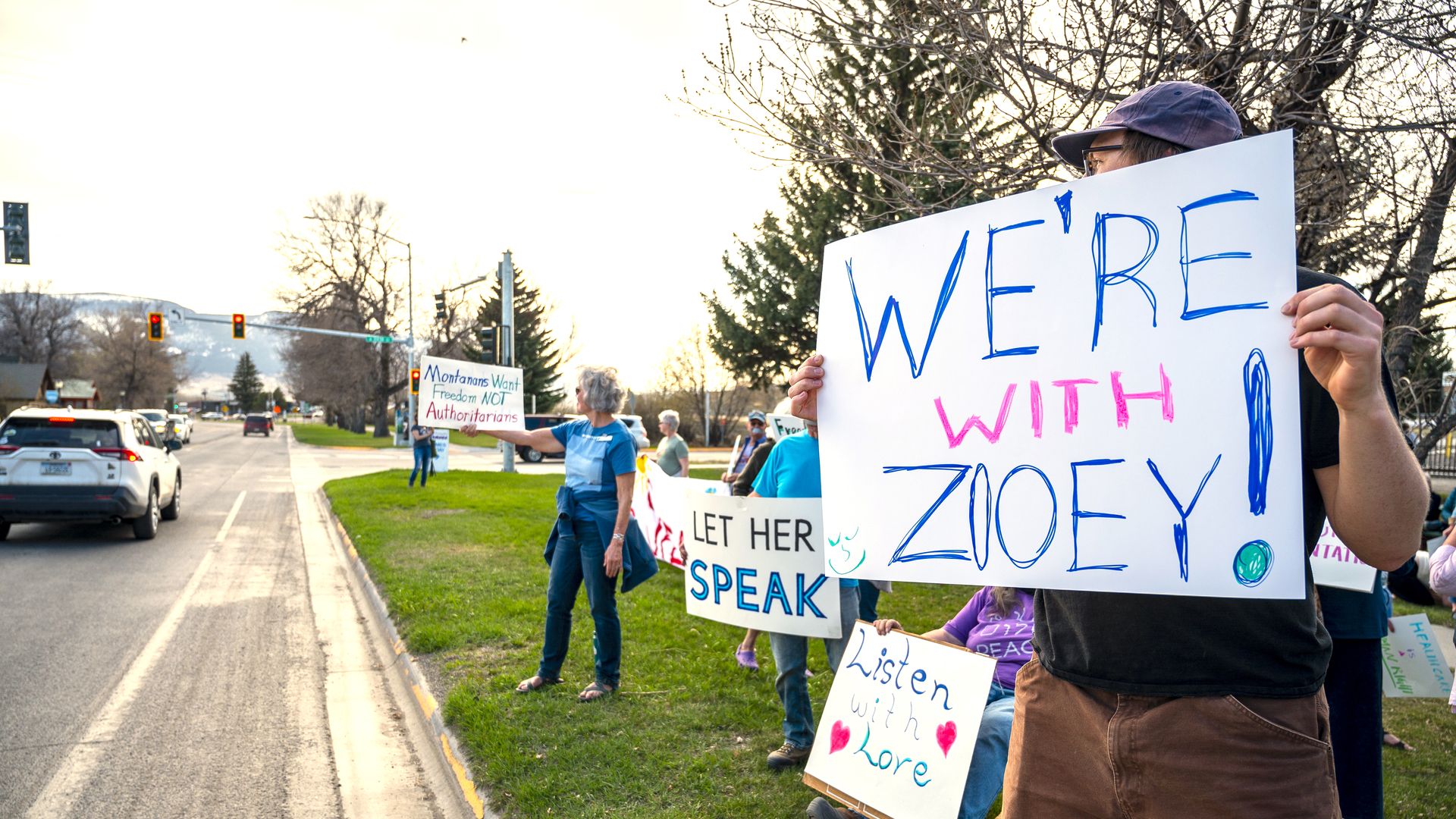 Montana state Rep. Zooey Zephyr (D), the state's only transgender lawmaker, filed a lawsuit on Monday challenging the GOP-led House's decision last week to censure her.
Why it matters: Zephyr is one of several trans or nonbinary state lawmakers who have been recently targeted or censured for issues connected to their identities, as Republicans introduce anti-trans bills across the country.
Background: Zephyr was barred from the House floor and gallery last week for the remainder of the 90-day legislative session after speaking out against lawmakers who support a bill banning gender-affirming care.
In a statement Monday, Zephyr condemned the disciplinary actions as a "disturbing and terrifying affront to democracy itself."
Zephyr added that House leadership "explicitly and directly" targeted her and that the state House leadership had denied the "rights of my constituents to just representation in their own government."
State of play: The lawsuit filed Monday by the ACLU of Montana alleges that the decision to censure Zephyr violated the lawmaker's constitutional rights and those of her constituents, including free speech and self-government.
Four residents of Zephyr's Montana district — Dean Chou, Anna Wong, Brady Schwertfeger, Sarah Velk — are also named as plaintiffs in the case.
"I feel alienated and disenfranchised to have my representative expelled from debate," Chou said in a statement.
Alex Rate, legal director of the ACLU of Montana, said in a statement that Montana House Speaker Matt Regier's actions in support of censuring Zephyr had "unfairly, unjustly, and unconstitutionally" silenced voters' voices.
Emily Flowers, press secretary for Montana Attorney General Austin Knudsen — whose office will represent the state in the suit — dismissed the lawsuit as "political activism masquerading as a lawsuit."
"The ACLU is trying to use the courts to interfere with the legislature as it carries out its constitutional duties on behalf of Montanans," Flowers said. "Any relief granted by the court would be a gross violation of the separation of powers."
Axios has reached out to Regier, who is named as a defendant in the suit, for comment.
Editor's note: This story is developing and will be updated.
Go deeper