The macroeconomic danger posed by First Republic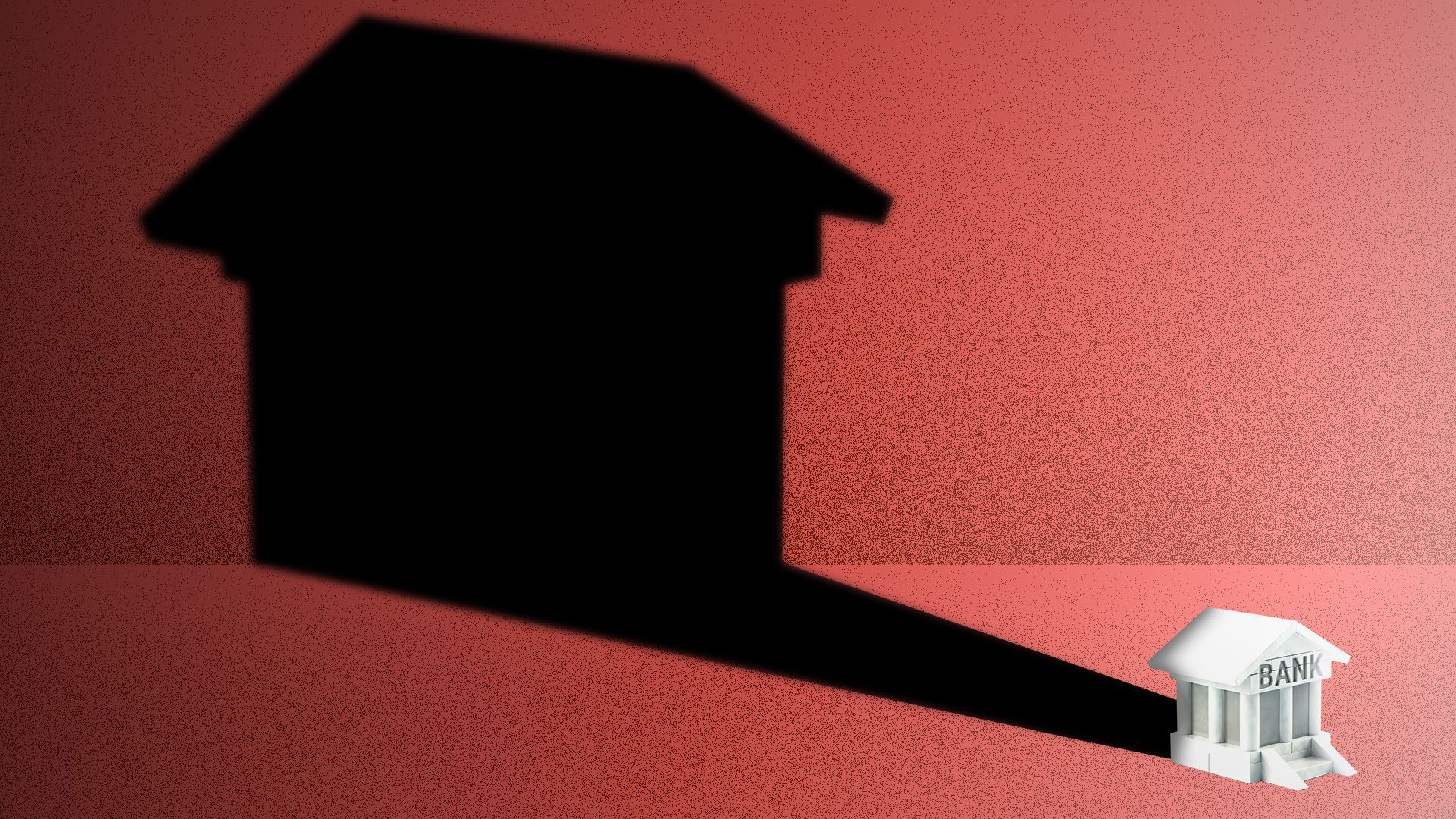 After the failures of Silicon Valley Bank and Signature Bank, regulators took extraordinary steps to backstop the nation's banks. That looked as though it was enough to shore up general confidence in the financial system — until now.
Why it matters: Trouble at First Republic Bank is the latest sign that fallout from the banking crisis is ongoing. There's now a significant risk that briefly restored confidence could unravel, should the bank fail.
There also are big unknowns about how the aftershocks of the banking crisis will ripple through the financial system and the economy, as banks try to survive in a world that has fewer cheap deposits and more dubious loans, especially in the commercial real estate sector.
Driving the news: As it faced billions of dollars in deposits going out the door, First Republic borrowed heavily from the Federal Reserve and the Federal Home Loan Bank, a government-sponsored lending group, to meet customer withdrawals.
Where it stands: Deposit outflows at small banks had largely stabilized, until First Republic released its first-quarter earnings on Monday. Fed lending to banks is down from its March peak, though it ticked back up last week.
Concerns about First Republic's health remain, however. Its share price is near zero, and its bonds are trading at highly distressed levels.
By the numbers: On the Monday earnings call, First Republic's CEO said that as of the end of March, the bank still had roughly $12 billion of borrowing capacity at the Fed's discount window, which allows institutions to access funds in exchange for collateral.
The intrigue: After the 2008 financial crisis, new rules barred regulators from enacting special programs for individual firms. Any emergency measures have to be available to a broad set of institutions.
But in the wake of First Republic's troubles, the Fed retains options, according to Krishna Guha, a former Fed official now at Evercore ISI.
It might consider enhancing its emergency program in the days ahead to "make it easier for First Republic and other stressed banks to obtain more Fed funding against their assets," Guha wrote in a note.
What to watch: A question posed by Steven Kelly, a researcher at the Yale Program on Financial Stability, is whether or not First Republic would still be considered solvent by Fed officials.
As Kelly notes, for firms to be eligible to access the discount window and other emergency programs, the Fed must feel "secured to its satisfaction" in lending to the firm. In other words, there must be confidence it will be repaid.
If that confidence evaporates, expect an FDIC-led resolution of the bank.
What's next: The Fed will release its review of the bank failure that sparked the crisis, Silicon Valley Bank, on Friday.
Go deeper