Bud Light pours at bars take a dive amid boycott calls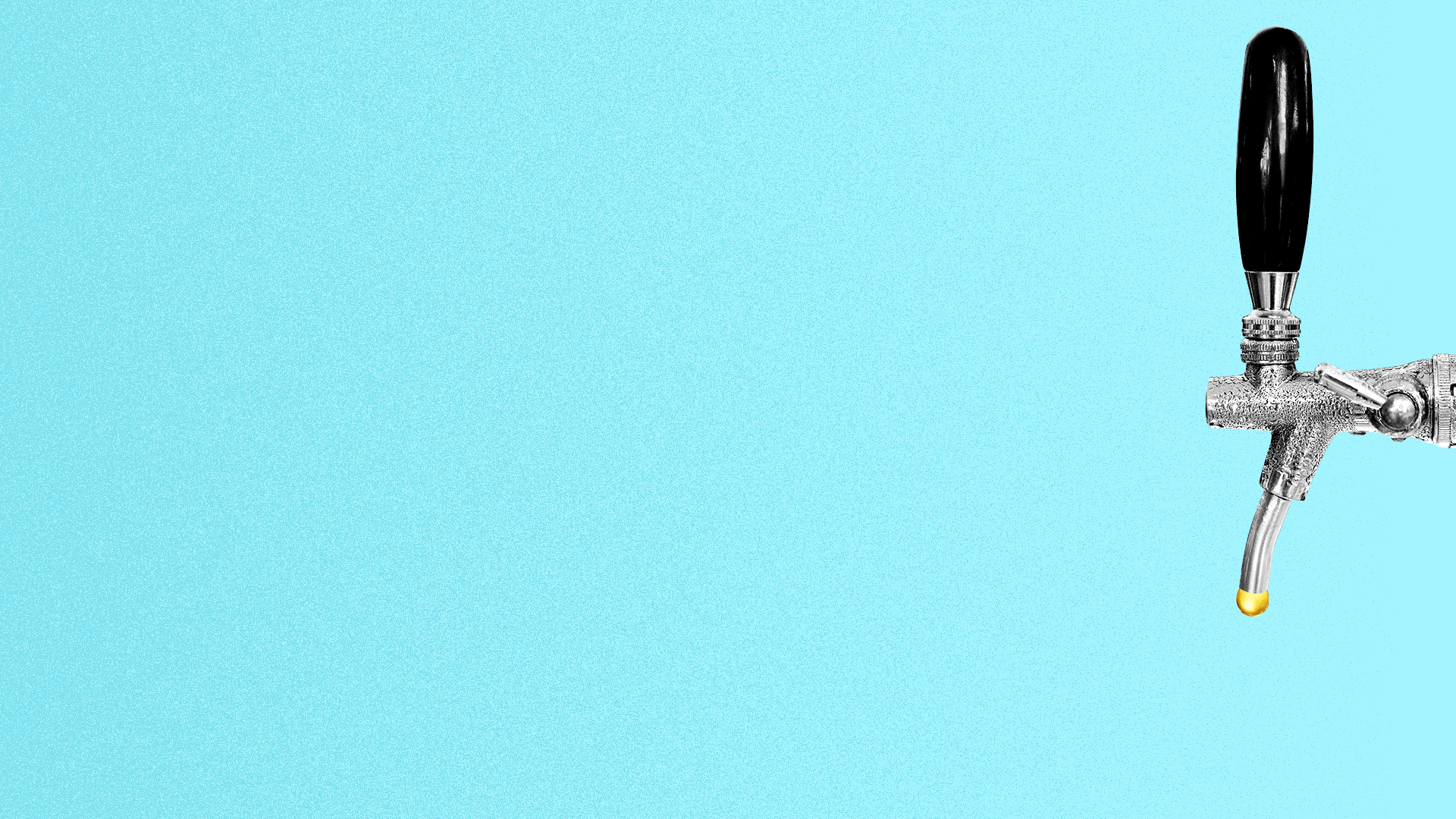 Bud Light pours plummeted in the first half of April at thousands of bars and restaurants, according to BeerBoard, a tech company that helps barrooms nationwide monitor their beer flows.
Why it matters: Conservative groups and country music stars have called for a boycott of the light lager since Dylan Mulvaney, a transgender advocate and TikTok star, announced on April 1 that Bud Light had sent her personalized cans to celebrate her one-year anniversary living as a trans woman.
The initial data from BeerBoard — which counts Buffalo Wild Wings, TGI Fridays and Hooters as customers — is just a snapshot.
But the decline in Bud Light pours indicates that some consumers are souring on the beer in the wake of a controversy that has laid bare the country's divisions over transgender rights.
Zoom in: Servers across nearly 3,000 locations using BeerBoard's network poured about 6% less Bud Light than other light lagers from April 2 to April 15, after the calls for a boycott.
The brand had outperformed its category by 15% in the previous two weeks March 18 to April 1.
Other data — from NielsenIQ and Bump Williams Consulting — have Bud Light sales down 21% in volume in the week that ended April 15, after an 11% drop the previous week, according to the New York Post.
State of play: Anheuser-Busch, the parent company of Bud Light, announced last weekend that the two executives who oversaw the beer's collaboration with Mulvaney had been put on leave involuntarily, the Wall Street Journal reported.
That move came after the company's CEO, Brendan Whitworth, issued a statement on April 14 that generally acknowledged the controversy, but didn't delve into specifics.
"We never intended to be part of a discussion that divides people," he said. "We are in the business of bringing people together over a beer."
Between the lines: Whitworth's delayed and broad response to the controversy suggests the company isn't "willing to take a stand on the issue," Kellie A. McElhaney, professor of leadership at UC Berkeley's Haas School of Business, tells Axios.
A spokesperson for Anheuser-Busch did not respond to Axios' request for comment.
Anheuser-Busch previously told NBC News in a statement that it "works with hundreds of influencers ... to authentically connect with audiences across various demographics."
The big picture: There are real business risks to weighing in on cultural, social and political issues in the U.S.
Anheuser-Busch previously has released bespoke branding to celebrate and appeal to the LGBTQ community, but it wasn't prepared to respond to the social media uprising and boycotts that followed the Mulvaney partnership.
What to watch: Brands including Nike and Dick's Sporting Goods have rebounded from initial backlash to stances they've taken in the past, and it's likely Bud Light will as well, McElhaney says.
"Negativity spurs action more than positivity, so ... it's incumbent on all of us [consumers] to utilize our purchasing power, not just when you're angry, but when you're really proud, or happy."
Zoom out: Boycott aside, Americans — specifically millennials and Gen Z — are drinking less.
Go deeper:
Go deeper