Major retailers step in to temporarily accept beloved Bed Bath & Beyond coupons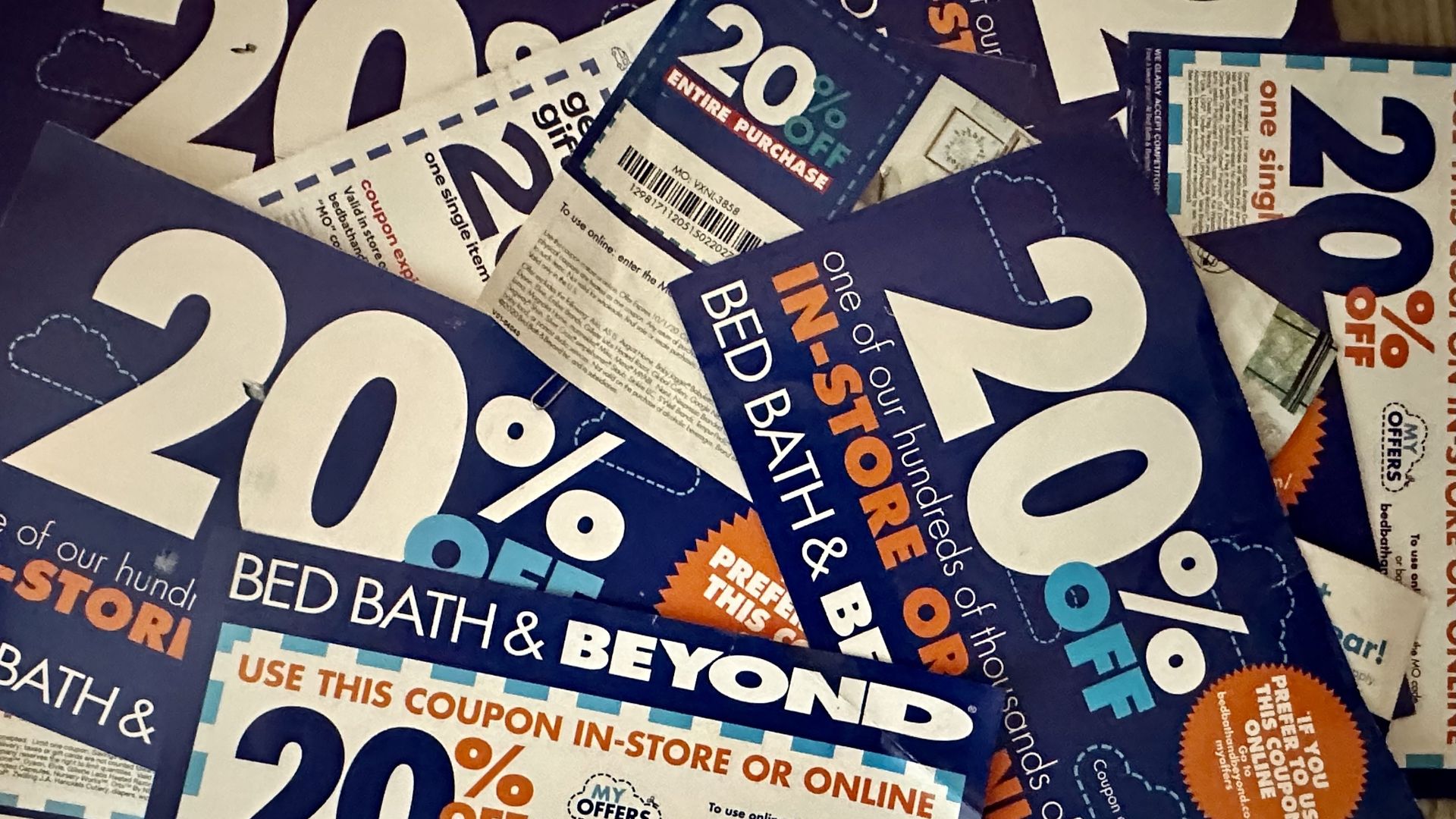 Those now-expired Bed Bath & Beyond coupons are not completely worthless, thanks to several major competing retailers.
Driving the news: The Container Store and Big Lots are temporarily offering a discount for bringing in the bankrupt home goods chain's iconic blue coupons.
Bed Bath & Beyond Inc. filed for Chapter 11 bankruptcy protection Sunday. Its buybuy Baby stores are also closing.
Tuesday was the last day Bed Bath & Beyond accepted its popular coupons as store closing sales were slated to start Wednesday.
The latest: Big Lots announced Thursday that it is taking 20% off customers' entire purchase of $50 or more now through May 7 with an expired Bed Bath & Beyond coupon at its 1,425-plus stores.
The Container Store started accepting Bed Bath & Beyond coupons at its 97 U.S. stores Wednesday in exchange for 20% off a single item through May 31.
Big Lots and The Container Store both have exclusions on the limited-time promotions.
The big picture: While Bed Bath & Beyond has been struggling for years and with several rounds of store closings as well as attempts at transformation, its competitors are starting to vie for its market share.
The Container Store also announced an upcoming expansion of its college product offerings and that it would offer a multi-use college discount, similar to what the bankrupt retailer offered in the past.
Flashback: In 2018, Bed Bath & Beyond accepted Toys R Us gift cards for a brief time after the toy store filed for bankruptcy ahead of closing its stores nationwide.
Babylist offers buybuy Baby registry deal
Bed Bath & Beyond Inc. said its items from its wedding and baby registries can no longer be purchased.
The company has said it expects to partner with "an alternative platform" where shoppers can transfer and complete their registries.
"We will provide details in the coming days," the company said in an email to consumers.
What's happening: Babylist told Axios that it is "stepping in to help support expecting and new parents registered" who were registered with buybuy Baby.
Editor's note: This story has been updated with additional information. Big Lots announced it would accept Bed Bath coupons for a limited time starting on April 27.
More from Axios:
Go deeper