Spotify reports strong user gains as margins improve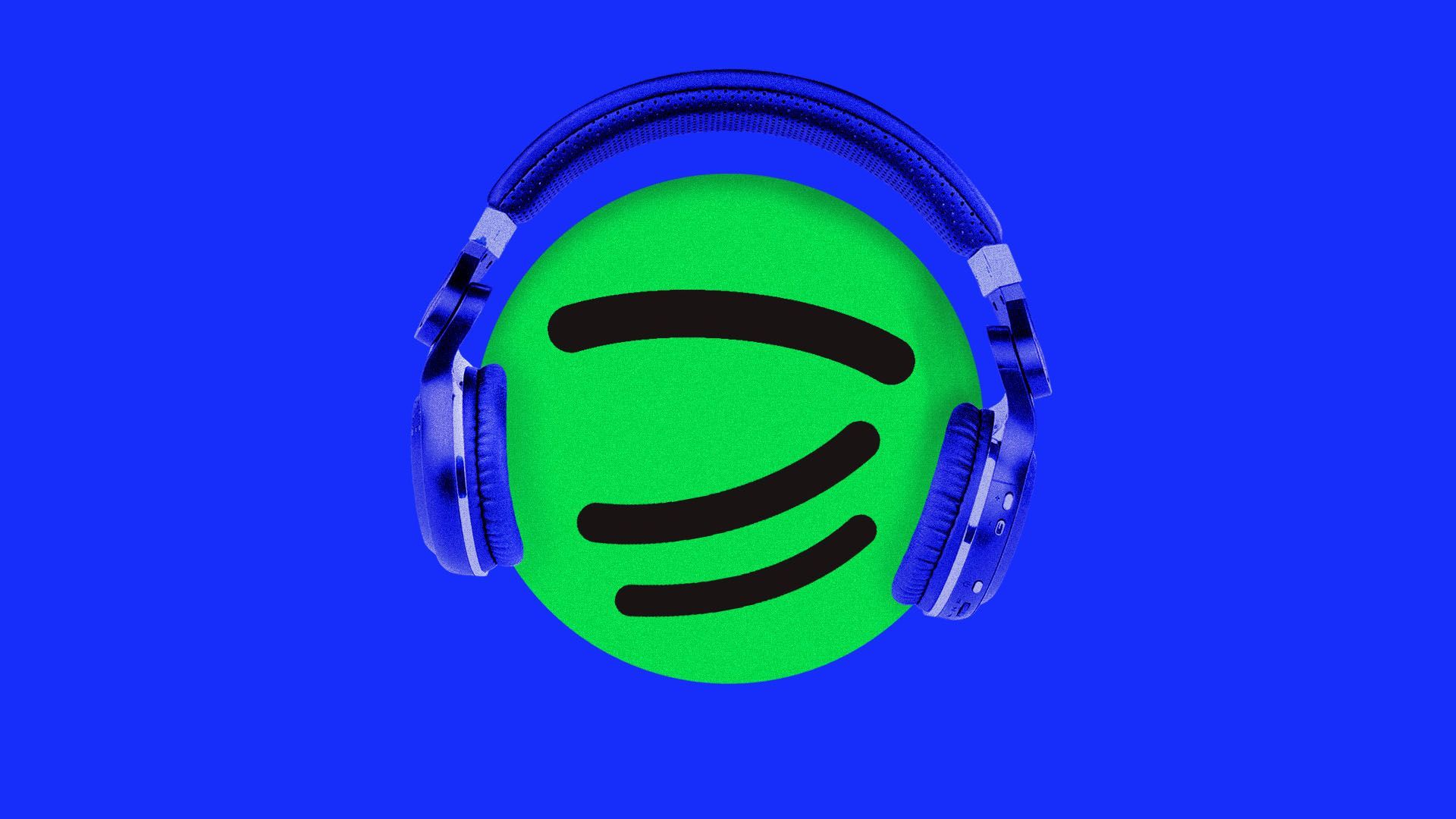 Spotify on Tuesday reported double-digit percentage gains for both monthly active users and premium subscribers for the first quarter of 2023. CEO Daniel Ek told Axios in an interview that the blockbuster numbers "even surprised us."
Why it matters: The numbers helped Spotify beat Wall Street expectations on gross profit margins, a key metric that investors are watching closely for signs the Swedish audio giant's operations can become more efficient.
Ek told Axios in January that increasing the company's profit margins was his focus for 2023.
Details: For the first quarter of the year, Spotify grew its monthly active user base by 22% year-over-year to 515 million globally, representing its second-highest quarter in year-over-year MAU growth since going public in 2018.
"We're definitely on a good roll with now five consecutive quarters" of monthly active user growth, Ek said.
That growth led to a record number of ad-supported MAU, or users that consumed enough content in the last 30 days of the quarter to be served ads.
With gains in ad-supported MAU, Spotify was able to meaningfully grow its ad revenues. In total, it earned €329 million in ad revenue last quarter, a 17% gain over the same quarter the year prior.
In addition to free user gains, Spotify also said it added 5 million premium paid subscribers, more than doubling its own Wall Street guidance from the previous quarter.
Yes, but: While revenue grew 14% year-over-year, Spotify's top-line numbers came in just shy of Wall Street expectations.
Investors were expecting Spotify to bring in €3.09 billion, compared to the €3 billion it earned in the first three months of the year.
Executives blamed that mostly on macroeconomics impacting the ad market. "Obviously, the macro is not helping us right now. But there's nothing at all concerning from our standpoint," said chief financial officer Paul Vogel in an interview.
Ek noted that revenue gains from its premium subscriber growth in the first quarter won't be recognized until next quarter when promotional pricing expires.
Be smart: Investors have been pressuring Spotify to increase its gross profit margins, following heavy investments it made in recent years across new products, like podcasts.
The company reported Tuesday that its gross margins last quarter were roughly flat year-over-year, but finished above guidance at 25.2%.
The company attributes better margins to more favorable streaming delivery costs, payment fees, customer service costs and other content expenses.
Still, Spotify would have been even more profitable if it weren't for significant growth (36% year-over-year) in operating expenses, driven primarily by higher personnel costs related to its rapid headcount expansion in 2022.
In the long term, the company expects its gross profit margins to eventually land between 30%–35%, mostly by scaling its still-nascent ad business.
The big picture: Spotify has not been spared from the Wall Street pressure for profits facing most Big Tech firms.
Earlier this year, the company said it would lay off 6% of staff — roughly 600 employees — amid broader cost-cutting measures.
What's next: Spotify has been pushing to make its podcast investments more profitable by cutting expenses and shifting its content strategy.
A spokesperson said that the company is "expanding our distribution strategies to further increase the audiences and ad sales potential of our [podcast] shows."
The spokesperson also noted that the company is starting to pursue broader distribution deals for some of its original podcasts "and will be evaluating further shows on a case-by-case basis over time."
What to watch: Next quarter, Spotify expects its gross profit margins to continue to improve slightly to 25.5%, which should sit well with investors.
It expects to add another 15 million monthly active users and 7 million net new paid subscribers.
Editor's note: This story has been updated to include quotes from Daniel Ek and Paul Vogel.
Go deeper