Spotify CEO Daniel Ek eyes elusive profits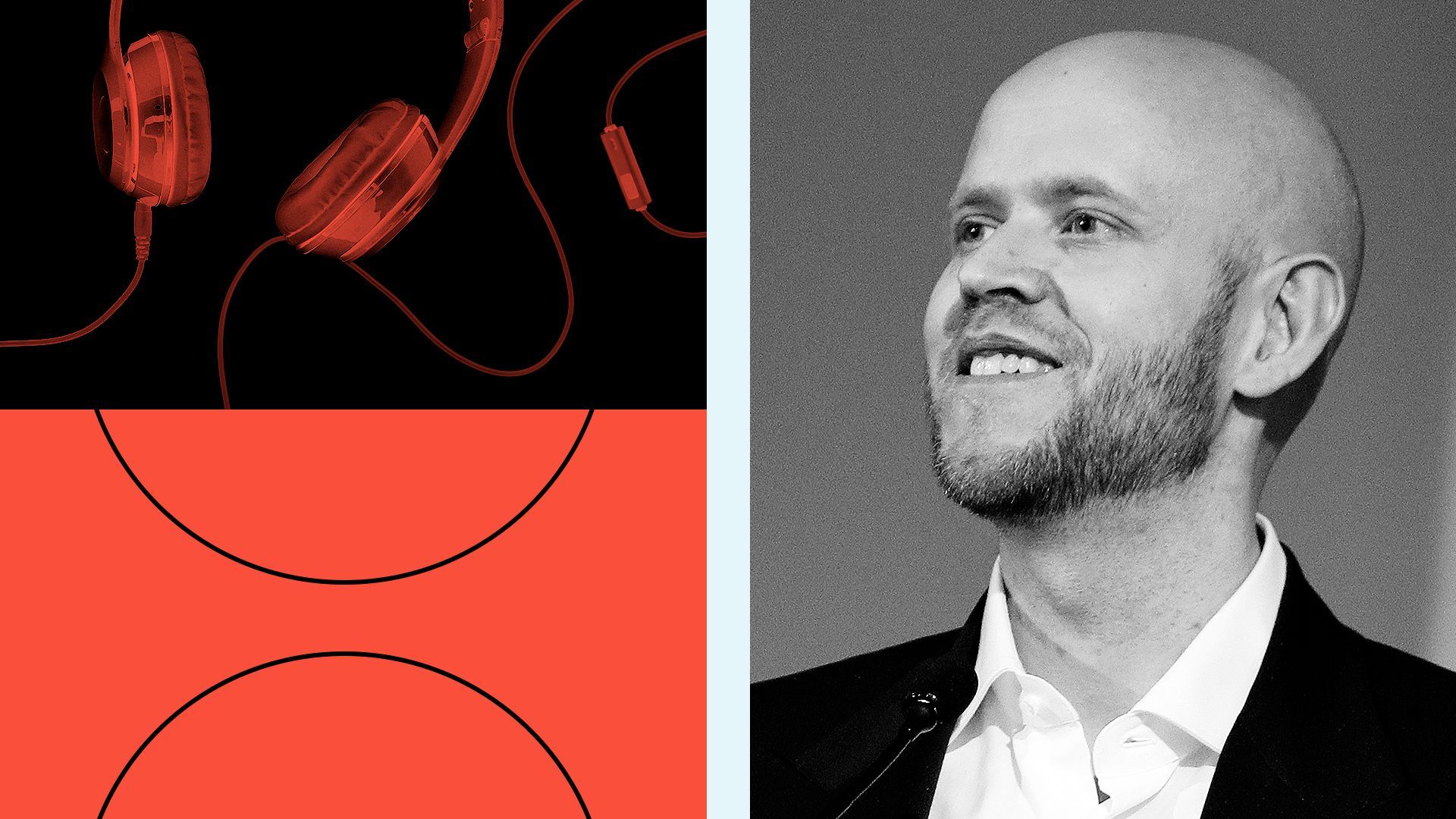 Spotify CEO Daniel Ek will pivot his focus towards increasing the company's margins this year, but he doesn't plan to hold back on new investments in growth areas like audiobooks, he told Axios in an interview.
Why it matters: Heavy investments in technology, marketing and content helped fuel Spotify's top-line revenue and user growth in 2022, but weighed on the company's profits, frustrating investors.
The streamer's share price dropped 60% last year as its losses widened. So far in 2023, investors seem more optimistic that Ek will eventually be able to turn Spotify into a profitable business.
Driving the news: Spotify reported its fourth quarter and full-year earnings on Tuesday, one week after announcing it would lay off 6% of staff — roughly 600 employees — amid broader cost-cutting measures.
While the company topped Wall Street expectations for user growth last quarter, its heavy investments in podcasts and its pandemic-era hiring spree continued to weigh on its profit margins.
The company's operating losses grew by 44% last quarter compared to the year prior. Ek admitted that the company "had taken on a lot of headcount."
Yes, but: Executives declined to provide a timeline for when they think Spotify will become profitable.
The company's chief financial officer ,Paul Vogel, said investors should expect to see "a meaningful improvement" in operating losses this year compared to last.
He warned that the first quarter of each year tends to yield the lowest gross profit margins, but that the numbers will improve throughout the year.
Between the lines: Spotify invested heavily in building its podcast business last year, spending generously on original shows and exclusive content that Ek has argued helps retain users and boost its advertising revenue.
But now that Spotify's podcasting arm has reached a point of maturity, it will focus on being more efficient, Ek said.
The company declined to say how many podcasts it added on the platform last year compared to Q3 2022 (when the total number of podcasts was 4.7 million). But Vogel told Axios that the total number of podcasts on Spotify isn't shrinking.
Last week, Ek announced a new executive restructuring that saw the exit of Spotify's longtime chief content and advertising business officer, Dawn Ostroff, who led its podcast push for the past four years. The company laid off podcast staffers and cancelled 11 original shows in October.
By the numbers: Spotify's popularity continues to grow faster than its revenue.
Collectively, Spotify says it now has 489 million paid and free users, an increase of 20% year-over-year, driven largely by growth in Southeast Asia and among Gen Z users.
In total, the company added 33 million monthly active users, making the fourth quarter its best ever for user growth. Ek said he expects that number to top 500 million in the first quarter of 2023.
The company added 10 million premium subscribers last quarter, bringing its total number of paid users to 205 million, a 14% increase from the same quarter the year prior and a figure that topped analyst expectations.
Its number of ad-supported users increased by 25% year-over-year to 295 million, also beating analyst expectations. The company earned $486 million in ad revenue last quarter, an all-time high.
Be smart: Spotify's music business has long been the key driver of its gross profit margins, while podcasting has had a continually negative impact on them.
But until the company can meaningfully increase its podcast margins, there are other levers the company is exploring to help boost them, including being more conservative with its marketing spend.
Ek said Spotify is still considering raising subscription prices in the U.S., following successful subscription price hikes in 40 countries around the world, but declined to provide further details about when and how much.
What to watch: Despite the company's new focus, Ek said Spotify "is not going to stop on making new investments" in audiobooks and other areas.
However, audiobooks aren't expected to have as big a drag on the company's operating profits as podcasting had, Ek said, in part because Spotify's audiobooks strategy doesn't require as great an investment in original content.
Go deeper