"Verified" becomes a badge of dishonor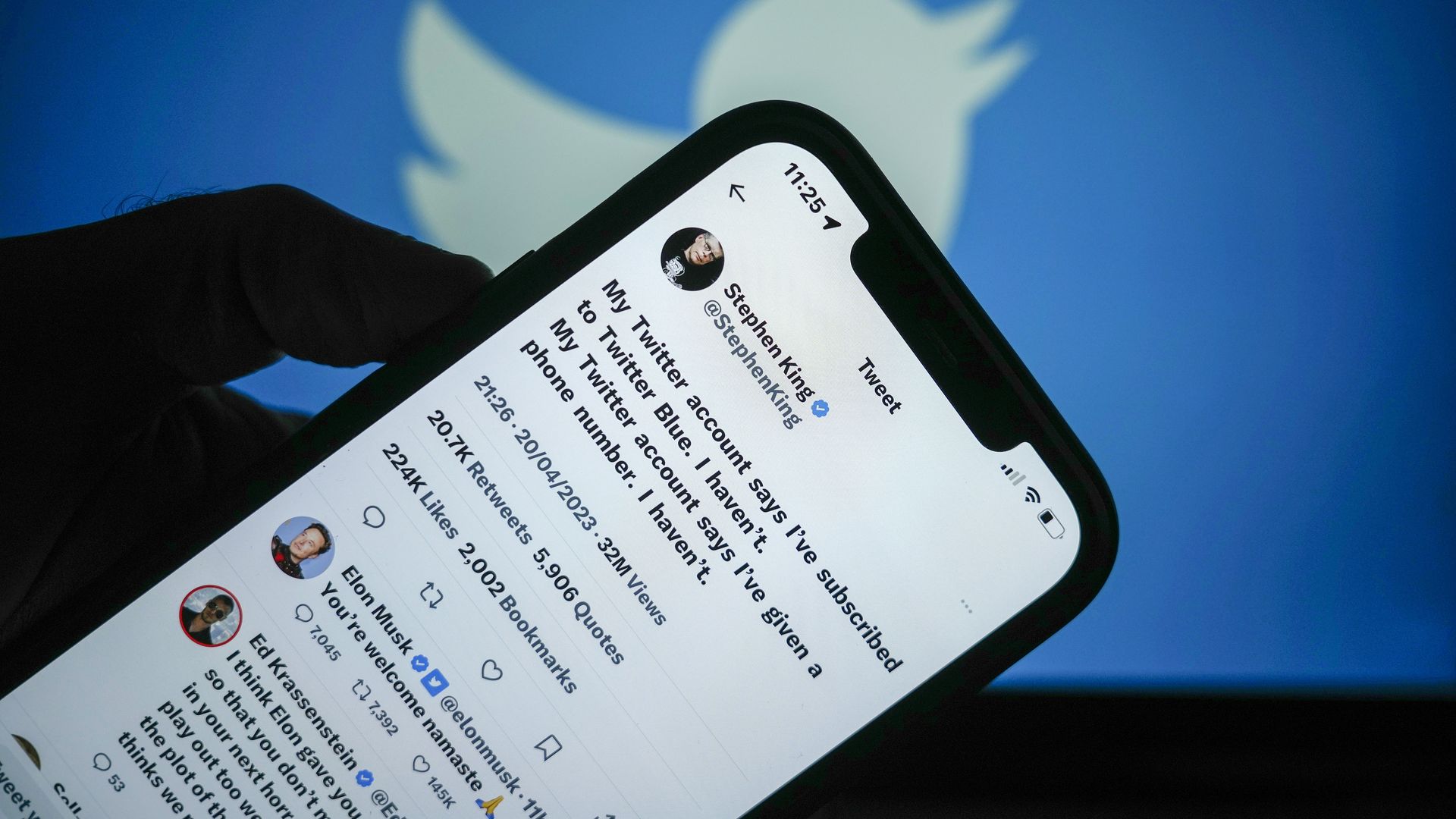 Twitter users are pushing back against Elon Musk's new pay-for-verification policy, with many journalists and celebrities opting to cancel their subscriptions out of embarrassment instead of keeping their blue checks.
Why it matters: Internet verification used to be a badge of honor. Now that it's achievable to anyone who is willing to buy it, it's become a signal of desperation.
Driving the news: Twitter last Thursday began removing blue check marks from hundreds of thousands of accounts belonging to celebrities, journalists and other public figures who were verified by the platform before Musk changed the rules.
The Twitter CEO later announced he's personally paying for some high-profile users to remain verified on Twitter, even when they'd indicated they didn't want this status under his new subscription system.
Then, it emerged over the weekend that blue check marks had returned to the Twitter profiles of many accounts with more than 1 million followers.
Be smart: The new system could create more chaos and confusion for everyday users that relied on verification to know if accounts belonging to notable figures were real or fake.
There was further confusion over the weekend after blue checkmarks returned to several accounts of high-profile Twitter users who are no longer alive, with the message: "This account is verified because they are subscribed to Twitter Blue and verified their phone number."
This includes the accounts of Jamal Khashoggi, who was killed in 2018; chef Anthony Bourdain, who died the same year as the Washington Post journalist; and NBA star Kobe Bryant and actor Chadwick Boseman, who both died in 2020.
The big picture: More social media networks, including Meta, are forcing users to pay for features that were once free, including verification.
Meta CEO Mark Zuckerberg announced in a February Facebook post that this "new feature is about increasing authenticity and security across our services."
In addition to retaining a blue check, Twitter allows subscription users the exclusive option to continue using text messages for two-factor authentication, which is no longer available across the platform.
The bottom line: Online verification used to be a badge of honor. Now, it's become a badge of shame.
Go deeper