Abortion pill manufacturer sues FDA to keep drug on the market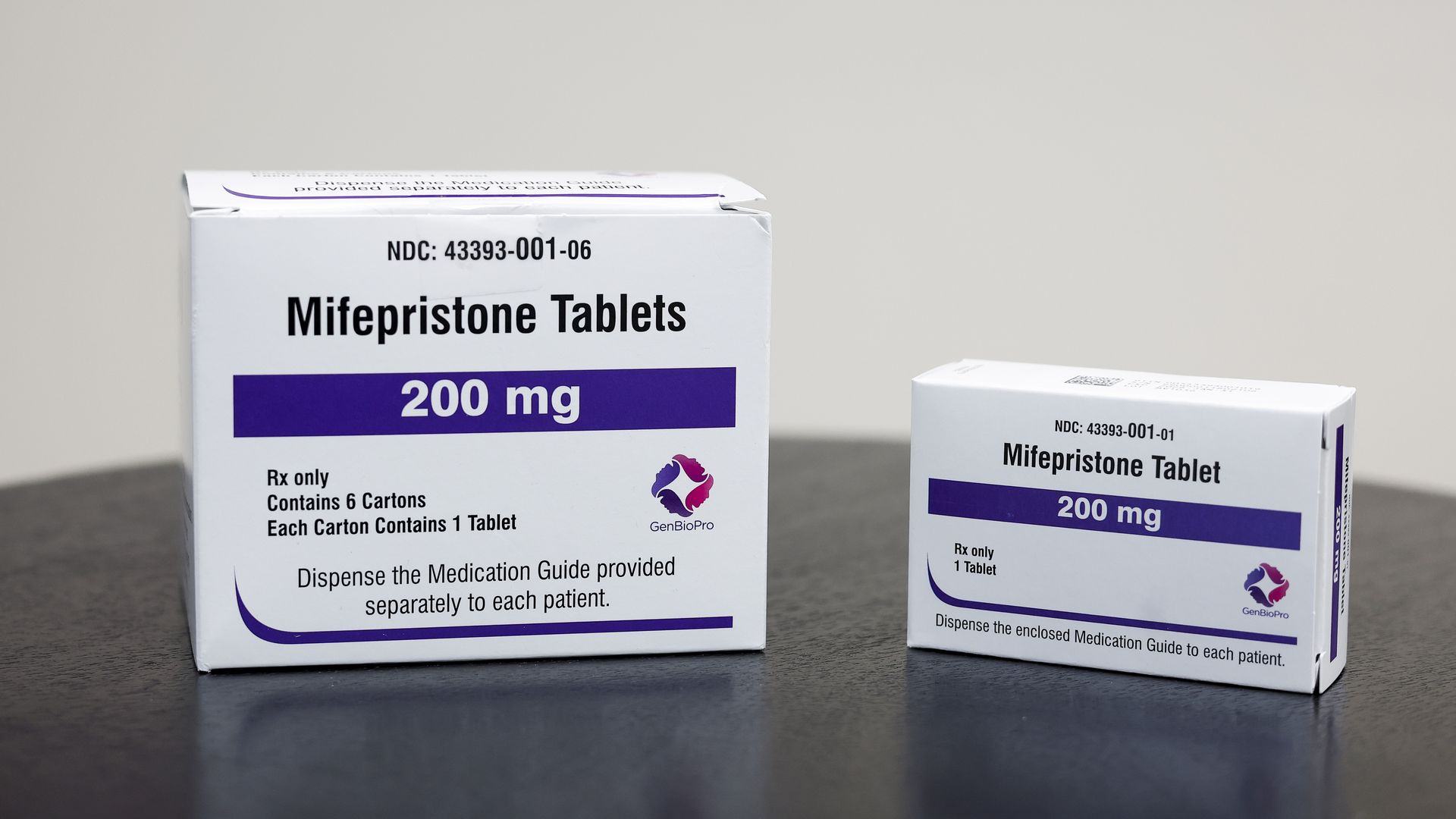 The manufacturer of the generic version of a widely used abortion pill on Wednesday sued the Food and Drug Administration to prevent the drug from being removed from the market.
Driving the news: The lawsuit comes on the day that the Supreme Court is expected to rule on whether restrictions should be imposed on the drug, mifepristone, including potentially revoking the generic version's FDA authorization.
GenBioPro, the manufacturer of generic mifepristone, supplies around two-thirds of the pills used for medication abortions in the U.S.
Catch up fast: The U.S. 5th Circuit Court of Appeals ruled last week that FDA's 2000 approval of mifepristone, given to brand-name manufacturer Danco Laboratories, could remain. However, it reimposed limitations on the drug that the FDA had removed over the years that increased access to the pill.
The Supreme Court temporarily blocked that ruling, but that stay is set to expire today at 11:59 p.m.
If the Supreme Court does not act before then, those reinstated restrictions would take effect, including the stay on GenBioPro's 2019 FDA approval.
Details: GenBioPro said in its complaint the company brought the suit to prevent the FDA "from depriving GenBioPro of its constitutional and statutory right to market mifepristone."
The suit looks to prevent the Biden administration "from upending nearly a quarter-century of public reliance on a safe and effective drug by bringing criminal and civil enforcement actions against GenBioPro, its agents, manufacturers, distributors, partners, and customers."
GenBioPro's lawsuit argues that FDA has not provided any guidance as to what the company must to if federal rulings staying the agency's authorization of the drug take effect, adding that if that happens, "the result will be chaos."
The company is seeking an order that would require the FDA to keep GenBioPro's mifepristone on the market.
The lawsuit was filed in a U.S. district court in Maryland, where the FDA is based.
State of play: The FDA is currently caught between two dueling federal court rulings: One that threatens the agency's approval of mifepristone, and one that prohibits it from rolling back access to the pill in 18 jurisdictions.
The GenBioPro lawsuit could add to that conflict, putting the agency in a position where it is likely to need guidance from the Supreme Court if the Maryland court rules in the manufacturer's favor.
Editor's note: This is a breaking story and will be updated.
Go deeper