Abortion is on a fast track back to the Supreme Court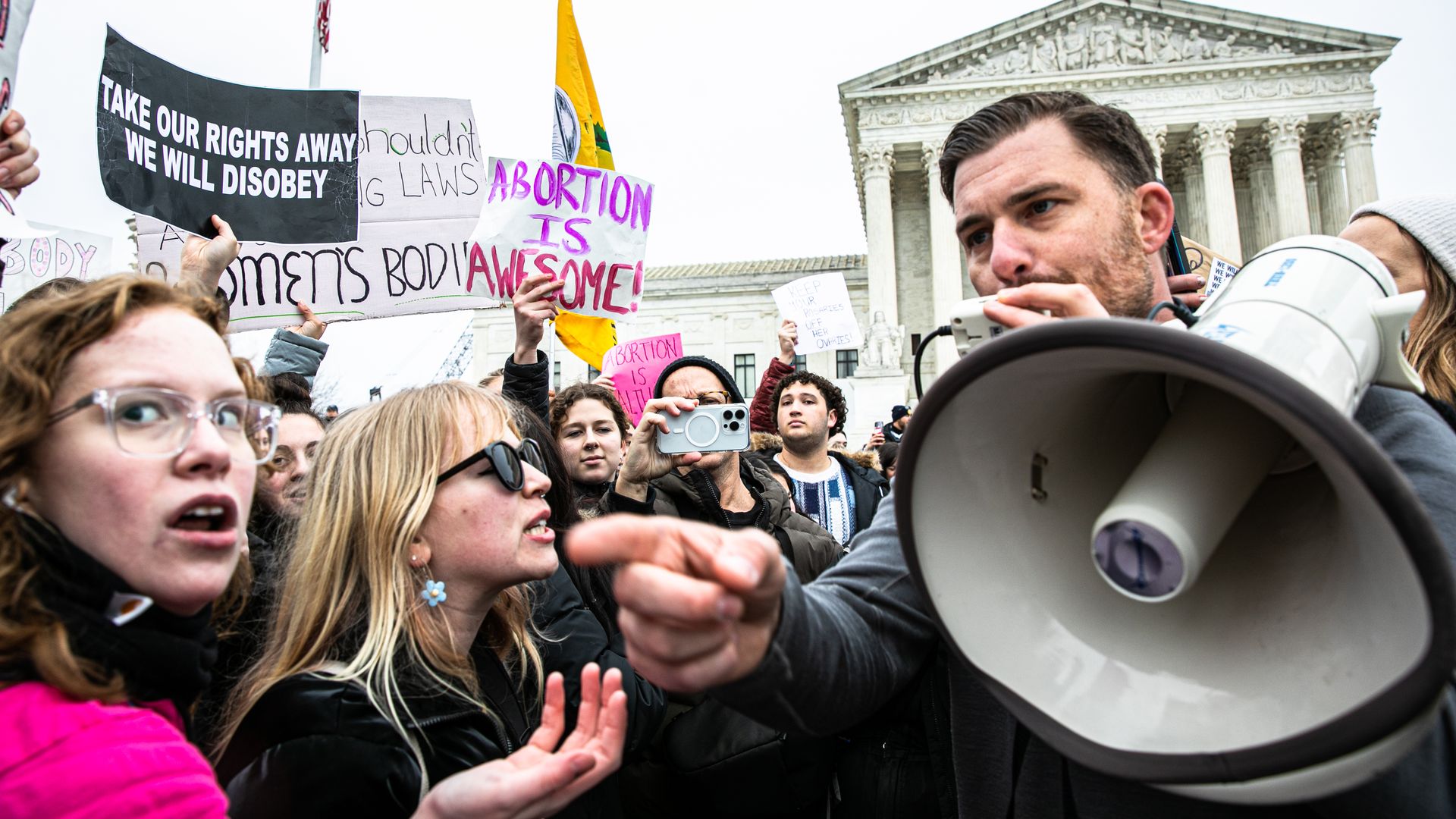 The Supreme Court will likely need to decide soon whether abortion pills can remain legal in the United States.
Why it matters: Less than a year after the conservative court struck down Roe v. Wade, the next phase of the fight over abortion rights is already at its doorstep. The case would affect women all over the country, making abortions harder to access even in states where it's legal.
And it could pose a sweeping challenge to the broader system for regulating prescription drugs in the U.S.
Driving the news: Judge Matthew Kacsmaryk ruled Friday night that the FDA must reverse its approval of mifepristone, one of the two drugs commonly used in medication-induced abortions.
If Kacsmaryk's ruling stands, and abortion pills no longer have approval from the FDA, doctors and pharmacists would have to stop providing them — even in states that have passed laws protecting abortion rights. Pharmacists can only dispense FDA-approved drugs.
Kacsmaryk gave the federal government 7 days to file an appeal. And within hours of his ruling, a federal court in Washington state handed down a contradictory order prohibiting the FDA from making any changes to mifepristone's availability.
There's really only one good way to sort this out: Get it before the Supreme Court as quickly as possible.
How it works: Over half of U.S. abortions are performed with medication, rather than surgery.
For that reason, this case could set a far-reaching precedent that would upend the practice of medicine even beyond abortion, opening the door to a host of lawsuits second-guessing the FDA's decisions.
The FDA first approved mifepristone decades ago, and has frequently reviewed the drug's safety warnings and other specifics of its approval. Kacsmaryk, however, said the agency hadn't followed proper procedures when making decisions about the drug.
What's next: The Justice Department will appeal Kacsmaryk's ruling quickly, and it'll likely move through the process faster than usual. That would set the stage for yet another Supreme Court showdown over abortion rights less than a year after the court struck down Roe v. Wade and just as the 2024 election is approaching.
The intrigue: Kacsmaryk, who was appointed to the bench by President Trump, has become one of President Biden's chief antagonists.
In addition to Friday's ruling on abortion pills, he previously struck down a program that allowed teens to access birth control without a parent's consent.
He ruled that Biden could not end the Trump administration's "remain in Mexico" immigration policy (the Supreme Court later reversed that decision), and he struck down federal rules that prohibited health care providers from discriminating against transgender patients.
Kacsmaryk sits on the Amarillo division of the U.S. District Court for the Northern District of Texas.
Every case that's filed there — literally, 100% of them — is assigned to him.
And given his stalwart conservative record, the Amarillo division has suddenly become a magnet for conservative activists' lawsuits against the federal government.
"I'm hard-pressed to think of a federal judge who has had a greater impact in less time," University of Texas law professor Stephen Vladeck told Bloomberg Law.
Go deeper: Listen to the Axios Today podcast, where Margaret Talev and Oriana González dig deeper into the two major rulings on abortion that seem to contradict one another.
Go deeper