Axios Explains: Seeking asylum in the U.S.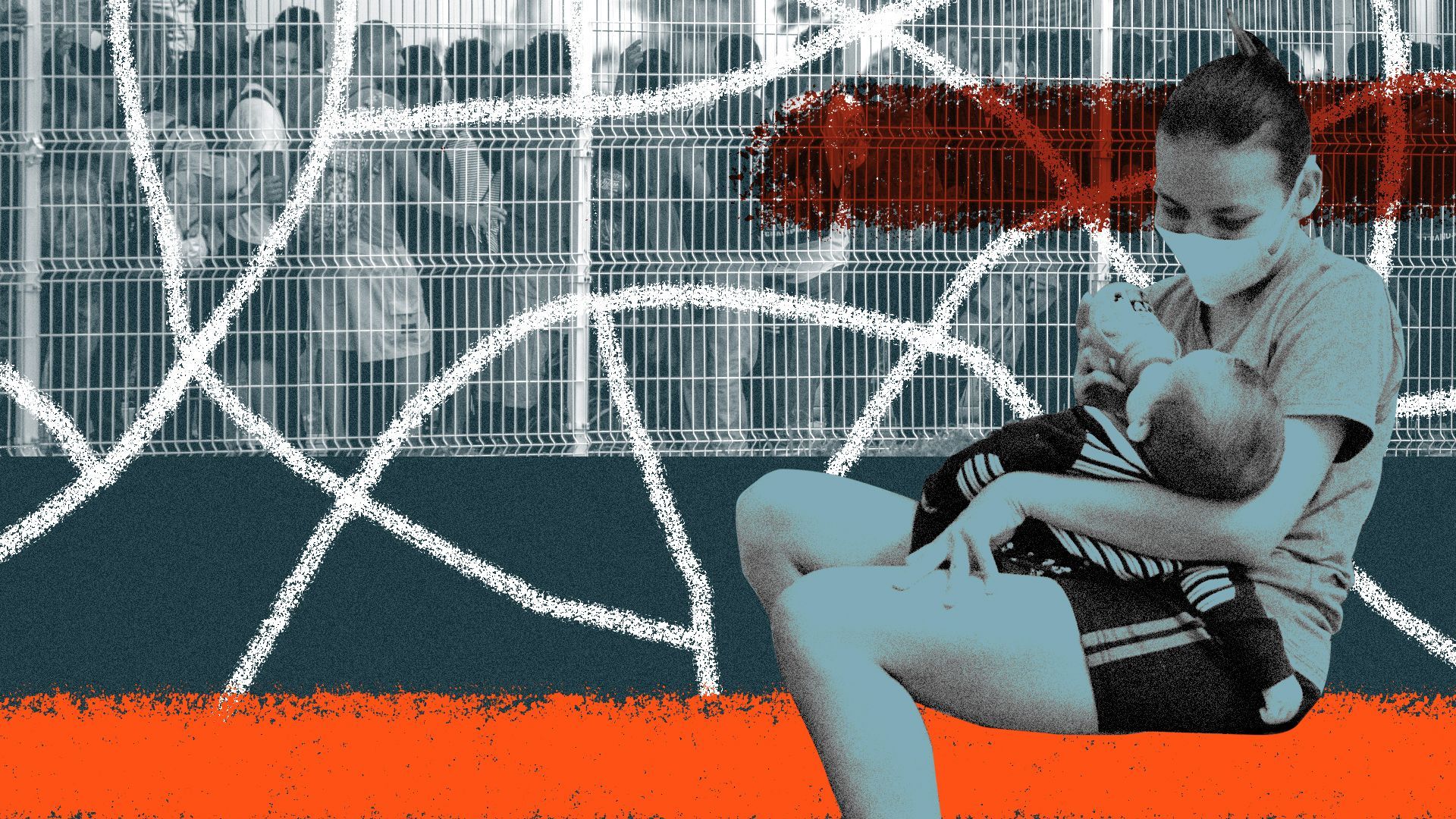 Seeking asylum in the United States is a codified right — but immigrant advocates say it's been severely restricted.
The big picture: A string of policies aimed at reducing irregular migration, both by President Trump and now President Biden, have made it much harder for people fleeing persecution to seek safety in the U.S. if they come through the southern border.
What is asylum?
Asylee and refugee protections were codified in international law in 1951 after World War II, which created an enormous displacement of people.
The protections and obligations defined by the convention were expanded to apply universally when the UN adopted the 1967 Protocol.
The U.S. didn't ratify the 1951 Convention but did sign onto the 1967 Protocol, making it legally required to provide protections to people who qualify as refugees.
Asylum seekers can ask for protection in the U.S. if they have been persecuted or fear persecution due to their race, religion, nationality, membership in a particular social group, or political opinion.
The United States adopted the UN definition of refugee into its immigration law in the Refugee Act of 1980, although asylum has a "discretionary" status, which means some people who fall under the definition of a refugee can still be denied asylum.
Yes, but: The definition of asylum is narrow. Proving the need for protection is extremely difficult and there's a massive backlog in immigration courts, which can mean an applicant may wait years before their case is heard.
Now, policies like Title 42, which is set to expire next month, have largely restricted access to asylum, and a proposal by the Biden administration that would require asylum seekers to first seek protection in another country poses another threat, advocates say.
Who can seek asylum in the U.S.?
There are many rules and long waits for people seeking asylum.
They must file an asylum application within a year of arriving in the U.S.
Asylum seekers can still ask for asylum even if they cross the border without permission.
They can also apply for a work permit 150 days after they first apply for asylum. If they're granted asylum, they can eventually apply for legal permanent residency, and later for U.S. citizenship.
Asylum seekers are different from refugees in that they are already in the U.S. when they seek protections; refugees are vetted by the United Nations refugee agency and often wait many years before they can travel to the U.S.
What is it like to seek asylum?
Ana Rosa, a 31-year-old asylum seeker from Venezuela, traversed the Darién Gap and several Latin American countries with her husband and four children (ages 3, 6, 8 and 11) before arriving in Texas last summer.
All of her children are deaf and two require surgeries that they couldn't get in Venezuela, she told Axios Latino.
The family has applied for asylum, but their first hearing isn't until August — more than a year after their arrival in the U.S., said Ana Rosa, who asked go only by her first name as her claim is still being processed.
"In reality, we really struggle," said Ana Rosa, who will be able to apply for a work permit in May. "We like to work and here we have to do so without a permit because can you imagine how we'd support four children?"
What has President Biden done to restrict asylum?
The Biden administration wants to implement a rule that would require asylum seekers to first seek protection in another country, which is likely to take effect around the time Title 42 expires, though legal challenges are expected.
The administration has said this is necessary to avoid an influx of migrants at the border at a time when the U.S. doesn't have the capacity.
The proposed rule would require people to seek "lawful, safe and orderly pathways" to get to the U.S. Unaccompanied children are exempt. Refugee advocates say the rule goes against the spirit of how the U.S. should treat asylum seekers.
The administration has also implemented what it calls humanitarian parole for people from Cuba, Nicaragua, Venezuela and Haiti, allowing a monthly total of up to 30,000 people from those countries to come to the U.S. if they have a sponsor, pay fees, are vetted before arriving and meet other criteria.
A different policy, meant to alleviate pressure at the southern border, allowed border officials to more quickly release migrants by using using ankle monitors or a phone app to track them, but it was halted by a Florida court in March.
Who do asylum restrictions affect most?
Alicia Vasquez-Crede, associate director of asylum services for Lutheran Immigration and Refugee Service, told Axios Latino that recent asylum restrictions have affected people from Central America the most.
Many are fleeing general, not targeted, violence by gangs, and most immigration judges don't interpret that as falling within the narrow definition of the statute, she added.
Putting together an asylum case is deeply cumbersome and hard to navigate for non-English speakers. Legal assistance is key, but most asylum seekers can't afford a lawyer, and pro bono services are at capacity, Vasquez-Crede said.
This story is part of a series in Axios Latino focused on immigration to the United States.
This story has been corrected to reflect that the humanitarian parole program allows a monthly total of up to 30,000 people to come to the U.S. from Cuba, Nicaragua, Venezuela and Haiti (not 30,000 from each one of those countries).
Go deeper