Saudi-Iran deal spurs wider normalization wave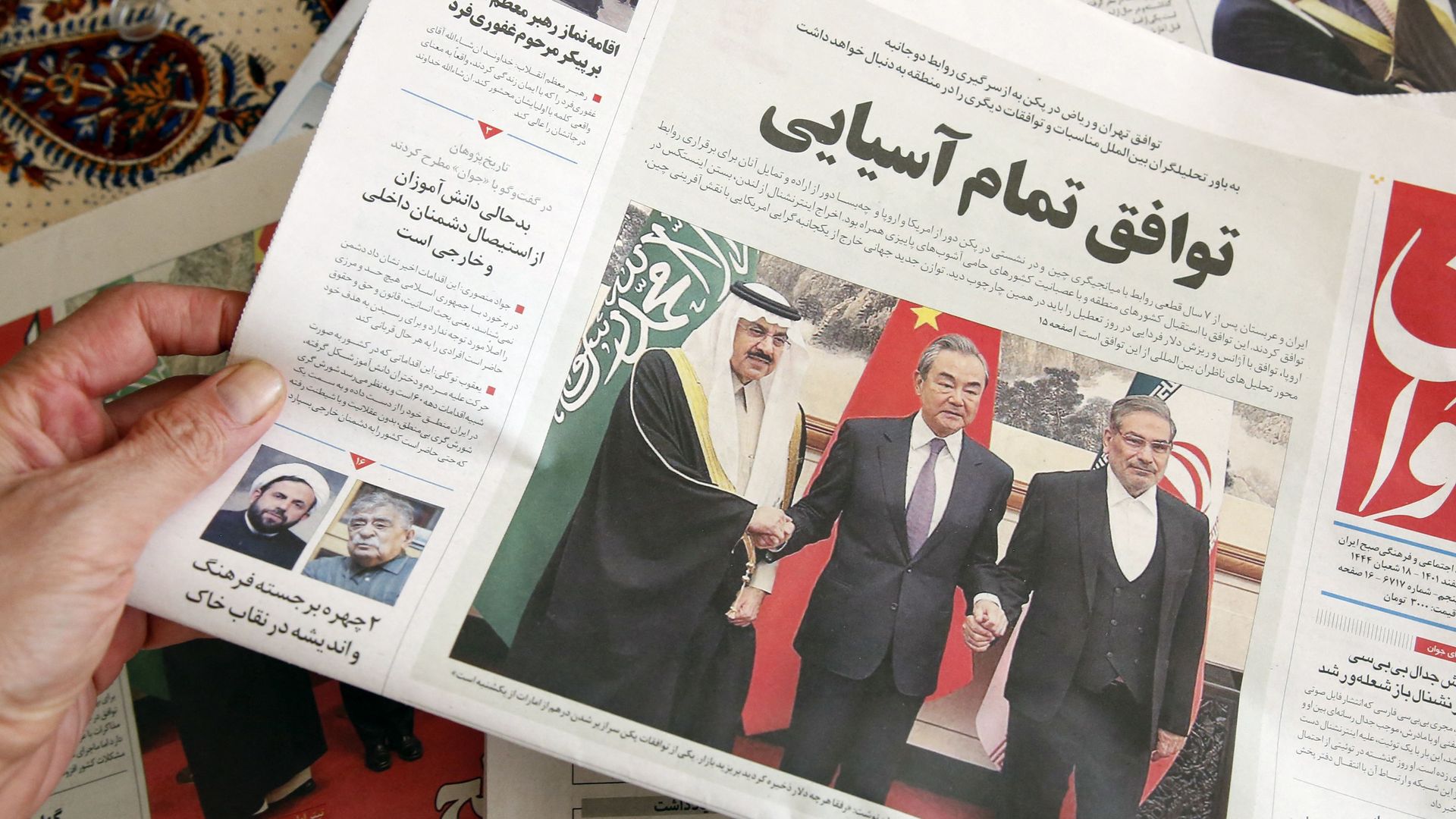 The foreign ministers of Saudi Arabia and Iran will meet on Thursday in Beijing under the auspices of their Chinese counterpart Wang Yi in another significant step in resuming full diplomatic relations between the two regional adversaries, according to Iranian and Saudi press reports.
Why it matters: The meeting is part of a wider wave of normalization between the Saudi-led camp and the Iranian axis in the Middle East in recent months in an effort to de-escalate tensions and end regional conflicts, including the war in Yemen.
Catch up quick: Iran and Saudi Arabia on March 10 agreed to resume diplomatic relations after secret talks in Beijing mediated by the Chinese government.
It was a major breakthrough for the two Middle East rivals, who haven't had diplomatic relations since 2016 when Saudi Arabia cut ties with Iran after Iranian protesters stormed its embassy in Tehran in protest of the kingdom's execution of a Shiite cleric.
Driving the news: Since the agreement was announced, the foreign ministers of Saudi Arabia and Iran have spoken on the phone three times to prepare for the meeting, according to statements about the calls issued by both sides.
Iran's vice president said on Tuesday that President Ebrahim Raisi has accepted the invitation of Saudi King Salman to visit the kingdom in the near future.
Between the lines: The foreign ministers' meeting is expected to take place during the holy month of Ramadan, which is traditionally a time for reconciliation and peace efforts.
State of play: Iran is also working on resuming full diplomatic relations with the United Arab Emirates. Iranian Deputy Foreign Minister Ali Bagheri said on Tuesday that the Islamic Republic has appointed an ambassador to Abu Dhabi for the first time in eight years.
Meanwhile, Syrian Foreign Minister Faisal Mekdad visited Cairo on Saturday — the first such trip by a Syrian foreign minister in more than a decade. The visit represented a major normalization step between a key Saudi ally and a key Iranian ally.
A day later, Reuters reported that Saudi Arabia wants to invite Syrian President Bashar al-Assad to visit the kingdom in May to participate in the Arab League leaders summit. Syria was expelled from the Arab League in 2011 after the regime's crackdown on protestors.
Russia on Tuesday hosted the deputy foreign ministers of Turkey, Syria and Iran in Moscow as part of an effort to normalize relations between Ankara and Damascus. The Russians hope to soon hold a foreign ministers' meeting between Turkey and Syria.
Go deeper