With Iran-Saudi deal, Beijing aims to bring its friends closer together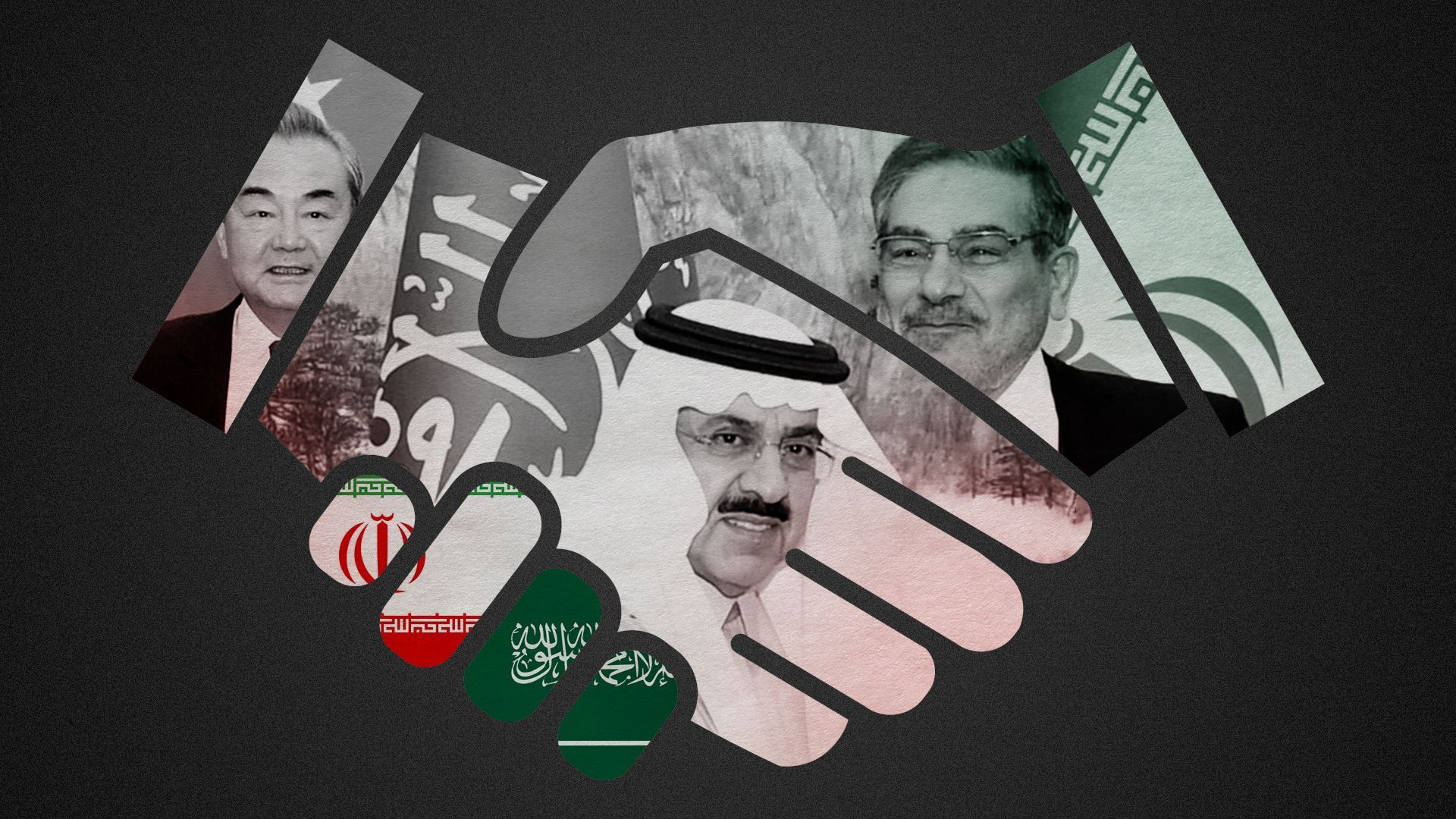 By brokering a deal between Iran and Saudi Arabia, China is trying to ensure two of its most important partners in the Middle East get along so Beijing can achieve its economic and political goals, experts say.
Why it matters: The Middle East has become a major battleground for influence as Washington and Beijing both seek to strengthen their ties and mend relations between their friends in the region.
A lasting detente between Saudi Arabia and Iran could reduce violence and instability, as both countries have long engaged in proxy wars across the region. By getting involved, China is investing its diplomatic and reputational capital in trying to bring together two of the region's most bitter rivals — something other nations haven't been able to do.
But, "this is about bloc-building rather than peace-building," Andrew Small, a senior fellow at the German Marshall Fund of the United States's Indo-Pacific program, told Axios.
The big picture: Beijing's ambitions for its role in the Middle East are growing, just as the West is seeking to restrict China's access to Western technology and markets.
China is "placing increasing emphasis on building a more resilient framework for trade, finance, technology and energy flows, in which Iran and Saudi both play important roles," Small said.
But conflict between Tehran and Riyadh has been a "headache" for China's leaders for years, Small added. "Every time they want to deepen economic and security ties with either one, it rubs up against the other."
What happened: Beijing has been setting the groundwork for months for negotiations between Iran and Saudi Arabia, in what analysts and key figures in the region see as a sign of China's growing challenge to U.S. dominance there.
Chinese President Xi Jinping visited Saudi Arabia in December in a state visit that was hailed by both sides, and Iranian President Ibrahim Raisi visited Beijing in February.
China's efforts came as Saudi Arabia signaled it was trying to rebalance its relations with the U.S. and China, despite efforts by Washington to increase its engagement with Riyadh.
Recent tensions between Riyadh and Washington over the killing of Washington Post column Jamal Khashoggi, and Saudi Arabia's continued participation in a pandemic-era oil pact with Russia, have brought new uncertainty to the bilateral relationship.
There were stark differences between the way they welcomed President Biden and the way they greeted Chinese President Xi.
Biden was received in July at the airport by the governor of Jeddah without any ceremony. Xi was welcomed with Saudi air force fighter jets, honorary cannon fire and the Saudi foreign minister who waited for him on the tarmac.
Yes, but: There's no indication the Saudis will fully commit to a China-led bloc any time soon, Small said.
Riyadh has long been one of Washington's closest security partners in the region. In 2022, the U.S. approved $5 billion in weapons sales to the kingdom, per NPR.
At the same time, the White House has tried to play down the Chinese role in the last week's deal between Saudi Arabia and Iran and stressed this agreement was two years in the making. "This deal is not about China," a White House official told Axios.
White House National Security Adviser Jake Sullivan told reporters aboard Air Force 1 on Monday that the Chinese mediation between Iran and Saudi Arabia was "not fundamentally averse to U.S. interests. Frankly, it's, in a way, rowing in the same direction as the U.S.," he said.
Still, the deal illustrates China's growing global influence.
The military adviser to Iran's supreme leader General Yahya Rahim Safavi said on Sunday during the opening ceremony of the Air Force Museum that the agreement was "an earthquake" when it comes to U.S. influence in the Middle East.
What to watch: China is planning a summit of Iranian and Gulf Arab leaders to be held in Beijing later this year, the Wall Street Journal reports.
Go deeper: China seeks more military and police training with developing countries (Axios)
Go deeper