China seeks more military and police training with developing countries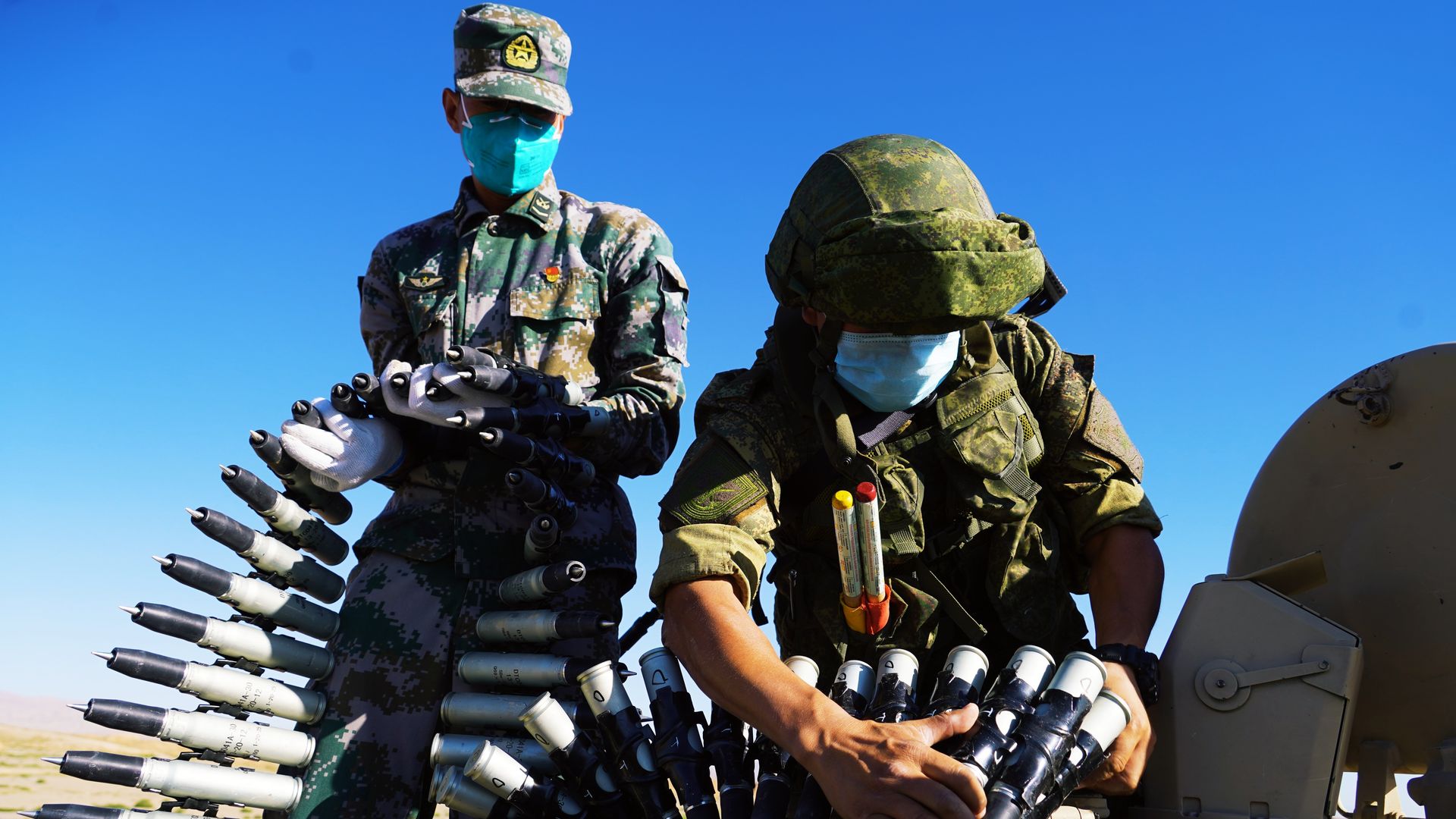 In a proposed global security framework unveiled last week, the Chinese government called for expanded training with security forces from other developing countries, a strategy that has alarmed the West.
Why it matters: Terrorism and transnational crime are complex problems that require global cooperation. But critics worry that China's deepening security cooperation with other countries could extend Beijing's authoritarian reach into strategically important regions.
"[China] wants to promote itself as a new power with global power projection capabilities and international partnerships, particularly since it has a lot of catching up with the U.S., which has a network of alliances and military bases worldwide," Vuk Vuksanovic, a senior researcher at the Belgrade Center for Security Policy in Serbia, told Axios.
Details: The Chinese government stated in a white paper detailing the proposed Global Security Initiative that it wants to "encourage more exchanges and cooperation among university-level military and police academies."
It said China is "willing to provide other developing countries with 5,000 training opportunities in the next five years to train professionals for addressing global security issues."
The document didn't specify what kind of training would be provided.
Chinese President Xi Jinping first proposed the security initiative last year, stating that countries should "oppose the wanton use of unilateral sanctions and long-arm jurisdiction" — a reference to frequent Chinese criticisms of U.S. foreign policy — and "work together on regional disputes and global challenges such as terrorism, climate change, cybersecurity and biosecurity."
Between the lines: "These exchanges would help Beijing build a network of relationships and dependencies among security professionals worldwide," Vuksanovic said.
"Many of these professionals, if they were to train with their Chinese counterparts, would develop social relationships with Chinese colleagues and would be more attuned to the Chinese way of thinking on police and military affairs, but could also become in time politically dependent on copying Chinese procedures and using Chinese resources."
Background: The Chinese government has established security partnerships with several countries in recent years, including the Solomon Islands and Serbia.
The Solomon Islands signed a security agreement with Beijing in 2022 that included law enforcement training and Chinese military access to the country, alarming Australia and the U.S. due to the Pacific island nation's strategic location.
Chinese special police and Serbia's elite anti-terrorist unit and local police held their first joint training drills in Europe in 2019. Serbia's interior minister said at the time that he planned more cooperation with Chinese law enforcement agencies and that Serbia was "learning from a bigger and stronger" country.
"While the perception of China in Serbia among the elites and citizens is positive, there are question marks about whether Chinese police presence can help erode the local rule of law institutions or whether the intensive cooperation with China sucks the country [into] the U.S.-China rivalry," Vuksanovic said.
The Chinese government has previously attracted criticism for using Interpol, an organization for international police cooperation, to pursue political dissidents in the name of repatriating criminals.
In recent months, the publication of a report detailing illegal Chinese police stations around Europe caused an outcry, and multiple governments have launched investigations into the unregistered Chinese police centers on their soil.
What to watch: The Global Security Initiative is China's most significant move so far to create an alternate security order to that of the U.S.-led West. It's not yet clear how much traction the initiative will get in non-Western and developing countries, Beijing's primary target regions.
Go deeper