Lebanon crisis threatens stability of security forces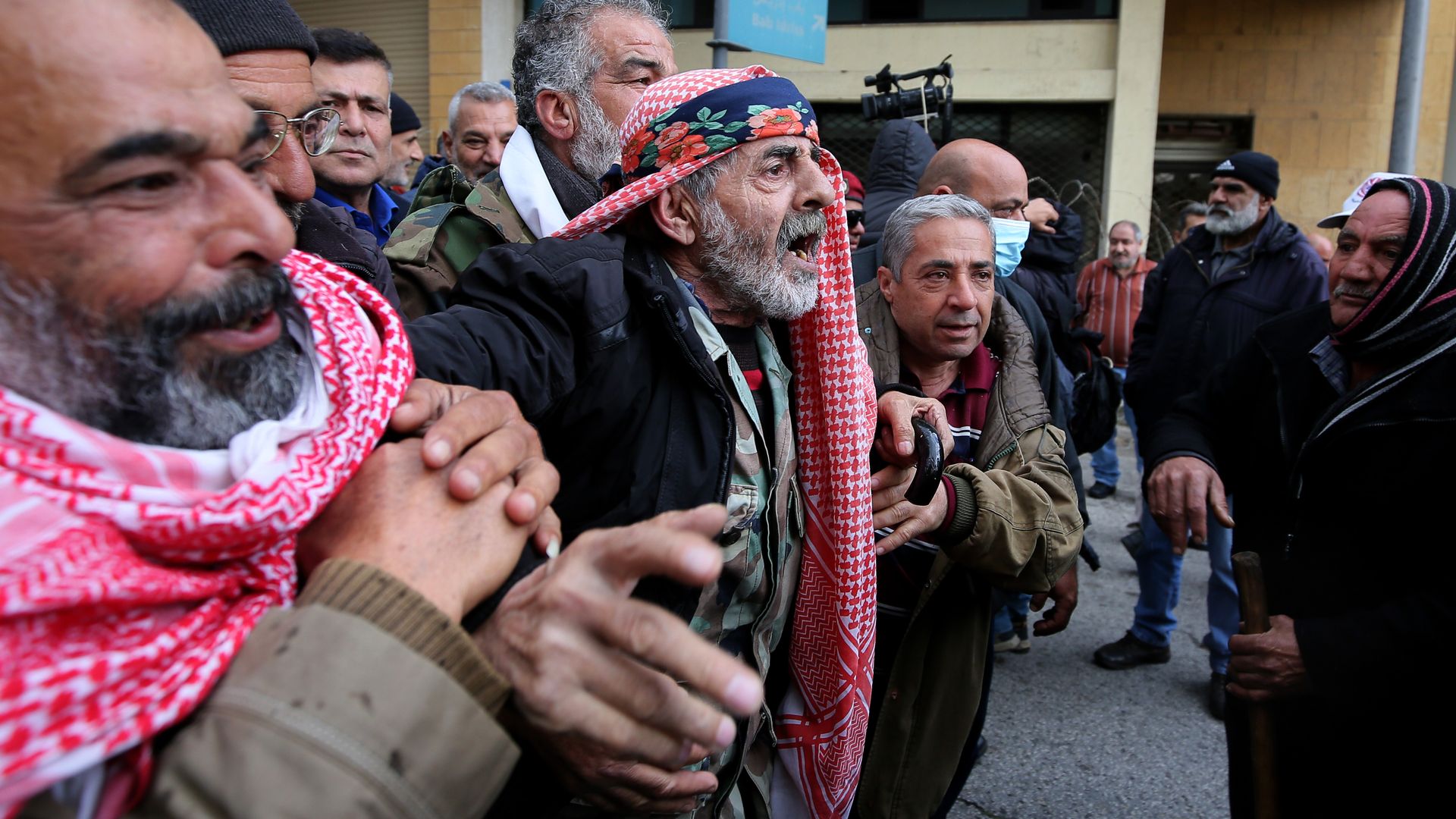 BEIRUT — Lebanon's spiraling economy is threatening the stability of the military and security services, as current and retired security personnel see the value of their salaries and pensions plummet.
Why it matters: Without adequate salaries, soldiers have taken second jobs or, in some cases, deserted their ranks, threatening Lebanon's security. The army serves as a stabilizing force to police the country's sectarian feuds, and it's long been a critical partner for the U.S. as it's able to function as a counterweight to the Iran-backed armed group Hezbollah.
Driving the news: Last week, protesters, including hundreds of army retirees angered over the rapid depreciation of their pensions, tried to remove barbed wire fencing outside the prime minister's headquarters and threatened to retaliate if tear gas was used. Tear gas was fired to disperse angry crowds in a similar protest a week earlier.
Army personnel have not protested on this scale before in Lebanon, according to Sami Nader, the director of the Beirut-based Levant Institute for Strategic Affairs. The salaries and pensions of the country's security personnel have drastically decreased in value, unable to keep pace with the rampant inflation of the Lebanese pound.
"The salaries in the public sector — including the military and armed forces — are dwindling by the day," Nader said.
An active Lebanese soldier, who spoke on condition of anonymity to Axios, said his salary has tanked from what was worth $1,300 three years ago to now just $114. He has resorted to driving for various ride-sharing apps to compensate for his income loss, he said, but still barely has enough to cover his daily expenses.
"I am under terrible psychological pressure and terrible economic pressure," he said.
State of play: The International Monetary Fund has offered a $3 billion bailout package to Lebanon, conditional on a host of structural and financial reforms. But with the country in a double executive vacuum since November — without a president or a fully empowered Cabinet — no progress has been made on the reforms that could help revive the deteriorated economy.
Without a political solution on the horizon, the pound will likely continue to spiral, and along with it the salaries of the country's security personnel and public sector workers.
Go deeper