Lebanon's economic woes worsen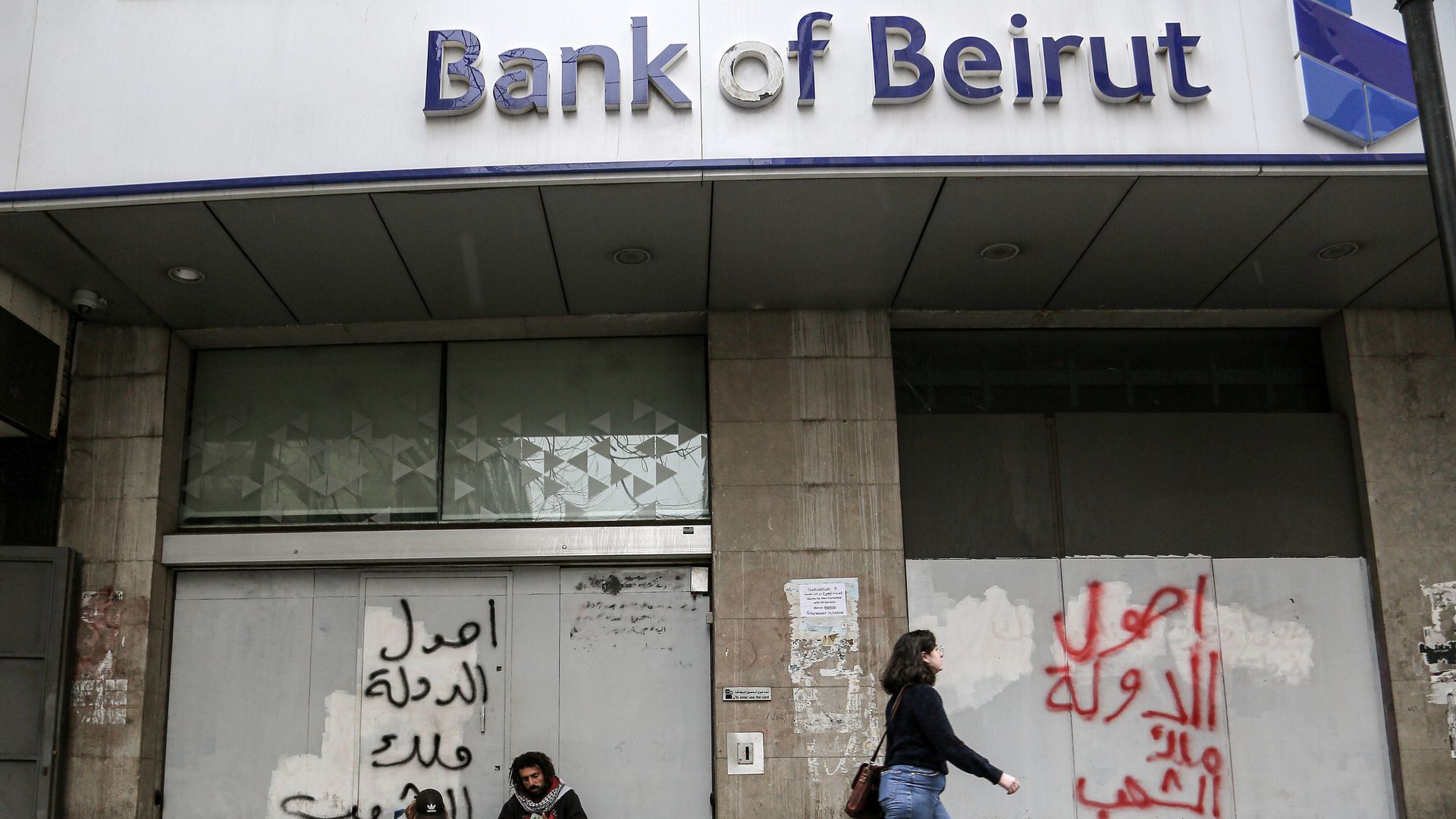 BEIRUT — The Lebanese pound, or lira, sank to a new low this week, worsening conditions for people already struggling to cope with Lebanon's unprecedented economic crisis.
Why it matters: The economic meltdown has plunged the vast majority of the population into poverty. For those who are still paid in pounds, their salaries are only worth a fraction of their value before the crisis hit in 2019, leaving many unable to afford basic necessities.
The crisis has also degraded the quality of public services. The country's public schools have been closed for the past three months, as teachers strike against their no-longer-livable salaries. And the once-thriving health care sector and security apparatus are under immense pressure as medics and soldiers leave Lebanon in search of better opportunities.
Driving the news: The Lebanese currency hit another all-time low on Tuesday of 140,000 pounds to $1, losing more than 15% of its value in one day.
Several hundred protesters, including army retirees and angry depositors, gathered in front of the country's parliament on Wednesday to speak out against the deteriorating living conditions. The protests grew tense as security forces dispersed crowds with tear gas.
"The Lebanese lira is dead," said Layal Mansour, an economist who specializes in dollarized countries, "It has no value, it has no trust, and people are not attracted to use it."
For months, banks have been imposing strict restrictions on withdrawals. Angry depositors recently burned and ransacked banks in protest. Banks this week called off an open-ended strike, which had blocked public- and private-sector employees from retrieving their salaries.
Meanwhile, the government recently allowed supermarkets to begin pricing in dollars, a sigh of relief for many shop owners who couldn't keep up with the spiraling currency.
The big picture: Unsustainable borrowing and financial mismanagement by Lebanon's sectarian elite coupled with virtually nonproductive economic growth has fueled one of the worst economic crises the world has seen in centuries, economists say.
The International Monetary Fund has offered a $3 billion bailout package to Lebanon, conditional on a host of structural and financial reforms. But with the country in a double executive vacuum since October — without a president or a fully empowered Cabinet — no progress has been made on the reforms that could help revive the deteriorated economy.
What's next: The country has been "highly dollarized" since the 1980s, meaning the dollar has made up most of the transactions. After over four decades, "we have to admit the Lebanese pound is dead and we have to replace it with another currency," Mansour said.
This would mean either adopting U.S. dollars at a fixed exchange rate, known as "full dollarization," or creating a new currency altogether, which would be fully covered by dollars, known as "currency board." Both moves would significantly reduce the central bank's ability to issue and regulate the currency.
But without institutional action, Mansour argued, Lebanon's currency crisis "will have no end."
Go deeper